Recent revelations by IntoTheBlock have illuminated a surprising surge of on-chain activity surrounding the Shiba Inu token. Within the past 48 hours, an astounding 11.11 trillion SHIB tokens have flooded into the wallets of prominent token holders, signaling a strategic move by major players ahead of an anticipated event.
Saturday marked a seismic shift in the Shiba Inu ecosystem, with the influx of SHIB tokens into whale wallets skyrocketing by an astonishing 3,148% compared to the previous day. This meteoric rise in token inflows represents the most significant surge witnessed in nearly two months, harking back to the explosive activity observed in mid-June.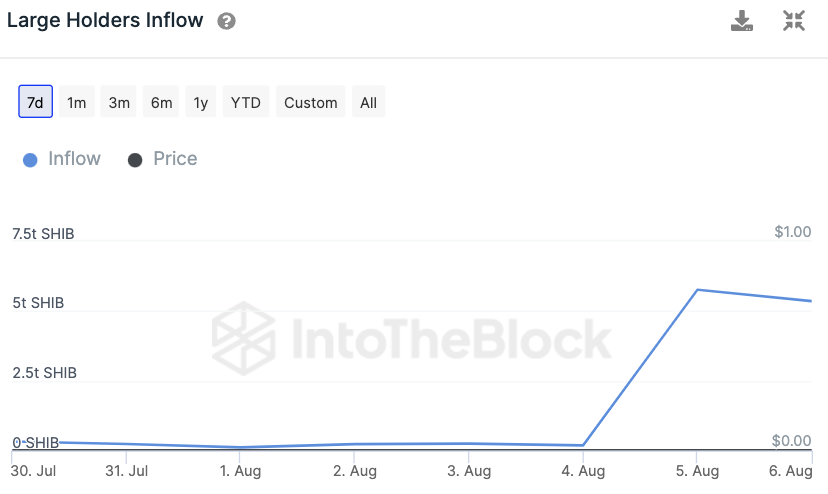 Complementing this influx, a parallel trend emerged, with an equally sharp decline in outflows from the wallets of Shiba Inu's elite investors. Over the past 24 hours alone, the value of outflows plummeted by a staggering 94.61%, shrinking from 7.21 trillion SHIB to a mere 388.07 billion.
Hot summer of Shibarium
This remarkable ebb and flow of tokens within the Shiba Inu ecosystem is widely attributed to the impending launch of Shibarium on the main network, a momentous event that looms on the horizon. For large-scale holders of SHIB, this represents an unparalleled opportunity to capitalize on the eagerly awaited Layer 2 protocol debut.
As the summer of Shibarium unfolds, the feverish narrative surrounding Shiba Inu continues to escalate, with expectations of further captivating twists and unforeseen surges in activity. The intricate landscape of SHIB's investor base, especially its most prominent stakeholders, takes center stage, beckoning astute observers to delve deeper and discern the strategic maneuvers underway.