Shiba Inu (SHIB) has been a true roller coaster of emotions for holders recently. The meme coin has recently fallen below a critical symmetrical triangle pattern, a technical indicator that often signals a significant price move. As of Sept. 1, 2023, SHIB is trading at approximately $0.00000798, a level that could trigger an accelerated fall in the foreseeable future.
The symmetrical triangle pattern is often considered a continuation pattern, meaning it usually confirms the direction the asset was already trending in. For Shiba Inu, the break below the triangle could be a bearish sign, especially when combined with the market's critically low trading volumes.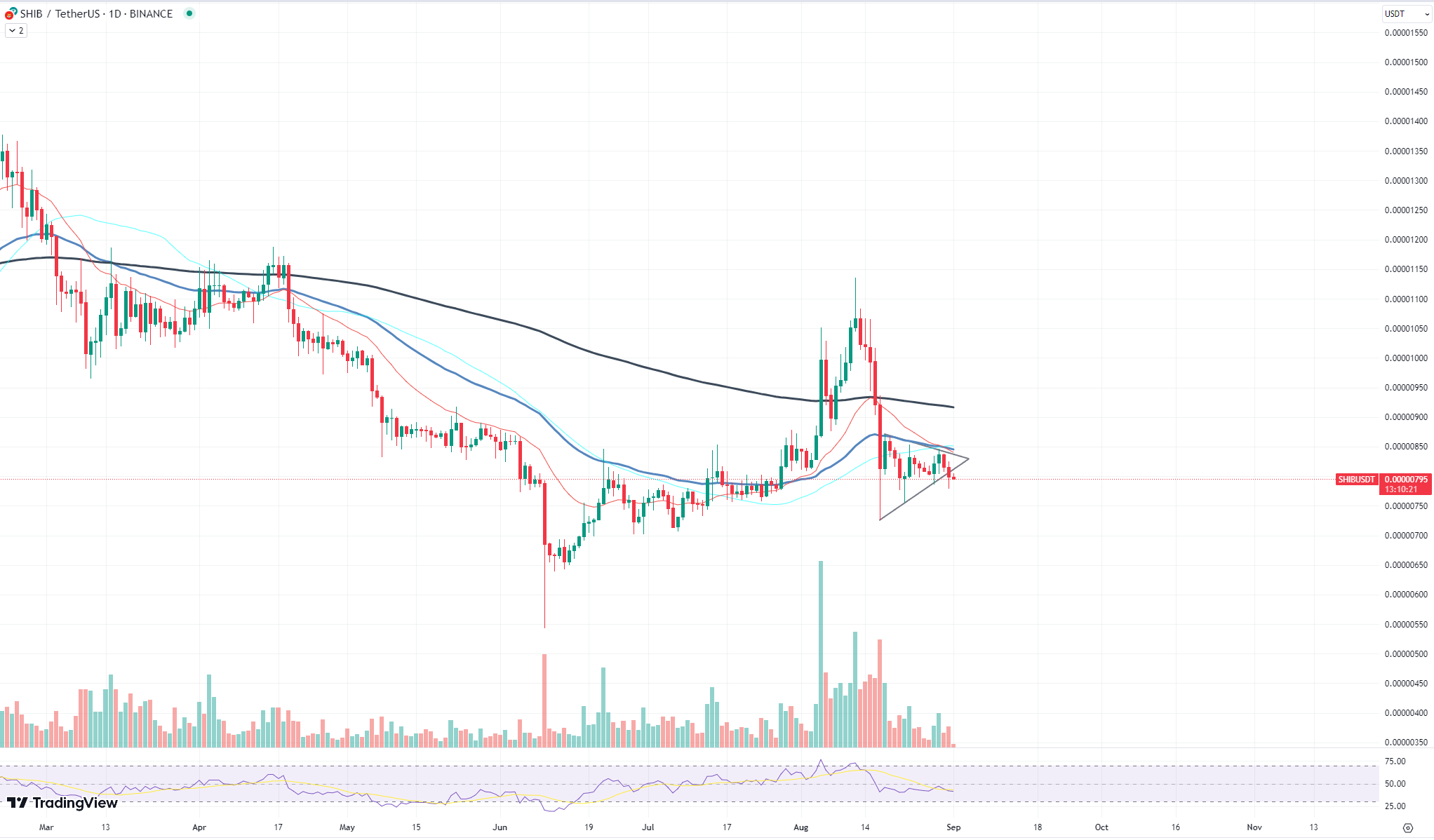 However, it is not all doom and gloom for Shiba Inu. The successful relaunch of Shibarium, Shiba Inu's Layer 2 scaling solution, offers a glimmer of hope. Shibarium aims to reduce transaction costs and increase transaction speed, making it more appealing for users and potentially driving up demand for SHIB. This could serve as a counterbalance to the bearish technical indicators, but it is yet to be seen if it will be enough to reverse the trend.
The market is currently experiencing low volumes, which usually indicates a lack of conviction among traders. This could mean that the downward movement might not have strong momentum, but it also leaves the asset vulnerable to sharp price swings if a large volume of trades were to occur.
In summary, Shiba Inu is at a critical juncture. The break below the symmetrical triangle and the lack of trading volume are bearish indicators. However, the relaunch of Shibarium could act as a bullish counterweight. Investors should tread carefully, as the market's low volume could lead to increased volatility. Keep an eye on how these factors play out in the coming days to get a clearer picture of where SHIB might be headed.