Since yesterday, the Shiba Inu army has managed to get rid of only a small portion of SHIB meme coins, while the price has begun to show signs of recovery.
SHIB burn rate plunges
According to data provided by the Shibburn on-chain analytics platform, within the last 24 hours, merely 1,250,000 Shiba Inu have been removed from the circulating supply by the joined efforts of the Shiba Inu community. That amount of SHIB took two transactions to get rid of, carrying 1,000,000 and 250,000 SHIB.
Over the past few days, the burn efforts of the SHIB army have been not very efficient — on April 25, only around 2,500,000 SHIB were sent to dead wallets, therefore, at the moment, the burn rate is down 50% from yesterday.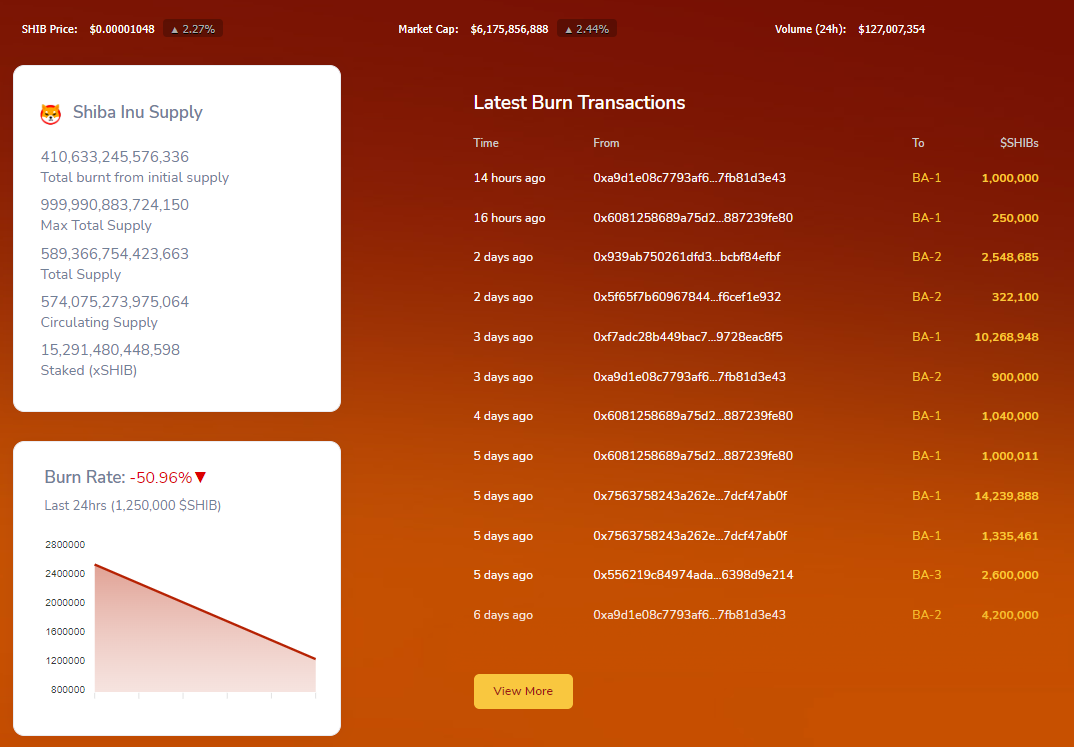 Large whales keep accumulating SHIB
Last week, several large whales bought massive amounts of Shiba Inu meme tokens. As reported by popular wallet tracker WhaleStats, "BlueWhale0073" grabbed a total of 194,114,774,578 SHIB, paying $2,069,263 for that lump of crypto.
On the same day, as reported by U.Today, the same address bought 117,883,960,216 SHIB, which makes it over 311 billion Shiba Inu in total.
On April 20, several whales also bought approximately 17 billion Shiba Inu, according to data shared by Etherscan.
SHIB price makes attempt to recover
Over the past 24 hours, the second largest meme token by market cap, SHIB, has managed to grow, but this growth was not substantial. Since April 25, after printing a large green candle on an hourly chart, SHIB has overall added only 3.14%, changing hands at $0.00001044.
In general, Shiba Inu has been in a heavy decline since April 19 and has lost nearly 10% overall.