The leading meme cryptocurrency Shiba Inu has demonstrated a decline of more than 6% over the past 24 hours after the short speech of lead developer Shytoshi Kusama during the fifth annual Blockchain Futurist Conference in Toronto.
SHIB pushed down, another zero added again
Prior to that, on Aug. 15, SHIB experienced a price rise of 4.49%; however, it was outperformed by a 6.22% fall overnight.
Thus, the second largest meme coin SHIB added another zero to its price and is now trading at $0.00000996 on the Binance exchange.
The likely reason is that traders began to sell SHIB after the rise and locked in their profits.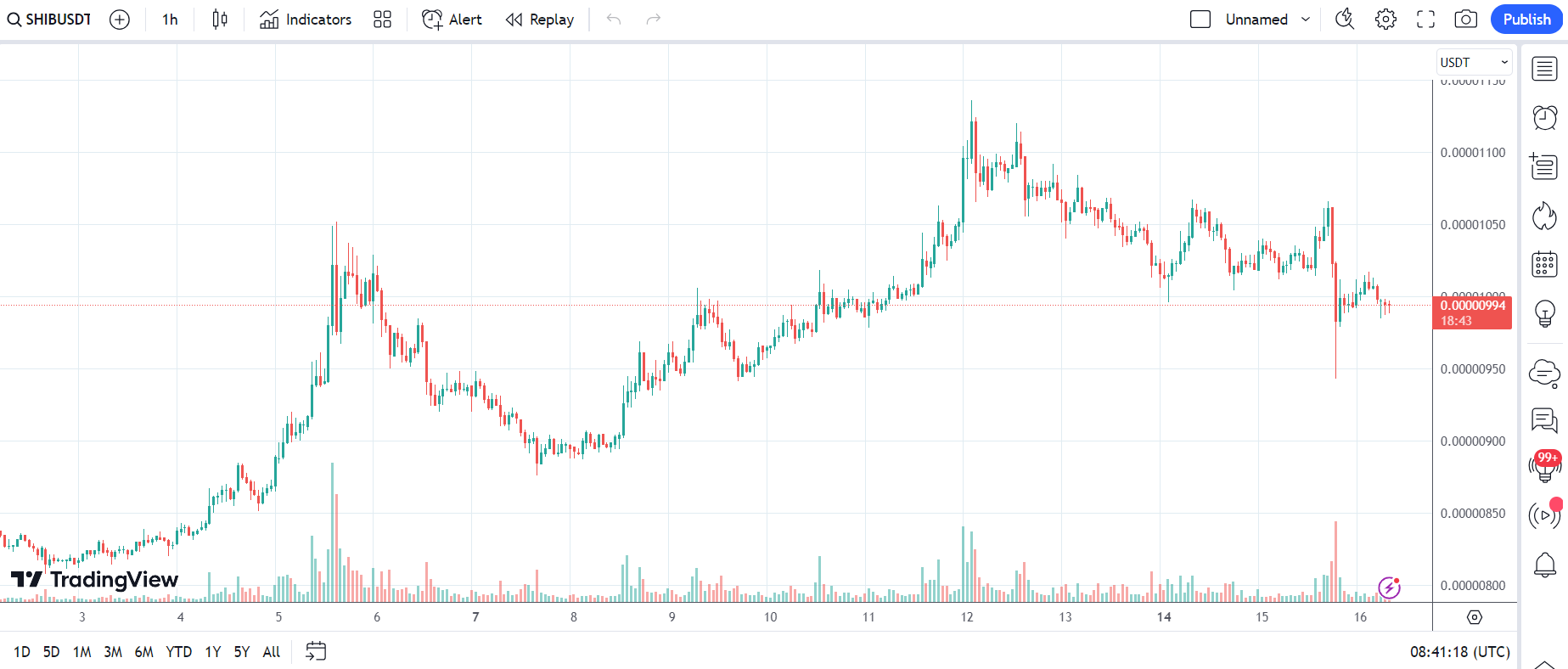 The speech by Shytoshi Kusama was much awaited by the Shiba Inu army as the lead dev previously hinted that, most likely, the Layer 2 solution for Shiba Inu called Shibarium will be launched during the conference. If that were to happen, the launch would take place today, Aug. 16.
LEASH price goes down after coin's listing by Crypto.com
However, the official marketing expert of the SHIB team, Lucie, previously stated that developers had not set any firm date for the release, even though they were very close to it.
In his short speech, Kusama mainly spoke of decentralization without any specific information, stressing that the world and the financial system are now being ruled by the few, rather than letting it be "ruled by many."
The Doge Killer (LEASH) coin, one of the Shibarium trifecta, is also in the red today, despite Kusama's speech and the fact that, on Tuesday, LEASH was added by major crypto exchange Crypto.com. Shytoshi Kusama praised the platform for this move, tweeting "VERY NICE! BTW, nice platform @cryptocom. Great design. Keep up the great work!"
VERY NICE! BTW, nice platform @cryptocom . Great design. Keep up the great work! https://t.co/B9uSGflWTX

— Shytoshi Kusama™ (@ShytoshiKusama) August 15, 2023
Hundreds of millions of SHIB burned
While the price failed to respond with a rise to Shiba Inu's appearance at the conference in Toronto, the burn rate of Shiba Inu showed a nearly 122% rise.
It was achieved thanks to the successful efforts of the SHIB army to remove a total of 248,114,350 Shiba Inu meme coins from the circulating supply.
The burn rate jumped by 121.34% after this. The series of burns included several big transactions, carrying 18,279,090 SHIB; 23,786,641 SHIB; 23,140,760 SHIB, etc. The biggest single burned chunk included 34,038,158 Shiba Inu, and it was burned roughly four hours ago.