On Feb. 7, Bank of England (BoE) released a document on the digital version pound of sterling, the U.K.'s digital currency, sharing the link via its Twitter handle. Curiously, it has mentioned Ripple in it, although without naming XRP.
Today the Bank of England and @hmtreasury have published a Consultation Paper on the digital pound, a UK central bank digital currency. Find out more here: https://t.co/jISyz0kvtb pic.twitter.com/KhYOY0Dlaz

— Bank of England (@bankofengland) February 7, 2023
BoE is working on CBDC
Thus, the Bank of England and the U.K. Treasury are planning to create a CBDC, the digital pound. They hope users can begin benefiting from its users by the end of the decade as that would push out banknotes and coins from circulation. They would conduct payments using their smartphones.
The BoE also wants to keep its CBDC from being created by a private Big Tech company, so that these CBDC payments do not end up within only a closed, private network.
To protect the U.K.'s financial system from becoming unstable as the CBDC would be introduced, Parliament decided to limit the number of digital pounds stored within a single wallet even if this would reduce the efficiency of the pound as a means of payment.
However, the final decision on whether to go on with these plans will be made in 2025.
Ripple gets mention, here's what it is about
BoE's consultation paper mentions Ripple crypto giant. It mentioned that the bank and Ripple have a "joint project" with Ripple, which is about synchronized FX transfers located in two different simulated RTGS systems.
What's more, according to the paper, this is included in the BoE's Real Time Gross Settlement Renewal Programme at the moment.
As a reminder, back in 2017, the Bank of England's Fintech Accelerator chose Ripple as a partner to perform a PoC (proof-of-concept) with the DLT behemoth to work on transnational payments and settlements between two different Real Time Gross Settlement systems.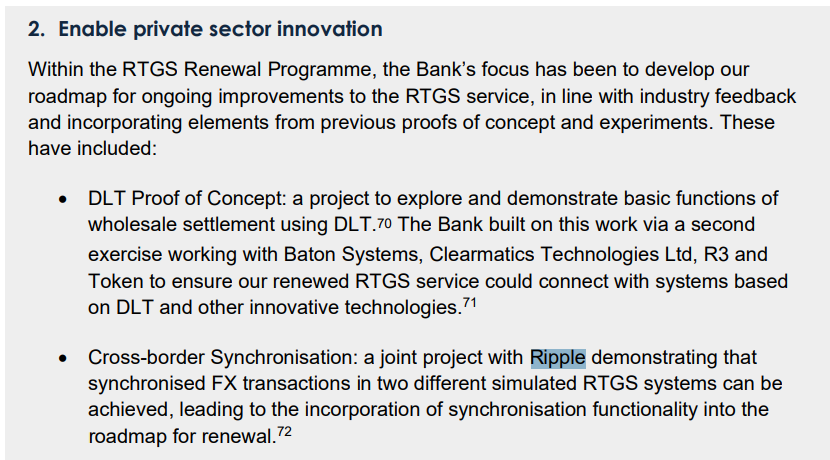 Ripple seeks engineer for CBDC projects
As reported by U.Today, blockchain behemoth Ripple is now in search of an engineer intern for its projects related to central bank digital currencies.
The person hired by Ripple will be dealing with creating prototype software on the basis of Ripple's private CBDC Ledger powered by XRPL.
In September 2021, Ripple partnered with the central bank of Bhutan to help them build their own centralized digital currency, dubbed Ngultrum.
In March of the same year, the company released a white paper that explained how XRP Ledger could be used for building central bank digital currencies.
As reported by U.Today in late January, pro-Ripple attorney Jeremy Hogan shared several possible ways that XRP Ledger could be used by central banks for creating CBDCs.