UpBots' growth this year has been quite significant so we decided to take a closer look at their newly released app.
Why use the UpBots app?
It's smooth and functions well, the design is modern, sleek and uncluttered, with every essential element included eliminating the superfluous.
Users can activate a bot easily - in just a few clicks, no time is wasted.
Users can monitor their portfolio from wherever they are.
Check it out now https://play.google.com/store/apps/details?id=com.app.upbots&hl=en&gl=US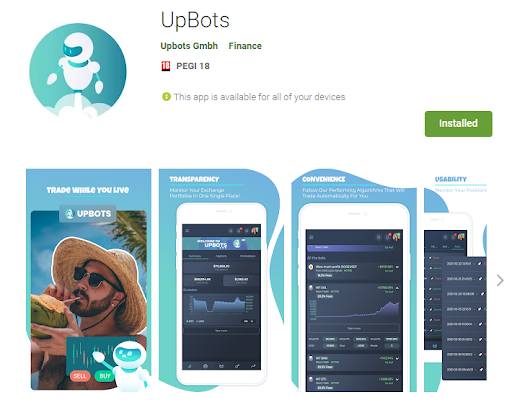 What makes the Upbots platform unique?
It's not any one thing, but rather a combination of factors:
- Free crypto trading platform
There is no need to purchase a subscription to access the platform's portfolio monitoring or trading services. It only takes a few minutes to link an API (Binance, Kucoin, Huobi or FTX) to start trading.
- Algo renting platform (Users)
In addition to manual trading, users can also rent a trading bot. This is an interesting feature, which requires the purchase of UBXT, the token of the Upbots platform. This token is then used to pay the performance fees.
- Algo renting platform (Developers)
The algorithms available on their platform are developed by independent coders, who earn a part of the performance fees. If the bot makes profits for the users, everybody wins. It is worth mentioning here that Upbots use a system of "true performance" fees. If a trade is positive but the user's capital is not at its All-Time-High, then they don't pay any fees for that trade.
- Long/short algorithms
This may sound trivial, but not all platforms have this feature. Having the ability to rent an algorithm that not only goes long but also goes short is a must-have in times of market consolidation.
UpBots Algo developer Outreach
The Upbots platform works with a performance fee model for algorithm rental. They announced their search for the best algo developers in the industry offering them between 2% and 9.25% on each trade that makes a profit for the users.
Example:
If there was $500,000 of capital using an algorithm that makes a positive trade of +10%, the Developer would then earn between $1,000 and $4,625 - and that is on a single trade only. Sounds like an interesting option for Developers looking for some extra income and recognition.
Final thoughts
After reviewing their platform, we believe that Upbots has a bright future ahead.
The available algorithms allow coders of all backgrounds to gain visibility.
The platform is easy to navigate, users can quickly find their way around and connect to a bot with a few clicks. It is very important to say that both, UpBots platform and their app, deliver simple and intuitive user experiences.
Finally, the possibility to use a long and short bot allows an exposure to the market whatever the state of the latter. The market has been declining for more than 4 months now, so a short strategy is very welcome and allows users to still profit.
You can download their app here: https://play.google.com/store/apps/details?id=com.app.upbots&hl=en&gl=US