Dcoin Exchange recently announced a strategic partnership with the online crypto casino company ACE Entertainment on 14th August 2019. The APEC CEO of Dcoin Tim Seo and CEO of ACE Entertainment Sebastian Ryu convened for a signing ceremony to formalize the partnership. The main goal of this partnership is to improve the quality of the project while enabling casino players all around the world to gamble with cryptocurrency.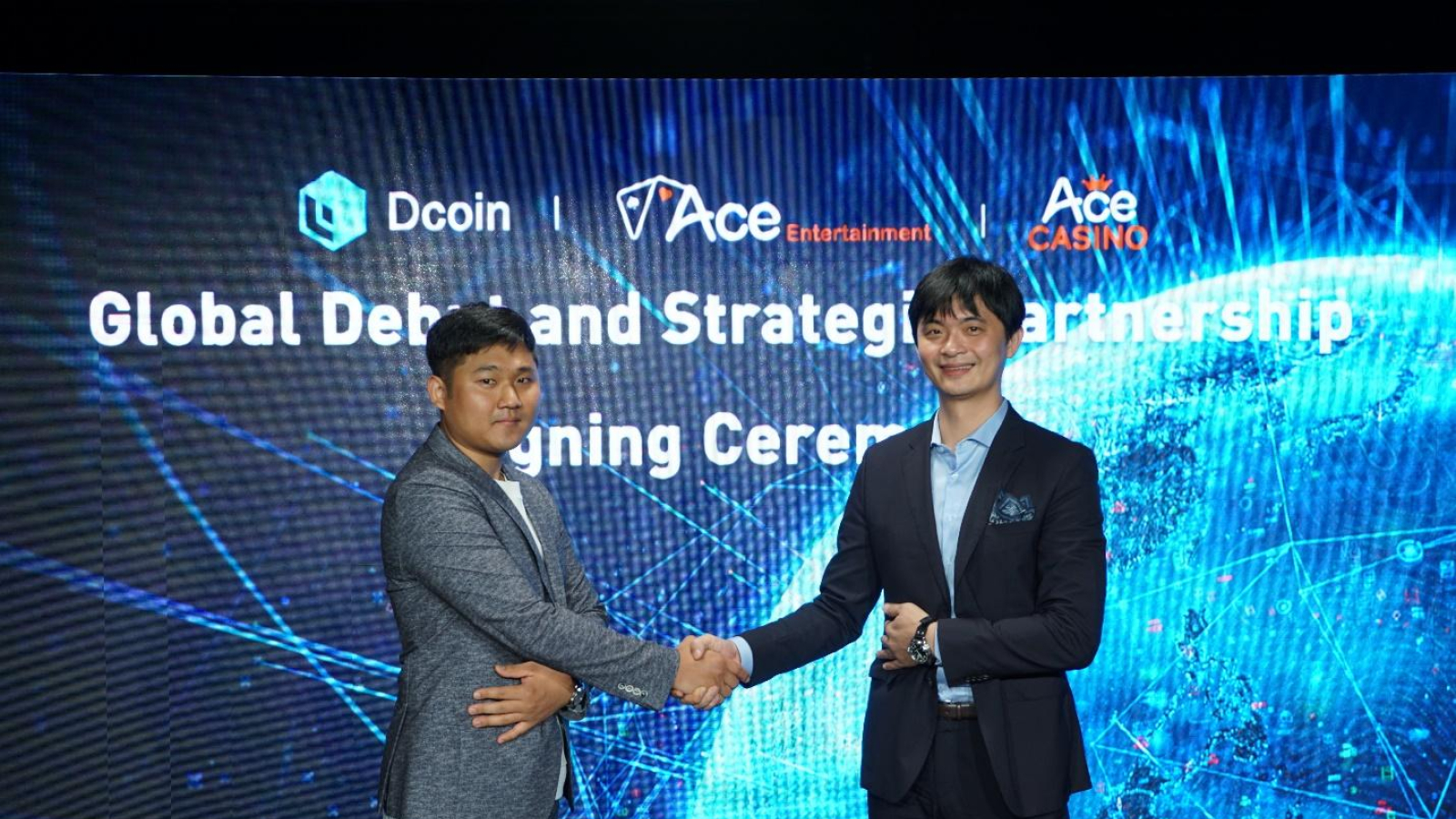 Dcoin Exchange was incubated by JRR Crypto, the investment company that invested in Binance and is strongly involved with cryptocurrency exchanges. Dcoin aims to be a financial-level digital assets and derivatives trading platform. At the time of writing, Dcoin ranks 29th on Coinmarketcap, which is a notable achievement for a new exchange. Dcoin's core team comes from well-known Internet companies such as Google, Baidu and 360. The company currently has operation centers in Singapore, Seoul, Switzerland, and Hong Kong. Since its launch, Dcoin has accumulated more than 400,000 users, with over 2000 daily active traders from China, South Korea, Southeast Asia and European countries.
ACE CASINO – World Class Crypto Casino is a reverse ICO project developed by Georgian company ACE Entertainment together with ME2ON. The project is accessible in over 200 countries and regions. By combining client server and blockchain technologies, as well as HRNG certified by iTech Labs, ACE Entertainment is able to provide a high-quality gaming experience. Since games on ACE Casino are HTML-5 based, ACE CASINO is fully accessible on various devices, anytime and anywhere, and its currency, ACE, can easily be withdrawn and traded. ACE CASINO is currently licensed and regulated by the government of Curacao to ensure that the platform upholds values of user protection and fairness to provide a safe gaming experience to the users.
ME2ON, a company listed on KOSDAQ in South Korea, is ACE CASINO's co-developer, providing technical support and service know-how. ME2ON currently has an immense user base with 120 million registered users and 3 million daily active users. ME2ON is known as Asia's leading social casino company with over 200 launched games. As ACE Entertainment's partner, ME2ON is dedicated to offering technical and operational support in this project to benefit the entire ACE ecosystem. ME2ON aims to bolster ACE Entertainment in achieving its ultimate goal: to make ACE into a common currency in all online and land-based casinos in the world and become a game changer in the industry – a hyperconnected casino chain.
Through ACE Entertainment and Dcoin's partnership, ACE token will be included into the Dcoin ecosystem, accelerating the deployment and circulation of ACE tokens in the world. More importantly, listing on Dcoin enables ACE CASINO players a means to exchange ACE token for other cryptocurrencies, letting ACE CASINO players easily obtain their winnings.
ACE Entertainment's CEO Sebastian Ryu stated that "in order to let ACE CASINO players easily withdraw their winnings and improve ACE's currency liquidity, this is the partnership that we needed". Dcoin APEC CEO Tim Seo added that "This is the first time working with such a large platform. We are very grateful that ACE Entertainment is working with us. Through this partnership, we hope to create a more transparent and trustworthy cryptocurrency ecosystem for users all around the world!"
The parties expect that this partnership will produce strong mutual benefits, pushing both companies into the frontline of the blockchain industry.
ACE, the cryptocurrency developed by ACE Entertainment, is expected to be exclusively listed on Dcoin exchange on 29th August 2019, coinciding with ACE CASINO's grand opening. Free ACE events and special tournaments will be held during that period.