Shiba Inu (SHIB) is showing growing popularity among new investors in the cryptocurrency space. This development is revealed by a new metric introduced by IntoTheBlock, a blockchain data analytics firm. The indicator focuses on the proportion of new addresses conducting their first transaction out of all active addresses on a given day, offering insights into the share of total activity attributable to newcomers.
For Shiba Inu, this percentage recently leaped from around 30% to nearly 65%, signaling a surge in new investor interest in this token. It is a compelling turn for a token that emerged as a "meme coin," modeled on the popular Dogecoin but quickly establishing its own strong following.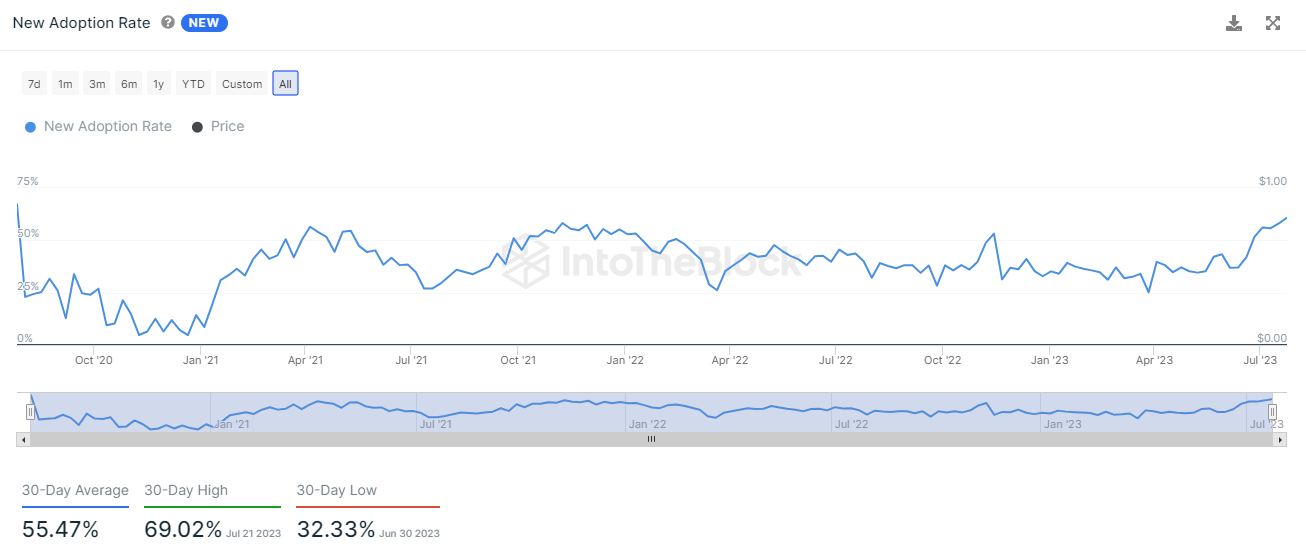 This surprising uptick in SHIB's new investor appeal could be tied to its resurgence as the reigning "meme coin king." This title appears to have been reclaimed from PEPE coin, another well-known entrant in the meme coin category. Meme coins, often started as jokes, have gained considerable attention in the crypto sphere, with tokens like Dogecoin and Shiba Inu amassing substantial market caps and dedicated communities.
It is worth noting that the influx of new investors signals a broadening user base, potentially driving increased liquidity and stability in the token's trading. Moreover, the meme token's popularity might also suggest an expanding acceptance of such coins in the wider crypto market, hinting at a shift in investor sentiment and a potential trend for other such tokens to follow.
However, as always in the cryptocurrency world, caution is advised. Meme coins, like Shiba Inu, are renowned for their volatility and unpredictability. New investors, in particular, should conduct thorough research and take into account the risks involved in trading these digital assets.