Growth in the digital currency ecosystem is spreading to more altcoins across the board, with Kaspa (KAS) now leading today's altcoin surge following its 10% growth in the past 24 hours to $0.02695. With current growth trends, Kaspa has now extended its upsurge over the past week, in which it has printed a massive 26.94%.
That Kaspa is soaring is not necessarily major news as previous reports show KAS has a unique price action that has largely kept it on the radar of most investors to date. Kaspa's growth is backed by several factors, including trading volume, which has remained elevated to complement the upsurge. At the time of writing, Kaspa's trading volume is pegged at $22 million, up by 40.65%.
Kaspa is designed as a Layer 1 proof-of-work (PoW) blockchain that is built to implement the GHOSTDAG protocol. The blockchain has been making definite moves to enlarge its ecosystem, and recently, it announced its latest integration with CoinPal, a crypto solution for e-commerce, opening up new opportunities for merchants and users.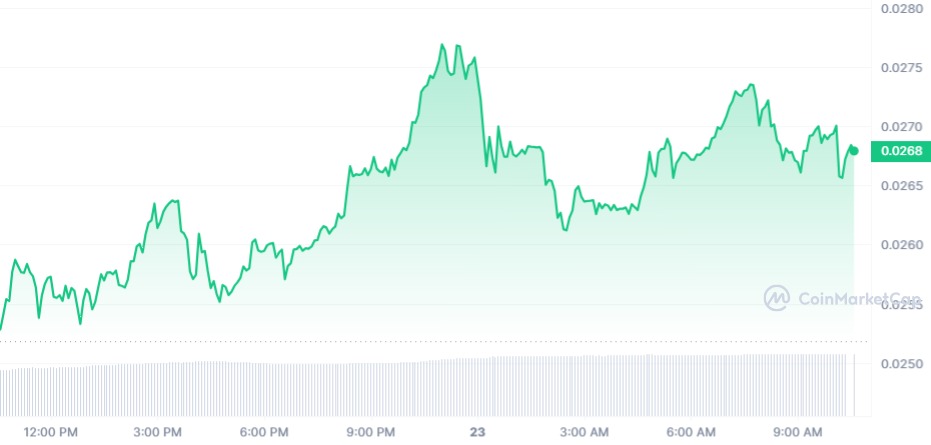 While this partnership has a lot of specific benefits for both firms, it notably showcases how Kaspa is transforming businesses with faster and more reliable transactions. With the current growth trend, the obvious target by Kaspa buyers is to drive the price to breach the $0.03 level.
Striving amid competition
Kaspa as a blockchain protocol and digital currency finds itself in a niche that appears saturated by the likes of Bitcoin (BTC), Litecoin (LTC) and Bitcoin Cash (BCH). As a payment token, KAS is striving to survive current competition, riding on the strength of its underlying technology to support micro-payments while charging little to no fees.
Many experts have projected that one of the pathways to drive the mainstream adoption of cryptocurrencies is through payments. By creating an alternative means to transact, protocols like Kaspa are empowering people and driving financial inclusion across the board.