Bitcoin mining is a must for transaction verification and confirmation on the Blockchain network. The process is performed with the help of specific equipment and tools. If you already have a juggernaut rig, don't rush to start the process – you will need special software first.
How to become a Bitcoin miner?
Becoming a Bitcoin hunter involves getting the best Bitcoin mining hardware, too. However, that's only a part of the deal. Once the hardware is bought and installed, you need to have it up and running. The necessary steps are:
Getting the best BTC mining software;
Setting up your Bitcoin wallets;
Starting to mine.
What is Bitcoin mining software?
Bitcoin mining software works in collaboration with the relevant hardware to solve computational algorithms on the network and execute these transactions. This is what directs the computational power in the right direction and helps you to get the maximum out of your equipment.
What should I consider?
When it comes to Bitcoin mining, you should approach the task with all responsibility and seriousness. We have already discussed that Bitcoin mining isn't really profitable anymore, but if you're determined to give it a chance, you will need to research and strategize. There's a wide range of factors that should be taken into consideration.
Seem to be too complicated? As soon as you get a better insight into each aspect and check out the market for possible solutions, you will be able to make the right informed decision.
Now that we have a clue about the requirements for mining, it's high time to review the most cost-efficient and suitable software solutions for Bitcoin miners.
CGMiner: Best overall performance
Written in C languages almost seven years ago, CGMiner is a versatile solution that supports numerous operating systems. It works with both FPGA and ASIC hardware, and features command line control that allows for overall mining process monitoring, including:
fan speed control;
hash rate;
interface options;
network schedule;
support of mining pools.
CGMiner boasts smart failover technologies. New blocks are detected automatically, and you will enjoy easy setting management (the menu is a no-brainer). Note that submissions can be saved in cache in case of network failure.
CGMiner works with various ASIC mining hardware options. Though lack of GUI might be a drawback for some, CGMiner is still simply the most recommendable option.
EasyMiner: Best GUI front-end for multiple tools
This GUI-based software runs on Windows, Linux, and Android. It makes mining simple thanks to the interactive GUI. It starts working instantly using the machine CPU. Every cryptocurrency has various command line tools, but with EasyMiner, the situation is different: it has a simple graphical interface through which you will easily understand the bolts and nuts of mining process navigation. Adjusting settings and doing other activities is extremely simple.
For BTC, it performs ASIC mining and other hardware options. There's also a "Solo" mode for using a pool of your own, and custom hash options for the cryptocurrencies you like. This software uses the proprietary protocol to boost safety for both the pool and wallet.
BFGMiner: Customize the process
If you need something as good as CGMiner but for working with application specific integrated circuits (ASICs), BFGMiner is exactly the thing. Flexibility and easy customization make it the best software for Bitcoin mining – it's designed specifically for the SHA256 mining algorithm. Like other decent crypto mining software solutions, it allows you to be connected to numerous mining pools.
Besides, BFGMiner saves electricity by limiting the connection if some certain mining pool doesn't respond. Like CGMiner, it offers a command line interface and is an open-source solution. To top it off, BFGMiner features:
a network proxy server;
submission to numerous threads;
proprietary mining protocol (no proxy);
restarting of idle threads;
detailed data statistics of the mining process.
The software can also check the temperature, and BFGMiner comes packed with drivers for BTC.
BitMiner: Cross-platform compatibility
Why is BitMiner special? First, it features a proprietary mining pool. Secondly, this is a versatile solution for BTC mining. It runs on different operating systems, and no installation is required for this java software. The suite boasts a comprehensive GUI that's incredibly easy to navigate.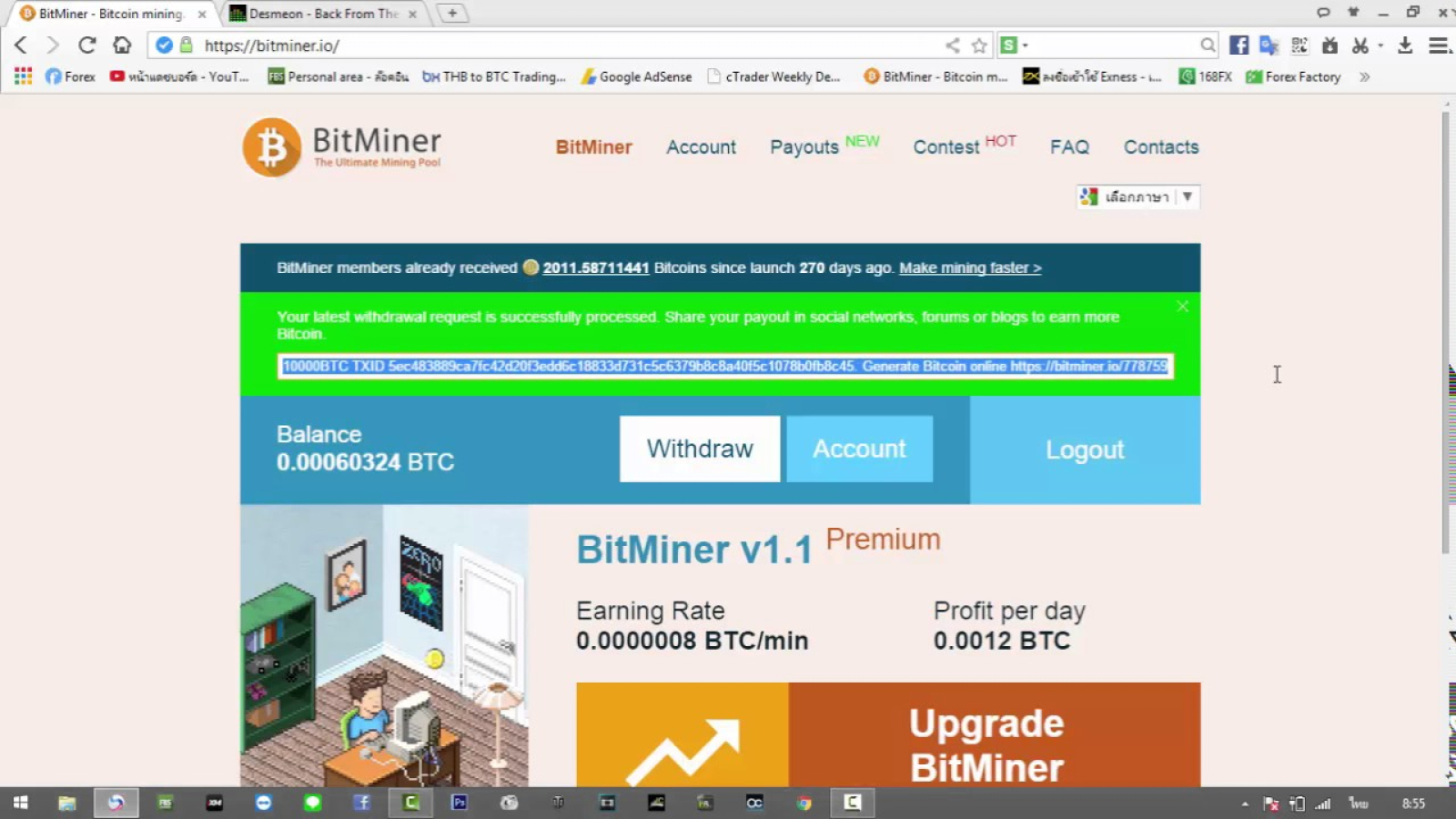 The extra layer on this cake of benefits is that 99% mining profit goes to the user. The whole gamut of ASICs will work with this suite. Considering the large number of BitMiner users, you need a worthy ASIC to reap the gains.
MultiMiner: Easy in use
If you're new to crypto, consider this graphic user interface based mining software. It works equally well with all widespread operating systems. Its mining engine works with various mining hardware and lets you select the coins you'd like to get. Besides, users have the possibility for remote control over MultiMiner rigs.
Being an open-source software, MultiMiner works with all possible devices. To top it off, MultiMiner provides detailed instruction on how to connect the pool once the software is installed. Despite that fact that the software is free, you have the option of sending 1% of the profits you make from mining to the developer. It is not compulsory, and you're free to opt out at any time.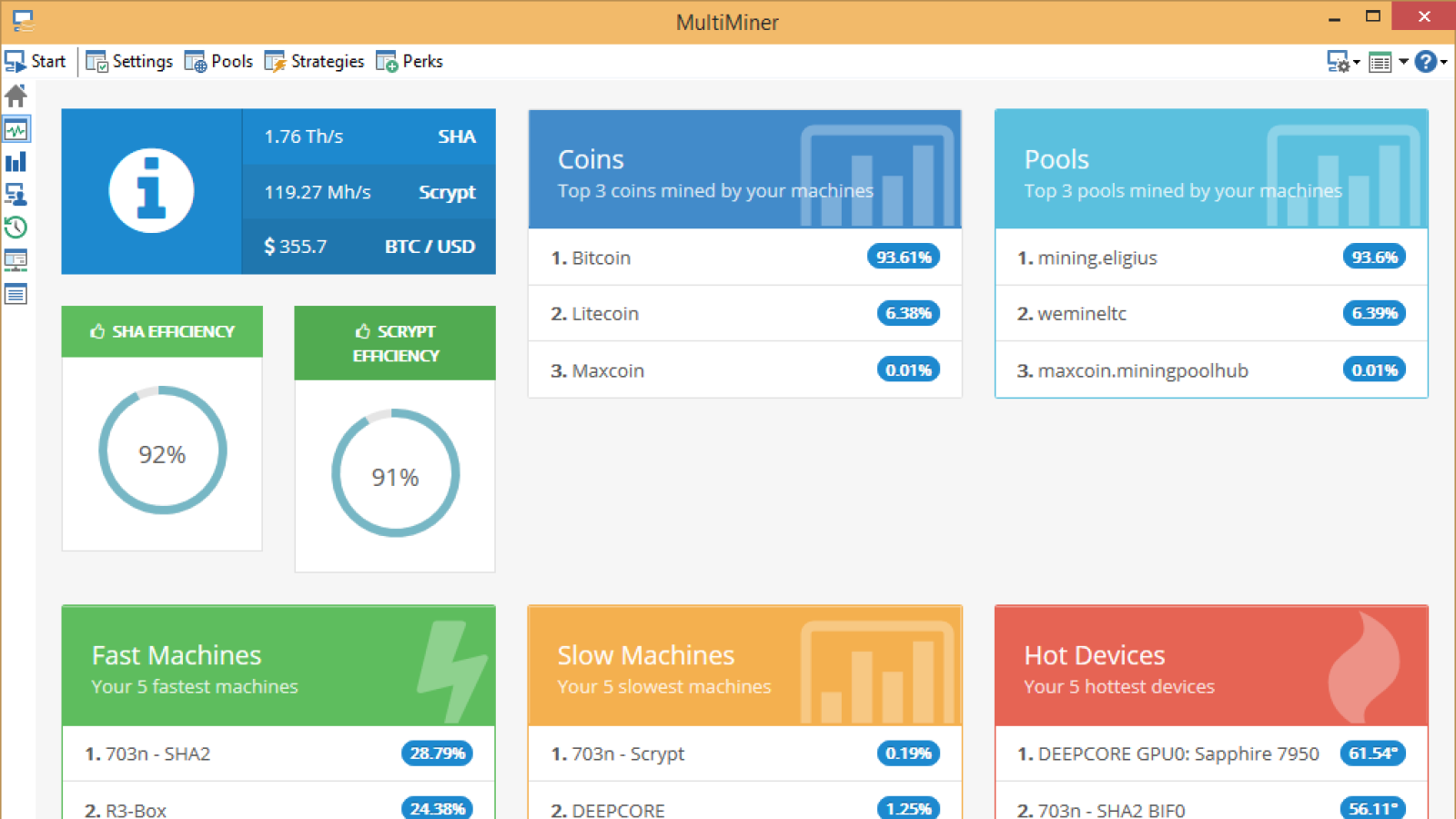 BitMinter: Simplicity coupled with versatility
BitMinter exploits its special mining pools. The software is simple in use, and it supports all popular OS. Although the program is totally free, it charges 1% commission for mining. That's a pretty fair deal considering the convenience and efficiency you enjoy.
Miner Server: Best for cloud mining
Want to start Bitcoin mining but are not ready purchase an expensive ASIC? Then you should try cloud mining, but remember that only large computing power will bring you some benefits. There's no need to buy a long-term contract, either – Bitcoin mining difficulty is soaring day by day.
When you start working with Miner Server, you have to join a mining pool and share profits with other users. There's a large variety of packages with basic cost as low as $0.14. Depending on chosen package, the hashrate ranges about 250-600,000 GH/s. All the tariffs last for one year, and you can manage your Bitcoin earnings and other settings using the account.
You can get extra hash power for free using your reference number for the affiliate program. There are no additional maintenance charges, which makes this platform highly profitable.
Phoenix Miner: Optimal option for minimizing your efforts
This is a free and open-source mining suite that was created by two Bitcoin community members in April 2011. Phoenix Miner also provides support for RPC, w/LP, and MMP. Its kernel loads automatically and the better version will always be adopted.
Bottom Line
Although Bitcoin mining isn't very beneficial today, you can still try your luck. The truth is that you will need to be ready for huge expenses: electricity, equipment, maintenance – all of that will take a bite out of your wallet. Luckily, Bitcoin mining software is usually free, and there are still decent solutions around.
Start your mining career with a good mining suite, and you will double your chances of making Bitcoin riches in 2019. Bitcoin has a very promising future, so your investment might be compensated down the road.