Laszlo Hanyecz has purchased another pizza using Bitcoin and this time he didn't pay 10,000 BTC. On Sunday, Feb. 25th, at 1:29:59 UTC 2018, Laszlo created a post " Pizza for (lightning) Bitcoins" on linux foundation saying he wanted to make a real-world trade over the lightning network. Once again, Laszlo was interested in buying pizza with Bitcoin. Since no pizza places in Laszlo's area (Jacksonville, Florida) accept Bitcoin payments over the Lightning network (yet), Laszlo arranged for a friend in London to act as the middle in the transaction. Laszlo's friend would pay for the pizza on Lazlo's behalf, and then receive compensation for the pizza over the lightning network from Laszlo.
Laszlo's friend agreed that he would order the pizza to be delivered to Laszlo's house, that he would give the preimage to the delivery man, and that once the pizza arrived, Laszlo would show the first and last four digits of the preimage number as proof that he had actually paid for the pizza. If Laszlo was not able to provide the first and last four digits of the preimage, the pizza was to be destroyed. The preimage is proof of payment for a transaction on the Lightning network. It would not be possible for Laszlo to have the preimage unless he actually paid his friend for the pizza.
Laszlo opened a payment channel between him and his friend and funded it with a sufficient amount of Bitcoin to buy two pizzas. Laszlo's friend sent Laszlo a bolt #11 invoice. A bolt #11 is the invoice protocol for payments on the lightning network. Once the pizza arrived, the delivery man asked Laszlo what the preimage was. At this point, Laszlo paid the invoice, received the 64 character hex string preimage, and wrote down the first and last four numbers of the preimage. When Laszlo presented the notepad with the preimage number "7241-a8c1" to the delivery man, the delivery man compared it to his own note and handed over the two pizzas. Another successful Bitcoin pizza transaction under Laszlo's belt.
Why did Laszlo, pay for two pizza's over the Lightning network? No particular reason. In his linuxfoundation post Laszlo says:
So is there any point to doing this instead of an on chain transaction? For what I described here, probably not. The goal was just to play around with c-lightning and do something more than shuffling a few satoshi back and forth. Maybe eventually pizza shops will have their own lightning nodes and I can open channels to them directly.
Laszlo became notorious in the crypto community for an incident that occurred on May 18, 2010. Laszlo created the post " Pizza for Bitcoins" on the Bitcointalk forum saying he was willing to pay 10,000 Bitcoin for a couple of pizza's. Laszlo said that whoever takes him up on his offer could make the pizza themselves or order the pizza for him; he would not mind either way. All Laszlo really was trying to do was get food delivered in exchange for Bitcoin.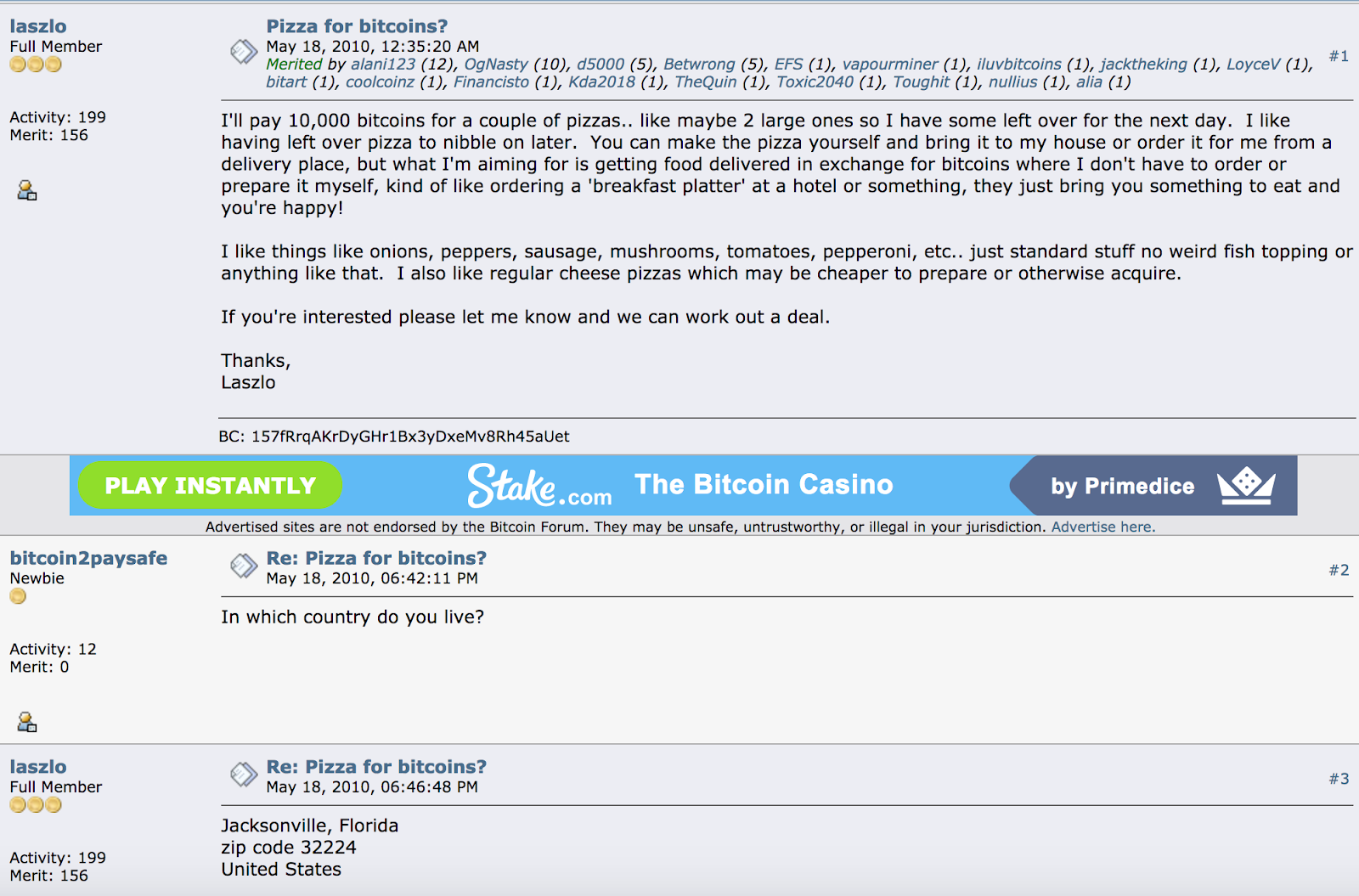 Source: https://bitcointalk.org/index.php?topic=137
A few hours after the post was created, one user commented that 10,000 BTC was quite a lot to be paying for two pizzas, 10,000 Bitcoin was worth a whopping $41 at the time.

Source:https://bitcointalk.org/index.php?topic=137
On May 22, 2010, Laszlo posted in the Bitcointalk forum saying that he had successfully traded 10,000 Bitcoin with user Jerco (in real life Jeremy Sturdivan). The very next post on the forum congratulates Laszlo for a milestone reached in the Bitcoin community. Laszlo was the first individual to transact Bitcoin for a real-world good. On May 22, 2010 Laszlo received two Papa John's Pizzas for 10,000 Bitcoin. At the time, 10,000 Bitcoin was equal to about $40, today, 10,000 Bitcoin is equal to $94.3 mln. This historic event made May 22, Bitcoin Pizza Day, on May 22 every year, the crypto community orders pizza in honor of Laszlo's historical transaction.