While Ethereum has remained second in terms of market cap for most of its lifespan, sitting as the first rival for Bitcoin as a new smart contract blockchain, it is in danger of being usurped by the current number three: Ripple and its XRP token.
However, even though XRP has found itself in second place in the recent past, this rivalry between the two coins under Bitcoin is a false rivalry as they have very different directions and niches. Though when it comes to interest, one is a clear leader.
Ethereum might be winning the popularity contest because its market cap is above $17 million and XRP has a market cap of around $13 million.
On the other hand, there is another metric used to measure the rival cryptos' popularity that shows a different outcome: Google trends.
The popular Ripple
Google trends is showing that when it comes to worldwide searches, Ethereum is not nearly as popular as its faux rival, Ripple. But it is also important to note that when it comes to searching, Ripple and XRP are often used interchangeably.
Over the past 90 days, the two coins have followed a similar path as the crypto spring has pushed up the interest and sentiment, yet, on average, it is clear that Ripple is miles ahead.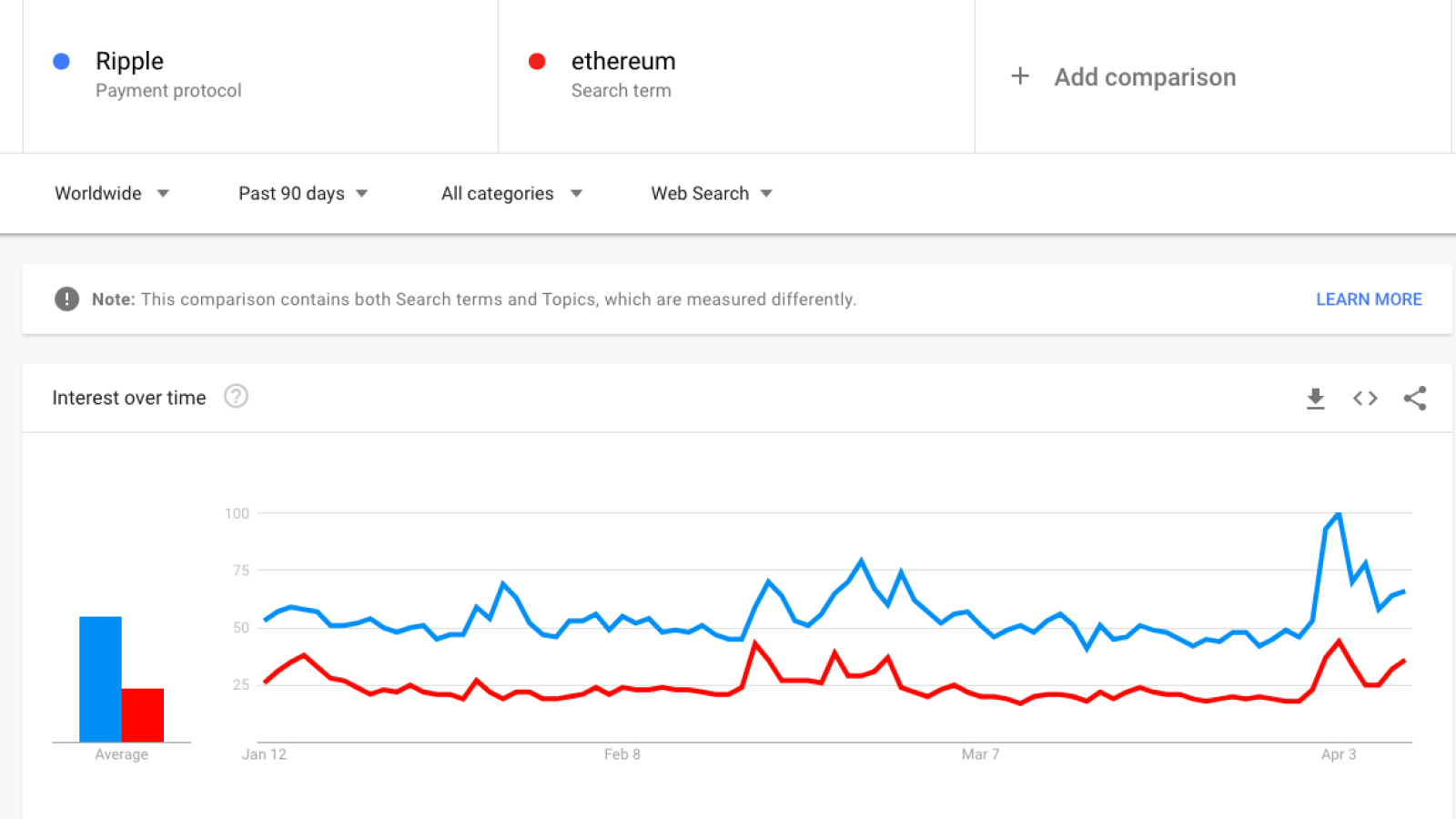 There are a lot of things to consider when determining the worth or value of a coin outside its actual price, and while interest is not the be all and end all, it is an important metric to note. So, while Ethereum holds second spot, it is in danger of being overtaken by Ripple if the company is able to take that interest and turn it into market success.
Added value
Again, while the market cap rating of a coin is not the be all and end all, it is another aspect that does add value to a coin beyond its token value. There is lot of prestige and importance for coins to be in the top 10, 20, or indeed three of the market cap standings as it indicates success.
Ripple and its XRP token are perhaps more interested in chasing banking partnerships, but if they were to overtake Ethereum, their own value as a company would certainly rise. However, it would have to be a long-term overtaking rather than a fleeting one as has been the case before.