Popular platform for tracking SHIB removed from circulation Shibburn has shared that, in the past 24 hours, the burn rate of Shiba Inu meme crypto has surged by over 5,500%. Still, the amount of burned meme tokens here leaves a lot to be desired.
SHIB burn rate jumps big, but small chunk is burnt
Since yesterday morning, according to Shibburn, the pace at which Shiba Inu tokens were removed from circulation skyrocketed by a staggering 5,572%. However, despite such a massive rise, SHIB enthusiasts succeeded in burning merely 12 million meme coins.
The biggest chunks of SHIB that were burned in the past 24 hours include 6,820,000; 1,848,400 and 1,500,225 SHIB.
The data from the website shows that yesterday, the SHIB army only destroyed 211,954 Shiba Inu, hence the astounding rise in percent compared to the feeble burn.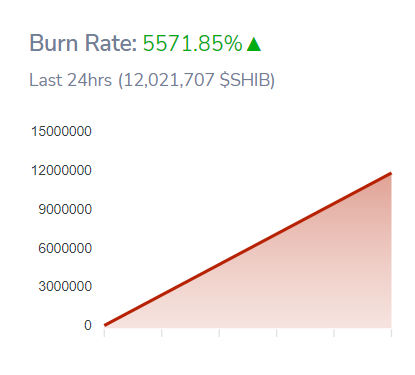 Two days ago, twice as many SHIB tokens were removed from the circulating supply – over 22 million. Still, these burns are next to nothing since the total amount of SHIB currently circulating on the market is 572,079,907,638,876 meme coins. On that day, the burn rate of Shiba Inu soared by over 4,500%, as U.Today covered earlier.
SHIB holds top positions among whales
Data shared by popular wallet tracker WhaleStats shows that Shiba Inu remains one of the most popular assets with the top Ethereum whales for now. At the moment, it is surpassing other cryptocurrencies as the most-traded coin and the biggest crypto asset in U.S. Dollar equivalent among the 100 biggest wallets on the Ethereum chain.
SHIB is in third place in the top ten list of assets owned by these whales – after ETH (the number one asset) and USDT stablecoin. Overall, these investors now hold $589,877,592 worth of SHIB. This is 15.83% of their total portfolio tracked by WhaleStats.
At press time, Shiba Inu is trading at $0.00001159 with over $6.5 billion market capitalization value, according to popular crypto reference website CoinMarketCap.
📰 JUST IN: $SHIB @Shibtoken flipped $PERP for MOST TRADED token among top 100 #ETH whales

Check the top 100 whales here: https://t.co/N5qqsCAH8j

(and hodl $BBW to see data for the top 5000!)#SHIB #PERP #whalestats #babywhale #BBW pic.twitter.com/bKGJIxa2qn

— WhaleStats (tracking crypto whales) (@WhaleStats) January 31, 2023