Chainlink, an innovative oracle network that connects smart contracts to real-world data, has been seeing a considerable surge in its network activity, indicating strong bullish sentiment in the market. Recently, the network's address activity experienced a 10% uptick, showing increased user engagement and on-chain activity. In addition, the bid-ask volume imbalance leans toward bulls by 7%, suggesting a stronger demand for LINK compared to its supply in the marketplace.
The impact of these bullish indicators is evident in Chainlink's price action. Over the past weeks, the price of LINK has seen a significant rally, marking a 26% increase since reaching its local bottom. As of this writing, the cryptocurrency is trading at $6.3, a level last seen in June. This upward trend indicates renewed investor interest and a possible end to the bearish phase that has gripped the token for some months.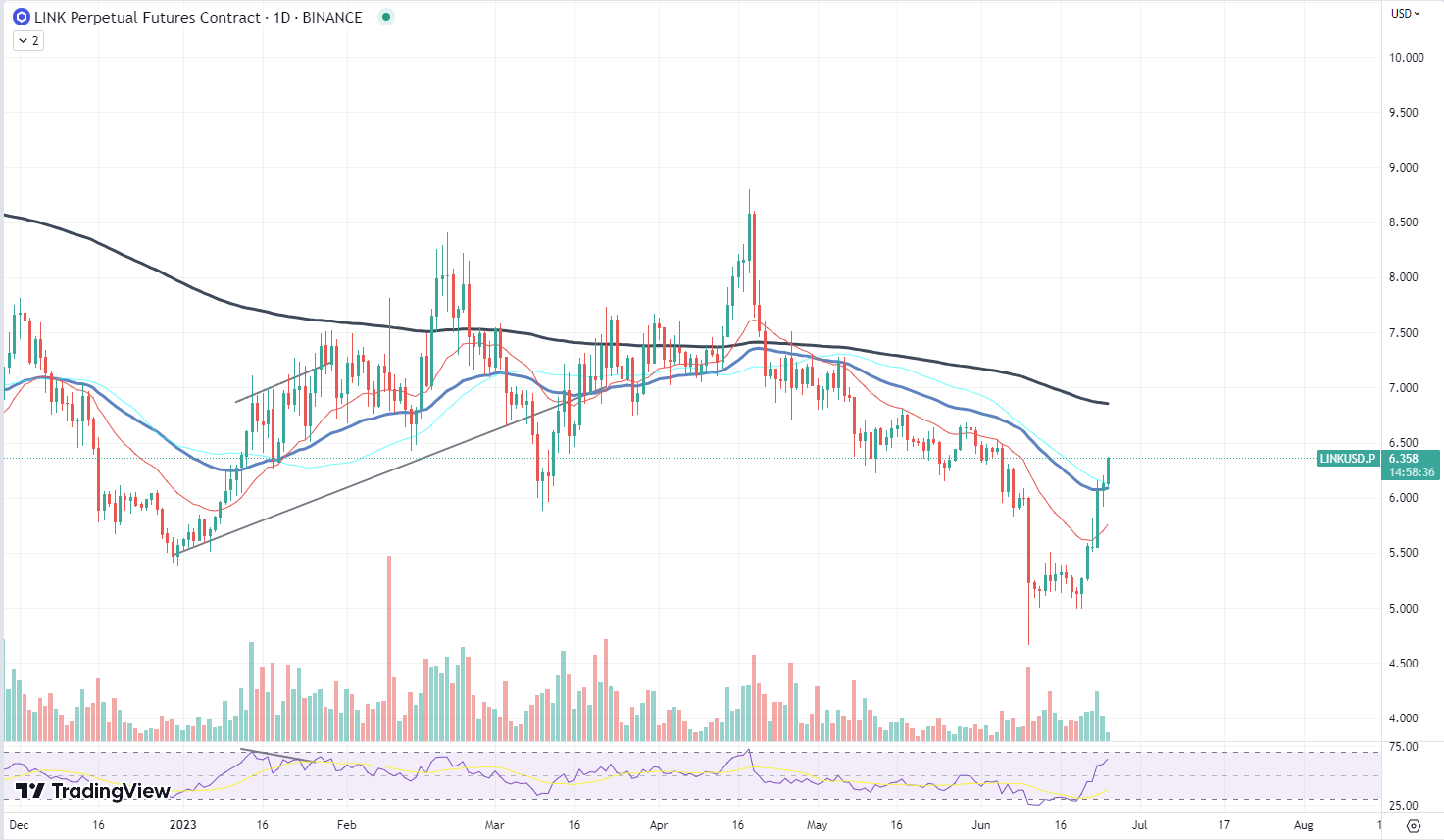 The burgeoning DeFi sector is playing a pivotal role in Chainlink's bullish tendencies. As DeFi platforms seek to integrate real-world data into their smart contracts, Chainlink's oracles become an essential tool.
This has not only resulted in a surge in Chainlink's usage but also positively impacted the price action of LINK. As the DeFi ecosystem continues to expand, the demand for Chainlink's oracle services is expected to grow, potentially driving LINK's price even higher.
Furthermore, Chainlink's ongoing developments and partnerships are contributing to its network activity. As more platforms adopt Chainlink's technology, the ecosystem's dynamism grows, which is reflected in on-chain metrics and, subsequently, the price of LINK.
However, as with any cryptocurrency investment, it is crucial to consider the inherent risks. While Chainlink's current on-chain data and price action exhibit bullish tendencies, investors should keep an eye on broader market sentiment and hedge their existing position from any unexpected events.