While stability and reliability, in terms of price anyway, have never been bywords for Bitcoin, the digital currency has shown on a few occasions that it is the asset of choice when there is a global upheaval in the markets.
People spout vitriol about Bitcoin being a bubble, it being too volatile, and a dangerous asset to invest in, yet, it is currently the best place to be in relation to the traditional stock market currently.
The US Dow Jones and S&P 500 are in a shambles currently as the sell off continues, wiping clean the earlier gains seen in January. However, Bitcoin has shaken off its own price woes, rebounding and steadily climbing after it took a regulatory boost from Senate.
Proving its stability
In recent times, there have been two major occasions where Bitcoin price has bucked a global trend in the markets. One of those times is now, as the Dow Jones and S&P 500 sit an average of five percent down.
The other time was when a spate of geopolitical flux took effect of the global market with tensions between North Korea and the US finding a head last year.
At this juncture, the global economy took an average of a one percent drop across the board as the two presidents squared up. Meanwhile, Bitcoin continued to climb during this heated moment for the global economy.
It's decentralized nature, not being linked to any geographical or political subject, made Bitcoin an asset unaffected by the usual market movers.
Showing signs
A look at the Bitcoin Volatility Time Series Chart gives a good indication that those wild swings of price movement are starting to subside as the digital currency enters a more mainstream market.
There are of course the highs and the lows that are epitomized by Bitcoin, but their deviation is nowhere near as massive as a couple of years back.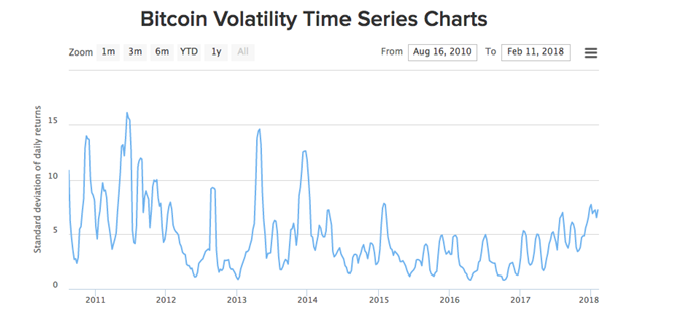 Of course, Bitcoin is not only a new asset, being less than 10 years into its existence, but it has also been described as a new asset class. But it seems that as this new asset class is scrutinized and examined, from all angles, it is being brought into line.
Power of regulation
Interestingly, in a week where the CFTC chairman spelled out some good regulatory news for Bitcoin, not only did its price increase and its volatility cool, but it was also predicted by a former CFTC chairman.
Bart Chilton – who served as a commissioner for the Commodity Futures Trading Commission (CFTC) from 2007 to 2014 said back in September last year:
"Rather than waiting for governments to take actions that thwart the development of digital currencies, [digital enthusiasts] should lead efforts to put in place appropriate regulatory oversight for these new and innovative financial technologies," he wrote.
He explained further that regulation would be key in solving Bitcoin's volatility.
A future market
There is little doubt that the future of money and investing will be digital; this was also expressed by Chilton. In his view, "money will be digitized," and cryptocurrency will be part of that process.
To that end, there needs to be some sort of compromise if the switch to digital is too happen. Regulation should be a two-way street and both parties need to come to the table. In doing so, volatility could go down, and make the process even more seamless.