The red wave that started on Sunday continues at the beginning of the week. CoinMarketCap tells us that the major crypto coin, father of all other digital assets, Bitcoin, lost nearly 4 percent over the past twenty-four hours. The only coin from the top-20 that is currently in the green is Ethereum Classic (ETC), trading at $5.03.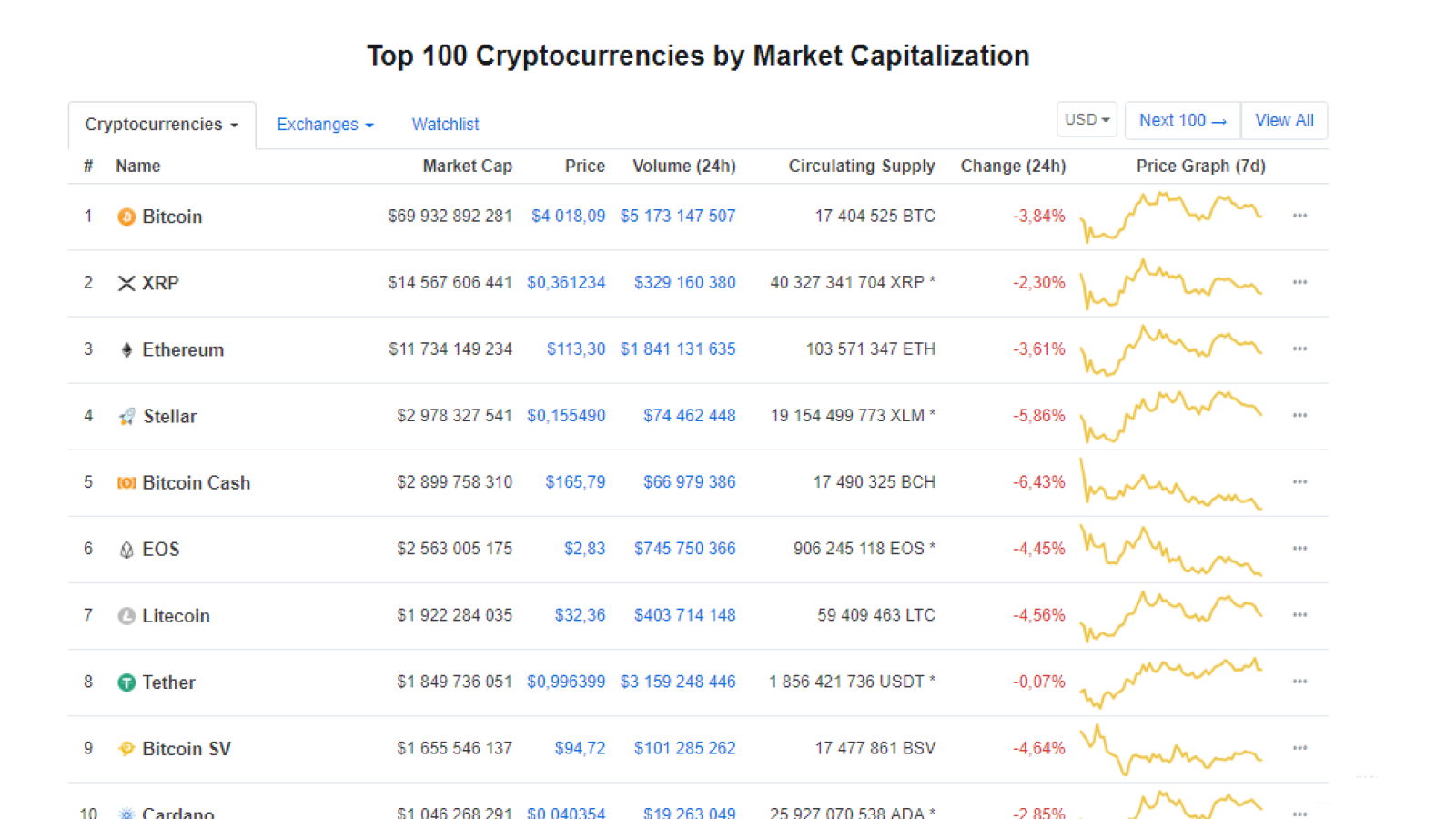 Top-20 are sliding down the hill
At the time of writing this, Bitcoin is going at $4,014. Anyway, Satoshi Nakamoto's invention has managed to stay around the $4,000 mark over the weekend, compared to Friday, when it slumped under $4,000.
Ripple (XRP) is still in 2nd place by the volume of market capitalization and is sitting at $0.36, having lost nearly2.5 percent over the last day.
Ethereum (ETH), having demonstrated a short-term rise last week when its price hit $125, is currently also heading south and its quotes are at the $113.16, though on Sunday the price was a little higher - $120 and $115.
The total volume of the cryptos' market cap is slightly over $130 bln, compared to $139 bln on Saturday.
Recent movements within the top-10 list
Last week, Stellar managed to advance on the top-10 scale, pushing Bitcoin Cash from fourth to fifth position. EOS remains in sixth place, though last week it also had briefly occupied fifth position.
Bitcoin Cash SV remains in ninth place, where it managed to get to pretty quickly after being way out of the top-100 list following the BCH hard fork that took place on November 15. Now, BCH ABC (which is still BCH on CoinMarketCap and major crypto exchanges) is trading at $165.68. On Saturday it was selling at $180. BCH SV is sitting at $94.45 at press time.
Current gainers of the top-100 club
Over the past week, the fingers of one hand mostly were enough to count the gainers of the top-100 list. Now the situation is almost the same. The only assets in the green at the moment are: Ethereum Classic (ETC) (+3.35 percent), TrueUSD (+0.18 percent), USD Coin (+0.25 percent), Waves (+4.81 percent), Golem (+11.7), and six more altcoins.
Bitcoin still holding despite recent news
BTC has managed to stay around $4,000 over the weekend, even though the latest news has been not favourable for it. Regulators of several countries have tightened their policy against crypto. The Thai SEC is eyeing a separate regulatory basis for regulating STO (security token offerings). Japanese watchdog FSA is about to launch new regulatory measures for ICOs to defend investors' money from fraudsters.
The Estonian Finance Ministry, reportedly, intends to adjust the law it has recently passed on AML measures to tighten crypto regulatory rules in order to prevent financing terrorists with crypto.
Also, over the weekend, the G20 countries urged to implement taxation on virtual assets globally and to introduce a legal framework for preventing money laundering.