Bitcoin has charged back, stunning bears with a 48 percent rise in less than two days. Just as bulls were despairing and mainstream media pundits gloating over Bitcoin's "death," the digital currency surprised observers by painting a huge green candle on the price charts. Bitcoin bottomed out at $5,800 late Monday night following a day of blistering losses in the equity markets that saw the Dow dip a record 1,175 points.
Immediately after touching a low that hasn't been seen in months, Bitcoin began moving upward on surprisingly high volume. Tuesday, Feb. 6 brought about the highest volume day that the Bitfinex exchange had ever seen, and one of the all-time highest volume days. On that day, 190,000 Bitcoins changed hands on that one exchange.
Bulls were encouraged, as high volume is often seen as confirmation of price movement. Indeed, Bitcoin price moved from the mid-7,000s to mid-8,000s this morning, proving the bulls right. At press time, Bitcoin has receded slightly from its intraday high of $8,600, sliding to $8,100. Other top digital currencies posted equivalent gains, with Ethereum, Ripple, Litecoin and most others posting gains in excess of 40 percent over the two day period of Feb. 6-7.
Can it last?
Bears are slightly battered but remain confident they have the upper hand in the long term. Bitcoin's slide from $20,000 to $5,900 took less than two months, and key technical indicators favor additional losses. Since March 2017, when Bitcoin price lifted off from its base of $900, Bitcoin has respected an ascending trendline. The price bounced off this rising support level several times over the ensuing months, before crashing through it on Feb. 5.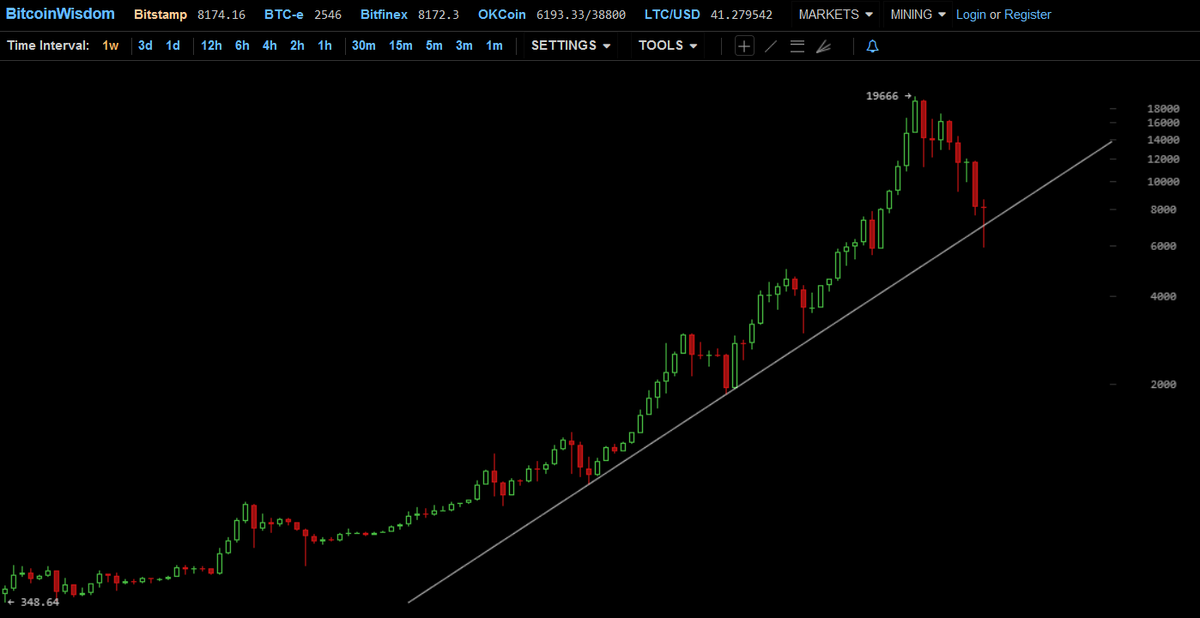 Though the past two days' price action has taken Bitcoin back above that rising trendline, many traders are watching for further breaks of the line, which could indicate the long bull run has ended. Additionally, on Bitcoin's 3-day charts (where each candlestick represents three days of price action), the short term moving average has crossed over the long term moving average. This so called "death cross" usually presages further losses, as it shows the bulls are losing steam.
By no means is all hope lost; Bitcoin has surprised traders before and will do so again. However, it's worth exercising some caution when dealing with this extremely volatile market, and it's always worth remembering the adage: never invest more than you can afford to lose.