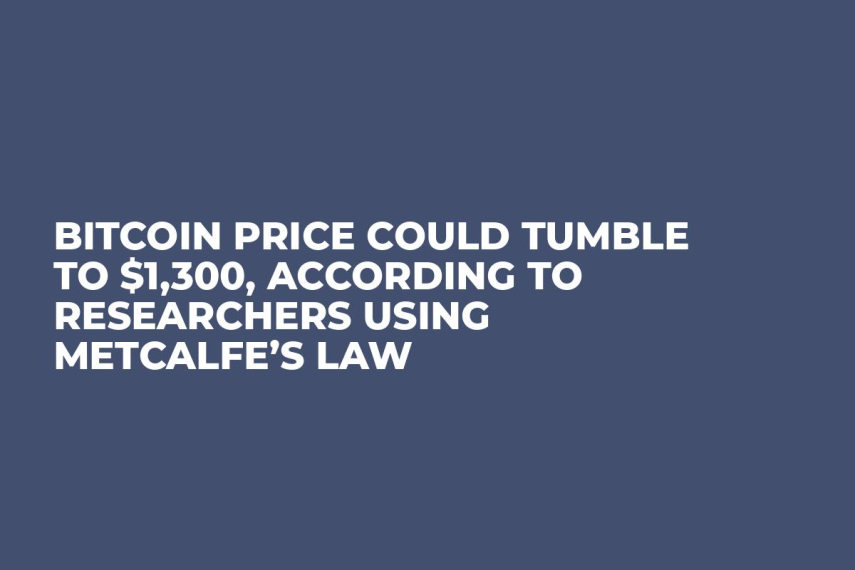 Cover image via U.Today
Researchers at ETH Zurich believe Bitcoin will drop to at least $2,600 - and possibly as low as $1,300 - over the coming months, based on an application Metcalfe's Law. This law, coined by the inventor of Ethernet, says that the value of a network increases in proportion to the square of its number of users. Metcalfe's Law has long been used by Bitcoin maximalists - those who eschew all altcoins - to bolster their arguments about why Bitcoin, and only Bitcoin, will succeed in the long term.
The same argument used by these maximalists is now suggesting that Bitcoin is dramatically overvalued. While the researchers cannot point out how long it will take for Bitcoin to drop below $2,000, they argue that it's coming. However, they suggest that the market will have some wild swings in store for traders in the meantime.
Metcalfe's Law
The researchers plotted the growth in Bitcoin's price and its number of users since the currency's inception, and they found four periods when the growth in price dramatically outstripped the growth in users. These are Bitcoin's four well-known bubbles, which the model, backtested against past data, predicted.
The researchers suggest that Bitcoin's true value is much lower than its present price:
"Our Metcalfe-based analysis indicates current support levels for the bitcoin market in the range of 22–44 billion USD, at least four times less than the current level."
With 17 mln Bitcoins currently in circulation, that implies a price of $1,300 to $2,600 per coin.
Price discovery
The market is a notoriously fickle thing, as sellers and buyers battle to determine the "true value" of an asset. This process is called price discovery, and it can be messy and drawn-out. Following the late-2013 bubble, the market spent nearly two years determining that the value of a single Bitcoin was somewhere between $180 and $1,100. The price range eventually narrowed into the mid-$400s before rising in anticipation of 2016's halving of the block reward.
The market is in a similar period of price discovery now, and it's unclear how long it will take or what lower bound the market will place on Bitcoin's value. The market clearly doesn't believe Bitcoin is worth its December 2017 high of $20,000, but at least for now, doesn't think the price should drop below the $6,000 level set in early February.
It should be noted that following the Mt. Gox hack of 2014, the price of Bitcoin temporarily doubled from the $300s to $600s before continuing down to its ultimate low of $180. These wild surges give "hodlers" hope and traders hell, before continuing the longer-term downward spiral.
Different world
The good news for Bitcoin owners is that the world today is radically different from 2014. Back then, it was unlikely but entirely possible that cryptocurrency might just become one big failed experiment. Crypto enthusiasts expected any day to read about a sudden Bitcoin ban in the news. On February 24, 2014, for instance, US Senator Joe Manchin published a press release on his Senate webpage:
"Today, U.S. Senator Joe Manchin (D-W.Va.) sent a letter to federal regulators seeking a ban on Bitcoin, the virtual currency that is unregulated and unstable, and has been used in illicit activity, including drug trafficking and money laundering. Senator Manchin expressed concerns about the negative effect Bitcoin could have on America's economy if this crypto-currency remains unregulated."
Today, there are more and better exchanges, regulators still haven't issued any outright bans (other than in China) and governments are talking, rather than outright banning. There are more payment processors, more upgrades to the Bitcoin network, more successful altcoins and more companies adopting cryptocurrency than ever before. It's virtually inconceivable that digital currency will go away - even if we do face a prolonged bear market.