In an unfortunate series of events for BALD meme coin investors, the digital asset's volume has plummeted by a staggering 96%, driving the price down considerably. This drastic occurrence follows the removal of over 6,000 ETH worth of liquidity from the meme coin's contracts, casting a grim shadow over the future of the asset.
The sudden liquidity removal resulted in an immediate price tumble, revealing telltale signs of a "rugpull," a type of scam in the cryptocurrency world where developers or promoters abandon a project and run away with investors' money. In the aftermath, BALD's price has nosedived horribly, leaving investors scrambling to do damage control.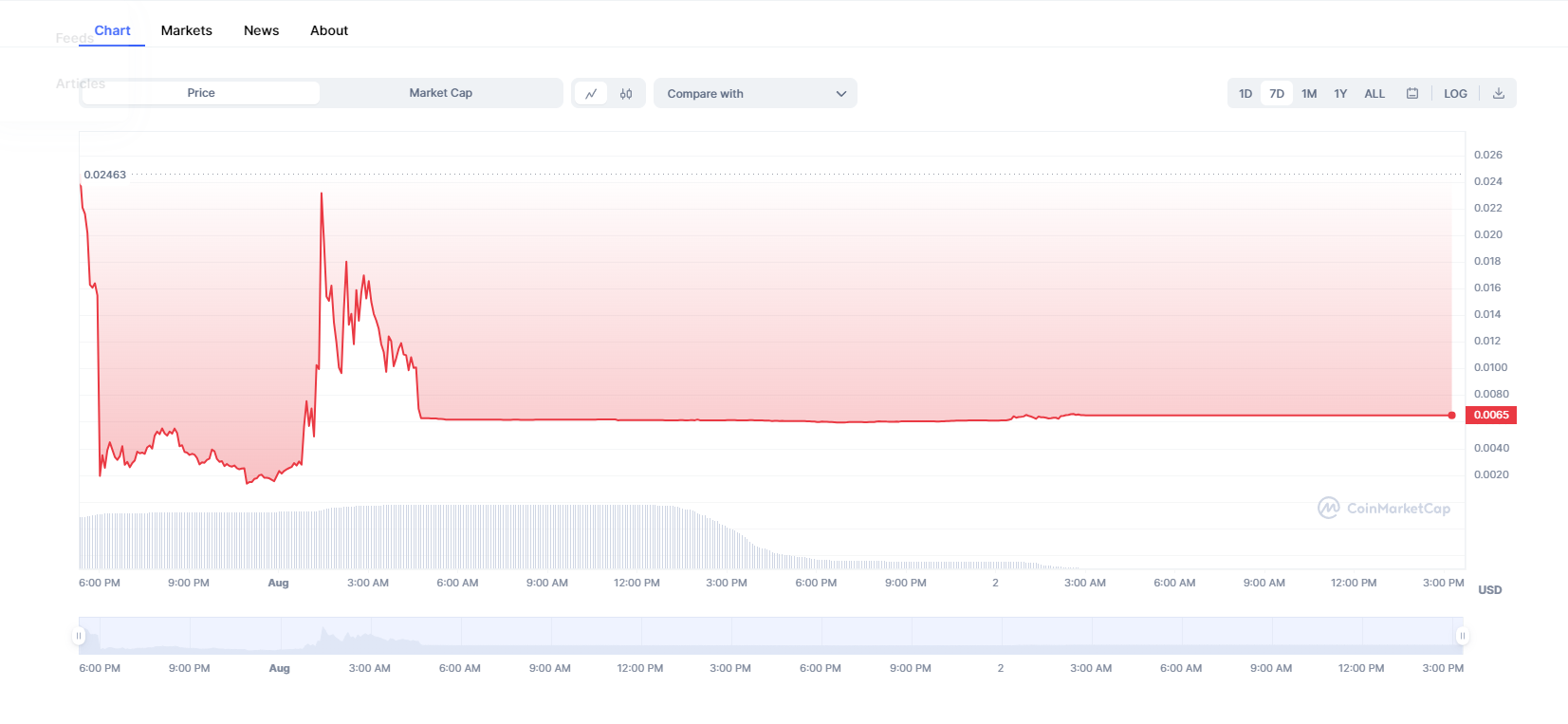 Adding to the misery is the recent speculation that BALD might be tied to Alameda, a prominent quantitative cryptocurrency trading firm. The connection, if validated, could further deepen the crisis around BALD and the community's trust in similar projects.
In response to the crisis, a new BALD token with locked liquidity has been launched. While this could potentially offer a glimmer of hope, the unfortunate reality remains that numerous investors have suffered significant financial losses in the wake of the suspected rugpull.
This incident serves as a harsh reminder of the risks associated with investing in meme coins and other high-risk cryptocurrencies. While astronomical gains can be enticing, it is crucial to remember the volatile and speculative nature of these investments. They can result in significant losses just as quickly as they can provide substantial returns.
Curve is in tough spot
The cryptocurrency market is known for its high volatility, and Curve (CRV), a prominent decentralized exchange (DEX) token, is no exception. Recently, CRV has found itself hovering precariously close to catastrophic values. However, it seems to have found a foothold — for now.
Several factors have contributed to this fragile state of equilibrium. Among them, over-the-counter (OTC) deals and large discounted purchases by former 3AC founders and Justin Sun, founder of Tron, have played a crucial role. These significant investments have helped Curve dodge a potential liquidity crisis and maintain its outstanding debts.
In the context of decentralized finance (DeFi), liquidity is crucial. It is the lifeblood that allows for efficient market operations. With these significant investments, Curve has managed to secure enough liquidity to avoid any immediate threats of a crisis. This support has also alleviated the pressure on the Curve founder, who will no longer need to liquidate the majority of his funds to sustain his loan on AAVE, a DeFi lending platform.
The market has reacted to this development with relative stability in CRV's price. After navigating through turbulent waters, it appears that the token has found its footing. However, it is essential to note that this stability is tenuous. The price of CRV is still dangerously close to catastrophic levels.
Cardano bounces off
In a revealing turn of events for Cardano investors, ADA has managed to dodge a potential crisis by successfully bouncing off its support level at the 21-day Exponential Moving Average (EMA). This bounce back has brought back stability, allowing the asset to recover and return to the 50 EMA level.
Over the past few days, Cardano has been in a state of uncertainty, with the price movement indicating a lack of clear direction for the future trend. However, ADA's successful recovery to the 50 EMA level suggests potential sideways movement in the foreseeable future, bringing a much-needed sense of calm to the market.
Further adding to the neutrality of the situation is the stability of the trading volume and the Relative Strength Index (RSI), both currently reflecting a neutral stance. This suggests a state of equilibrium on the market, as buying and selling pressures seem to have balanced out.
While these indicators do not guarantee a specific future trend, they do offer a sense of relief and stability to the market in the short term. The neutral RSI, in particular, signifies a balance between buyers and sellers, hinting that neither a bullish nor a bearish trend dominates current market sentiment for ADA.