Arbitrum (ARB) has jumped on the bandwagon of high performing digital currencies today. The protocol is specifically leading the Layer 2 momentum with 11.63% growth over the past 24 hours to $1.48. The resurgence in Arbitrum is not just dramatic, it is helping to reclaim some of the price values that have been lost since last year.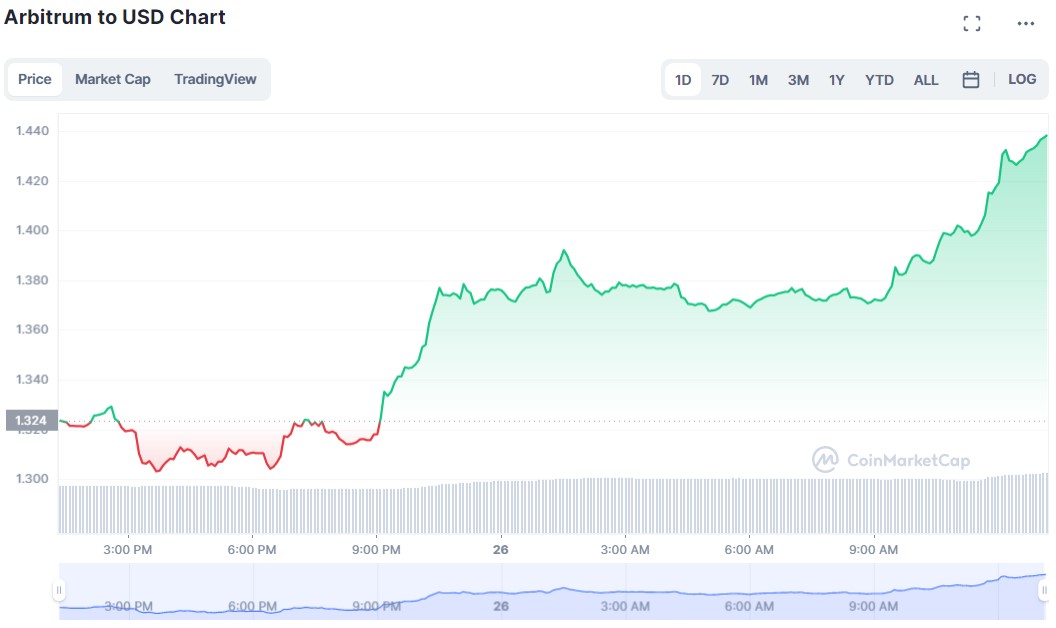 Though the current Arbitrum growth is being fueled in tandem with the broader bullish market sentiment, the L2 network has a number of inherent ecosystem trends that is engineering its accumulation by whale investors.
The move by Arbitrum to distribute governance token rewards to some of its core participants has pushed higher accumulation across the board. As reported earlier by U.Today, some of these whales have been receiving bogus bonuses, and while it has fueled a sell-off by some, a good number are also adding to their bags.
The Arbitrum ecosystem is arguably the most profitable in the Ethereum Layer 1 ecosystem at this time, and the sentiment has also been adding to the untracked retail accumulation of the cryptocurrency.
Besides the immediate benefits through token distribution, Arbitrum is also seeing the emergence of impressive decentralized applications to help expand the overall utility of its proprietary technology.
Arbitrum and race to new ATH
Arbitrum, like most of its competing Layer 2 protocols, is a relatively new network and, as such, the price of its token is still looking for stability.
The cryptocurrency attained its all-time high (ATH) price of $11.80 exactly a month ago but has quickly slipped by more than 87% to its current level. While Arbitrum ranks high as an L2 both in terms of transaction count and gas fees, according to L2Beat data, retesting its ATH might not take place until a new bull market is confirmed.
At the current price, Arbitrum is 30% above its lowest price point, making it a win-win for its early backers.