The shock that Ankr (ANKR), a decentralized blockchain infrastructure provider, gave the blockchain ecosystem when it announced its partnership with American tech giant Microsoft is yet to wear off. Besides the initial 60% jump recorded following the update, the token's investors are still related, as showcased in its 43.51% growth over the past 24 hours to $0.0471.
For Ankr, which has been experiencing sideways movement prior to this time, the partnership and its obvious potential helped prop up the price of the asset, as showcased in its weekly chart below.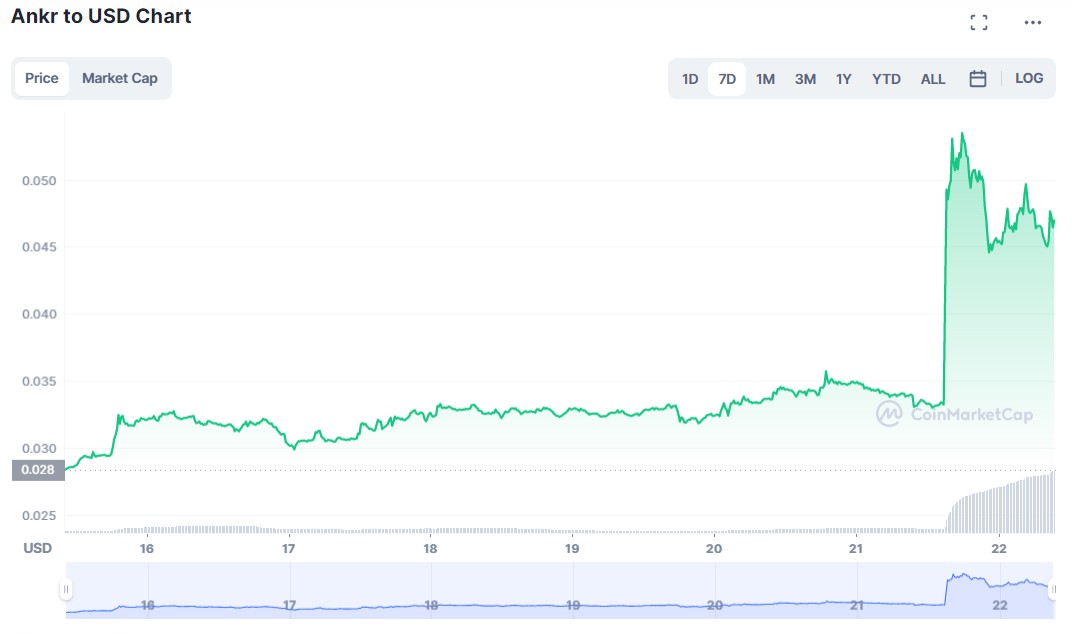 The Microsoft partnership is an important confidence vote for Ankr, which has been making notable headway as an infrastructure service provider in the emerging Web 3.0 ecosystem. One major trend that we can expect this partnership to brew for ANKR is that the cryptocurrency will be on a periodic price upsurge based on the positive sentiment that the Microsoft linkup will bring.
Additionally, landing Microsoft as a partner is bound to open up the Ankr protocol to more high-profile partnerships in the near future. The protocol's outlook as a go-to node infrastructure service provider for Web 2.0 tech outfits has been enhanced, and this will help bolster the mid-to-long-term growth of the Ankr ecosystem.
Changing negative narrative
Despite the growth potential of the Ankr protocol, it was marred by a major hack last year, in which about $5 million were moved from the BNB Liquidity Pool. Since that hack, the protocol has been doing a lot to reshape its outlook, releasing a multichain explorer, dubbed Chainscanner, last October.
With the Microsoft partnership dubbed as its most ambitious partnership to date, the narrative for the Ankr protocol is changing at the moment. The protocol's valuation is now pegged at $467.8 million, atop weekly growth of 68%.