Even experts, who are generally skeptical about cryptocurrency, are optimistic about Telegram Open Network (TON). The main argument in favor of the TON ICO is that the company already has more than just a white paper.
But a closer look shows that the things are not so obvious.
The most ambitious ICO yet

The ambitiousness of the TON ICO amounts to more than its aim of raising $600 mln only in private sale of tokens to large investors with the average check of $20 mln.
It is worth to note that Telegram has already received pre-orders for $3.8 bln. It thrice surpasses the amount of $1.2 bln, claimed as the aim of TON ICO.
Key concerns are whether the messenger can succeed in building revolutionary crypto-ecosystem and in implementing conversational commerce in its product as WeChat has done.
2011 failure
Durov failed with his first digital currency in 2011.
Vkontakte, the social network founded by Pavel Durov, shut down its payment system in 2011 due to low demand. Only around one percent of users were spending its internal digital currency on shopping.
Later, in 2014 Durov sold shares in Vkontakte, left Russia and launched encrypted messaging service Telegram.
Will the Telegram Open Network (TON) launch become a successful revanche for Durov?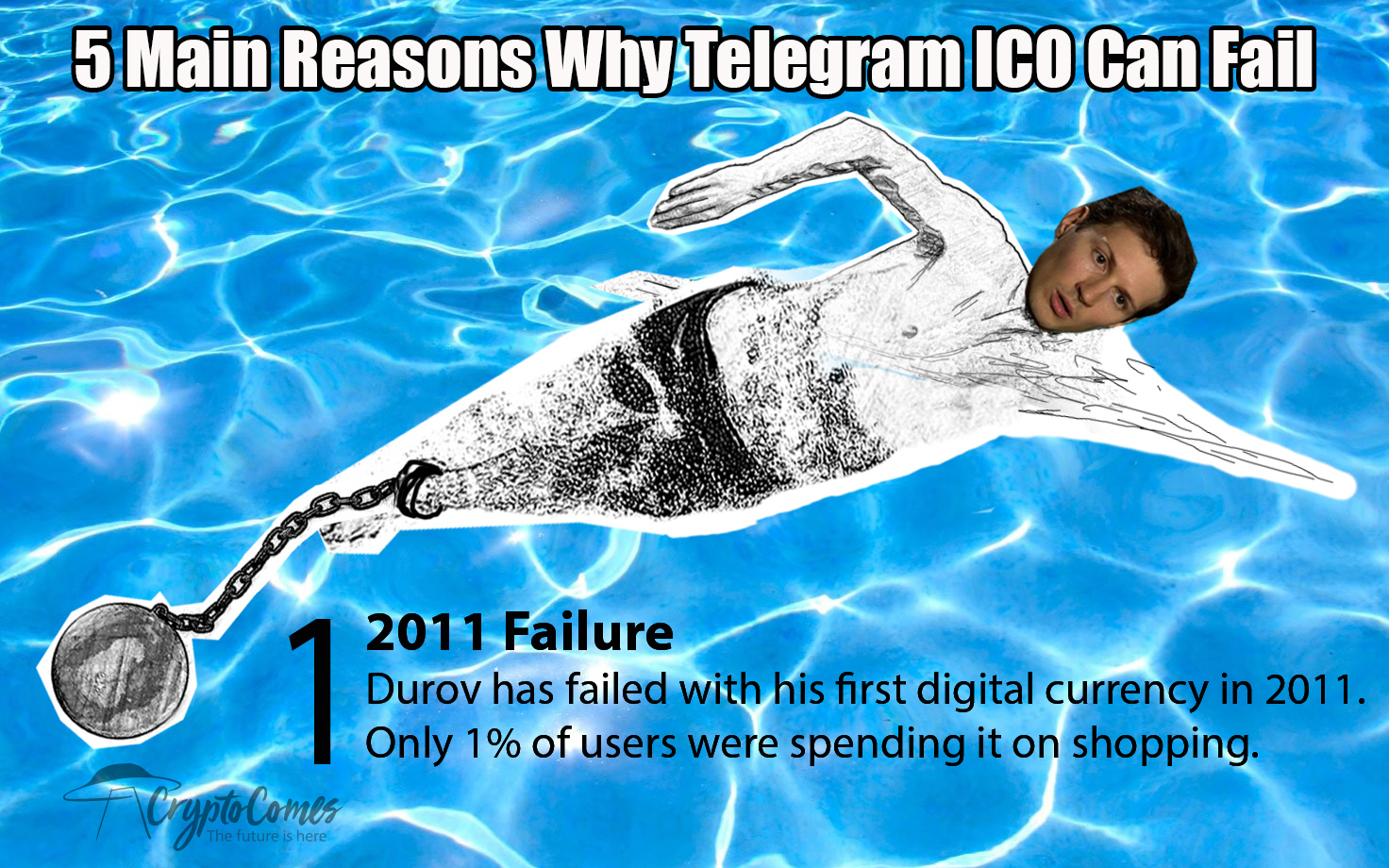 Green Team
The hardest challenge for the project is its attempt to create, as they call it, a "truly mass-market cryptocurrency." The Telegram team is led by one of the world's most talented programmers, Nikolai Durov.
His technological approach to building fast and scalable cryptocurrency transactions seems reasonable, but very multidirectional.
The weak point may be the implementation of this concept, as none of the Telegram team has previous experience in the blockchain industry.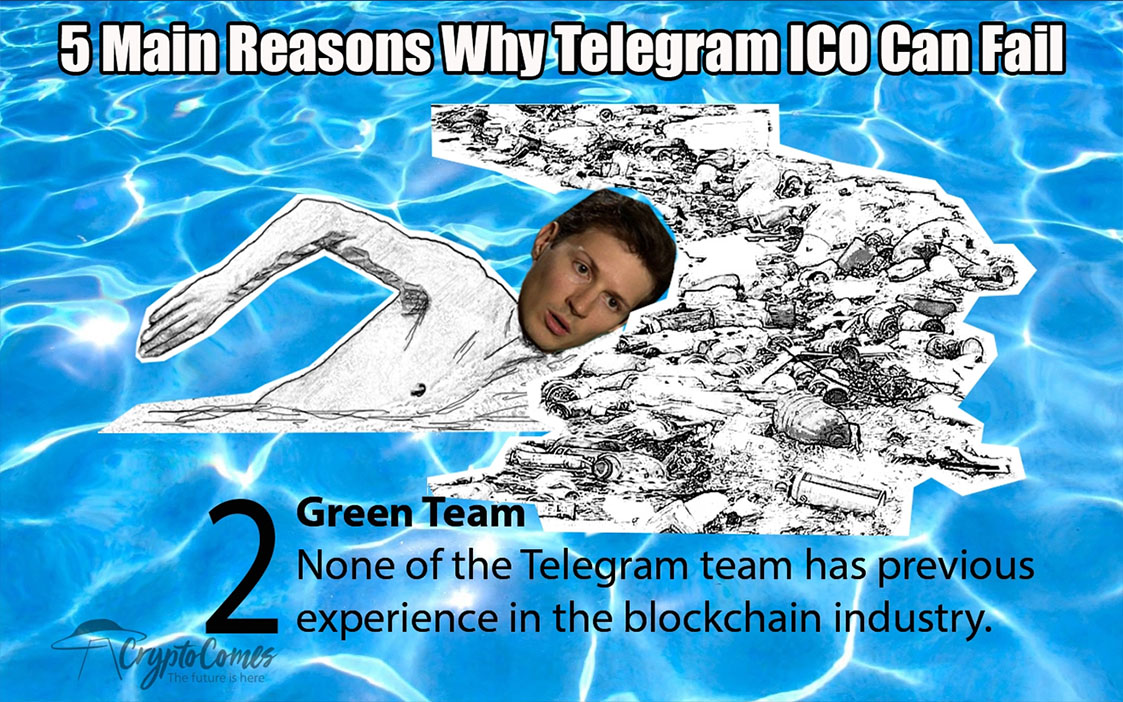 Trailing other messengers
Telegram stays behind almost all other messengers by the number of monthly active users. But its users are the keenest on transferring money(GlobalWebIndex research).
According to TON primer white paper, Telegram will reach 200 mln MAU by the end of Q1, 2018.
That means that by the audience it will continue to fall far behind the market leaders such as WhatsApp, Viber, WeChat, etc.
It's only fair to say that despite the low number of its users, Telegram obviously has success with their engagement. According to GlobalWebIndex research, Telegram users are the keenest on transferring money. They are almost twice as likely to do this than users of WhatsApp or Facebook Messenger.
But this is not the major achievement of Durov's team. Based on security, privacy, and anonymity, Telegram goes beyond a traditional messenger and becomes a new media platform similar to Youtube or Instagram with its types of content, opinion leaders and native ads.
The white paper states that Telegram's public broadcast channels generate over 30 bln views by 80 mln users per month. It is easy to guess that its unofficial advertising turnover probably amounts to millions of dollars.
In this paradigm, the key competitor for Telegram is the centralized app WeChat owned by Tencent, a $300 bln worth company.
Having tremendous success in China, WeChat has no idea yet on how to expand its audience in the west. A token sale along with the implementation of Blockchain will give Telegram a chance both to raise money and build a reliable ecosystem to compete with WeChat.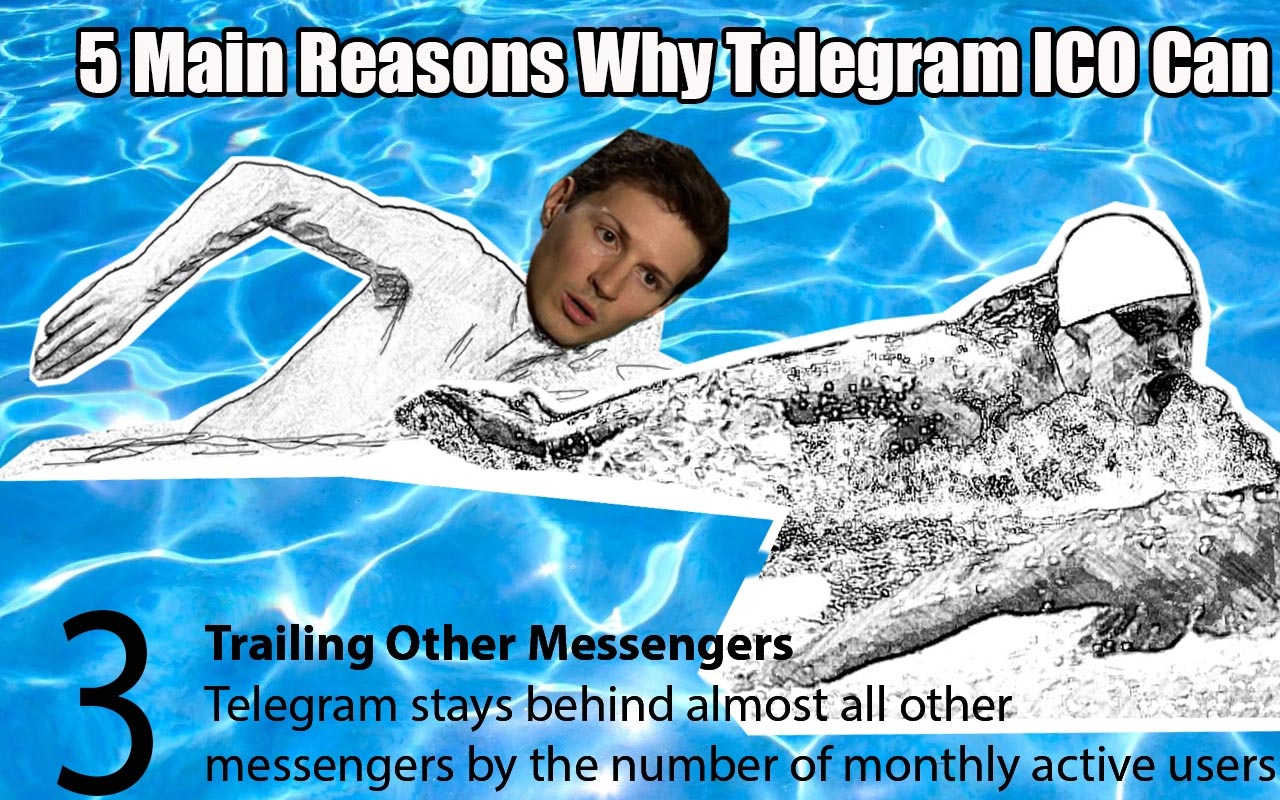 US Compliance Uncertainty
SAFT usage is mentioned as "likely," while there can be around two quarters between token sale and distribution.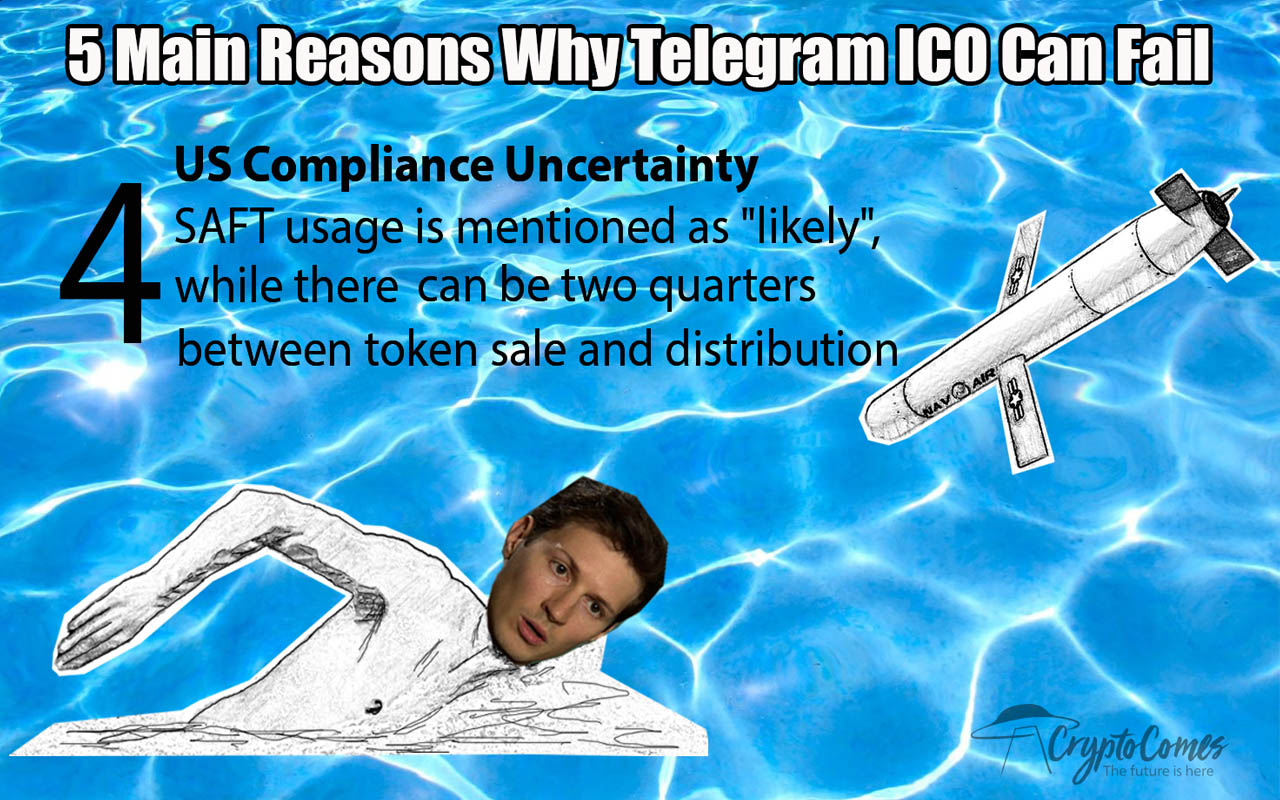 Legal problems ahead
The legal aspect of TON ICO and post-ICO expansion is still a question as it is described neither in primer white paper nor media.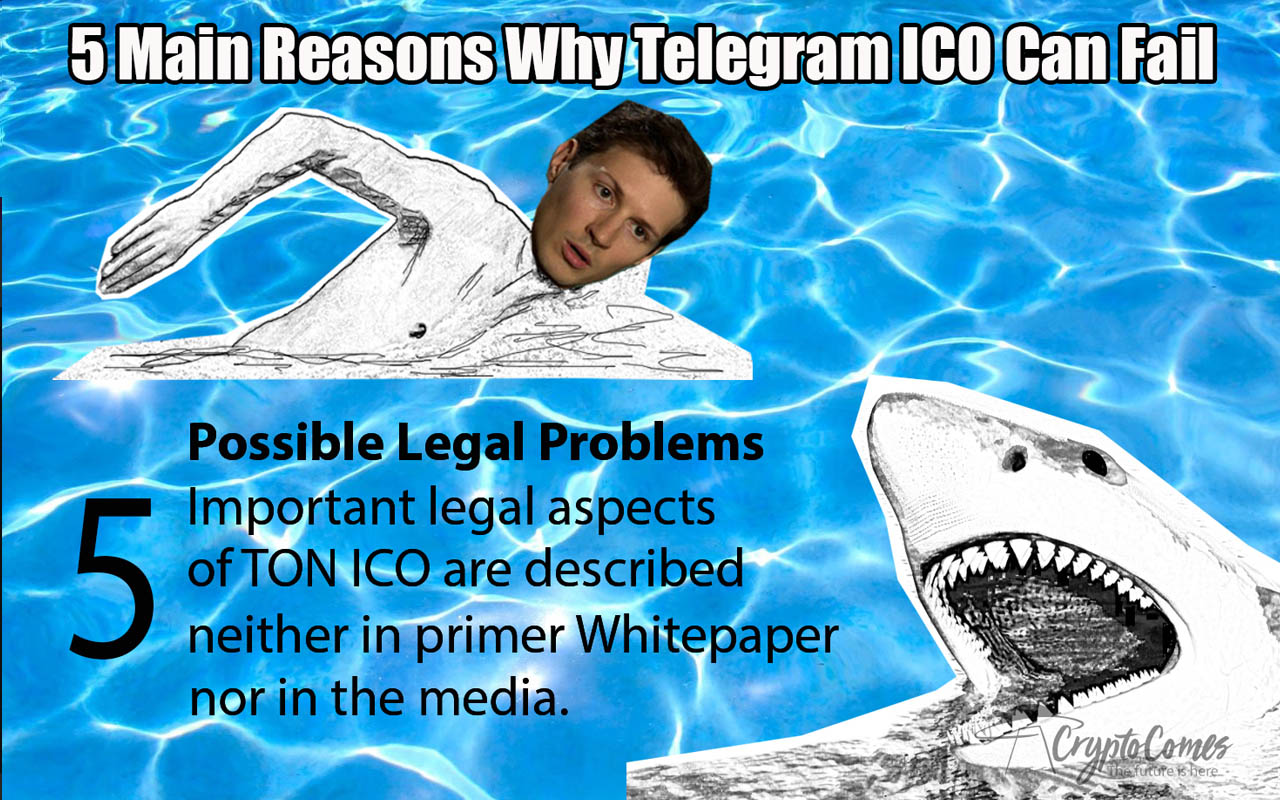 Besides these complexities, the TON ecosystem could be limited by Telegram's modest footprint in the largest markets such as the US, China, Brazil, Japan, India, Indonesia, South Korea, where other messengers' presence are currently much higher.
Volatility and liquidity
According to market rumors, the line of venture funds wishing to include Telegram in their portfolios is rather long. Kleiner Perkins Caufield & Byers, Benchmark and Sequoia Capital, are among them.
Russian media reported that Telegram has already received pre-orders for $3.8 bln. It thrice surpasses the amount of $1.2 bln, claimed as the aim of TON ICO.
The justification for a strategy of having a closed primary round also seems quite sensible. In both second (public) round and secondary market for tokens, private investors are supposed to be lining up to invest in Telegram since they were unable to do so in the first stage.
This might provide essential liquidity for the asset for those who come in first, i.e. for the funds; this is also perceived as a definite plus in terms of risk management by the investment community.
What else could increase liquidity?
The Telegram business model enables it to implement a token in the product structure rather efficiently without the need to "drag in" the role of a token in the system, which is typical for projects staging ICOs. The ways to spend the token mentioned in its unofficial white paper look quite specific and narrow, however.
Pros of the TON
We tried to imagine what else the TON could be used for so that an average user could benefit from it.
Online retailers: Many of them already communicate with clients and sell via messengers. The problem is that they have to pay commission to third parties such as banks and payment systems. Instead of paying this fee, retailers could offer better prices or rewards, and acquire more customers in the process. Although, this acquiring approach would still raise lots of questions from regulators.
P2P classifieds: There is always a lack of trust between seller and customer on platforms like eBay. Both sides have to choose between taking a risk or paying a fee for a secure transaction.
Darknet market: Let's be honest- TON is an ideal ecosystem for illegal retailers, for whom it is essential to communicate and trade anonymously and privately.
Human resources: There is an obvious demand for a common workspace for both freelancers and employers, with easy communication tools and a smart-contract payment system.
Will the largest ICO be reasonable?
Telegram's ICO could become the largest to date and launch a trend for raising funds through issuing tokens for other existing online businesses which do not want to resort to venture capital by different reasons, for example because they want to keep control over most of their business.
The motivation of Telegram that doesn't have easy access to venture capital is entirely rational. Durov has a strong team and a scalable product already, which is important to investors.
But what works for building social networks may not work for building the platform that figuratively competes with Bitcoin, Ethereum, WeChat and Facebook Messenger at the same time.
Whatever success, TON, for sure, will make a big splash in the ICO market.
ICORating has not made an official evaluation of TON as its ICO has not been officially announced yet. This is our opinion based on what we know from insiders and open sources.
Brian Kean, СBDO at ICORating agency