Recently, XRP experienced a staggering $3 billion volume surge, as reported by Messari. This surge, intriguingly, did not correlate to a proportionate uptick in XRP's price, sparking a wave of speculation.
The muted price movement despite such a significant increase in volume suggests that the volume did not primarily represent buying support for the asset. This phenomenon can be attributed to various potential factors: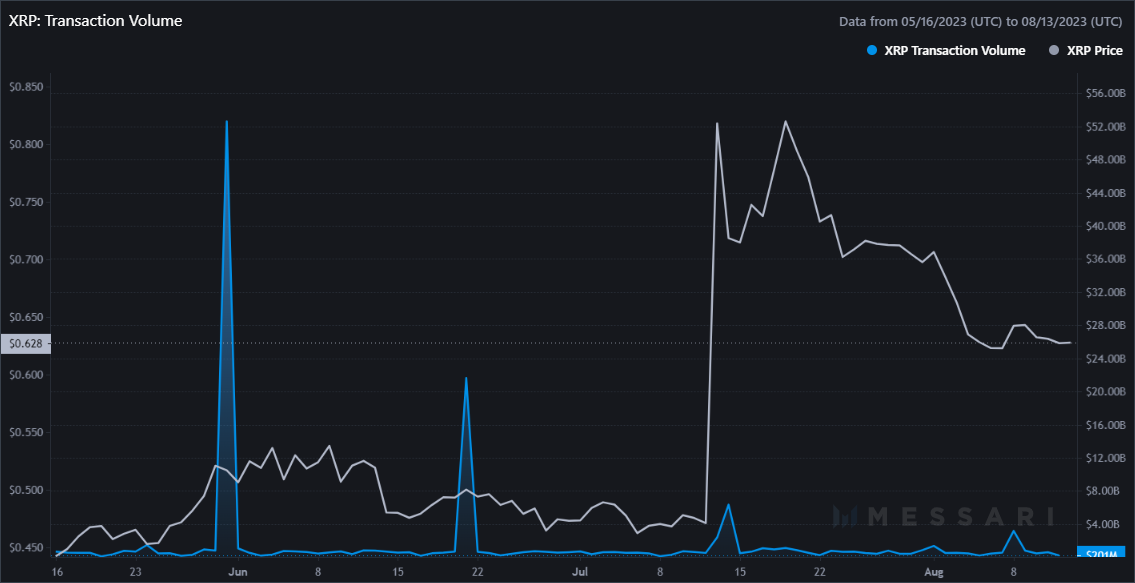 Sideways trading: One of the most common interpretations of high volume without a significant price increase is a substantial amount of sideways trading. This typically signifies market indecision where neither bulls nor bears are gaining ground, leading to higher trading volumes but little price movement.
Sell-offs: A significant volume increase could indicate selling pressure. While this might sound counterintuitive, a large volume surge without a corresponding price hike can suggest that there is enough selling happening to counteract buying pressure, resulting in a net neutral price movement.
Whale movements: Large holders, often termed "whales," can have a profound impact on trading volumes. Their decision to move vast quantities of XRP between wallets or exchanges, even without selling, can spike trading volumes. A massive transaction by a few significant holders can easily distort volume data.
Preparatory phase: Sometimes, a massive volume surge can act as a precursor to significant price action. Traders and investors should closely monitor the market for any signals that this volume might be the calm before the storm, indicating a potential breakout in either direction.
While deciphering the root cause behind such a volume surge without an accompanying price hike remains speculative, understanding these potential factors can aid investors in making informed decisions.