Cryptocurrency XRP has been on an upward trajectory recently, despite a minor 2% price correction. This brief dip has not derailed XRP's momentum; in fact, it has already resumed its market growth and surpassed the $0.5 price threshold.
XRP has been making significant strides in its market performance. Over the past few weeks, the digital asset has exhibited an impressive uptrend, carving a steady path of gains for itself in the volatile world of cryptocurrencies. This positive trend has been a welcome development for XRP traders and investors, which are eyeing further gains.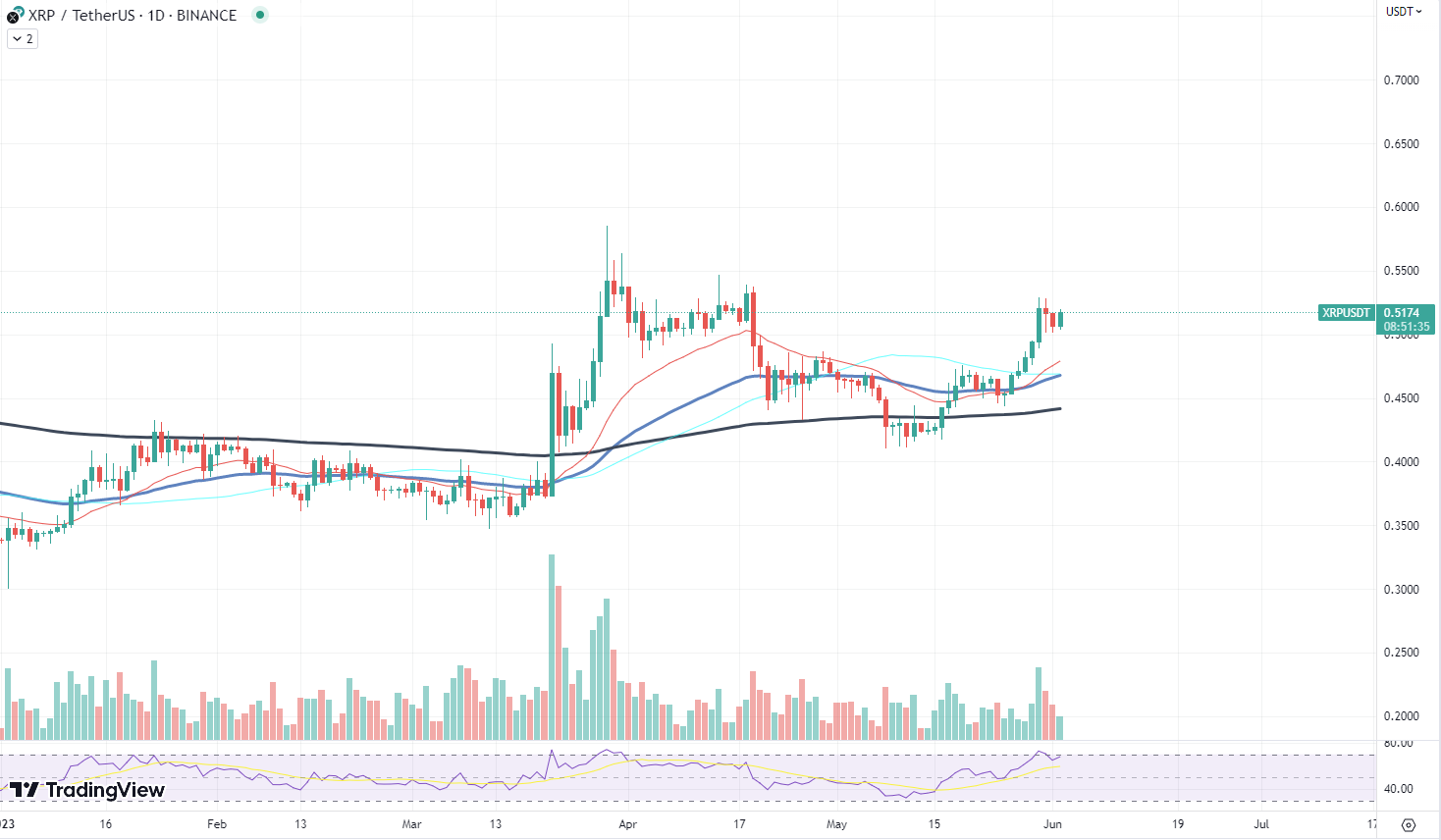 However, markets rarely move in a straight line, and XRP is no exception. It recently experienced a minor price correction of 2%. This drop, while not significant in the larger scheme of things, served as a reminder of the inherent volatility of the cryptocurrency market.
Despite the brief setback, XRP has proved its resilience. The digital asset quickly resumed its upward momentum, shrugging off the correction and exceeding the $0.5 price threshold. This bounce back is a strong indication of the positive sentiment surrounding XRP and an affirmation of its upward trend.
Solana shows surprising performance
Solana (SOL), one of the fastest growing blockchain networks, has witnessed a remarkable surge in unique users within the past month. In fact, the user base has grown twofold, with a large number of these being new users.
This increase has been fueled by gateway apps, which are often the first point of interaction within an ecosystem. These apps play an instrumental role in onboarding users and maintaining their engagement. Over the past year, the nature of gateway apps on Solana has evolved from DeFi to gaming to NFT markets, and now a mix of all.
In recent months, there has been an interesting shift toward consumer sector gateway apps such as Dialect and Access Protocol. New features like programmable NFTs and NFT compression, along with Solana's low-cost and high-throughput environment, make it an ideal network for consumer applications to prosper.
While Solana's long-term user retention is currently lagging behind its competitors, its short-term retention is second only to Arbitrum. This high short-term retention has been fueled by the increased activity on these unique consumer apps in recent months. However, the long-term user retention of these apps is yet to be determined.
Regardless of this uncertainty, these specialized apps are anticipated to play a significant role in the future. They are expected to maintain long-term user engagement and help drive the growth of Solana's ecosystem further.
Lido Finance on rise
Liquid Staking Derivatives (LSD) are enjoying a resurgence as more investors are staking Ethereum, gradually reducing its circulating supply. The recent spike in network activity further indicates a substantial rise in the amount of Ether being burned and demand for staking. Amid this growing trend, Lido Finance, a leading solution in the LSD industry, continues its upward momentum, evidenced by a 5% price spike.
The uptake in Ethereum staking comes as no surprise as more investors are recognizing the potential benefits, such as earning rewards and playing a role in securing the Ethereum network. The process of staking entails locking up Ethereum tokens, which in turn decreases the circulating supply, putting upward pressure on the token's price.
Amid this uptrend in Ethereum staking, Lido Finance emerges as a leading figure. It is one of the most popular and trusted platforms offering LSDs, making staking more accessible and flexible for investors. Lido allows users to stake their Ethereum tokens and receive stETH tokens in return. These stETH tokens represent staked Ether and can be used just like regular Ether in DeFi protocols, providing liquidity and earning potential for stakers.