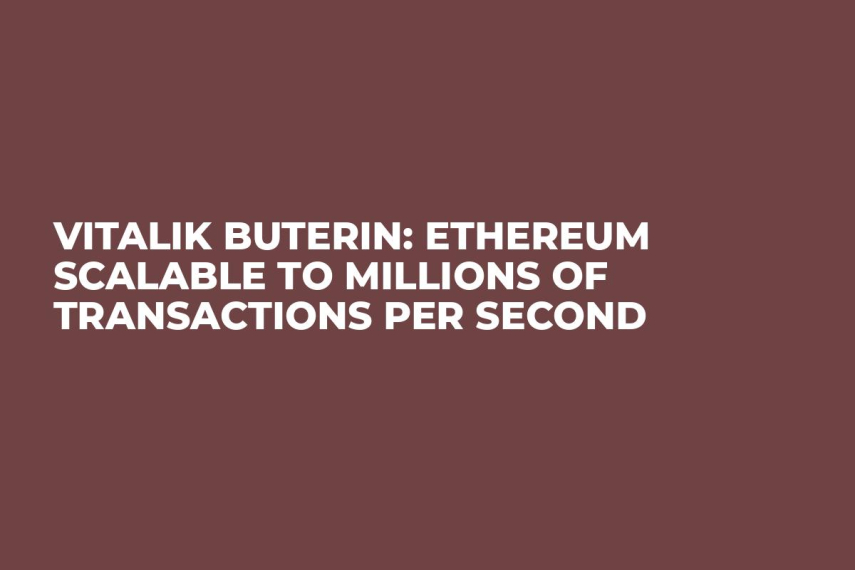 Cover image via U.Today
Vitalik Buterin, the founder of Ethereum, revealed that Ethereum's network will eventually process more than one million transactions per second, and has the potential to process 100 million transactions per second, in an OmiseGO AMA session online yesterday.

Vitalik explained that topping the first layer solution – sharding – with a second layer called Plasma will enable Ethereum's network to overcome scalability issues for the diversity of use cases required in almost all applications. Buterin emphasized that using a two-layer solution will also result in latency reduction which is essential for adoption.
In the OmiseGo AMA session, Buterin says:

"So if you get a 100x from Sharding and a 100x from Plasma, those two basically give you a 10,000x scalability gain, which basically means Blockchains will be powerful enough to handle most applications most people are trying to do with them."

What is sharding?
Sharding splits a Blockchain network dataset which is equipped with a group of nodes that are tasked to process information. The splitting of datasets eliminates the need for all nodes on the Blockchain to handle every single piece of data settled making it possible to process faster transactions and reduce settling time.

What is Plasma?
Plasma, a solution developed by Buterin and Lightning Network co-author Joseph Poon, enables Ethereum to process micropayments by adding a layer of smart contracts which can interact with the main blockchain to reduce transaction fees for smart contracts and decentralized applications.

These smaller Blockchain networks interact with the main Blockchain to process information more swiftly while maintaining the security protocol of the primary network.
The plasma method also reduces the need to read all blocks which makes the transaction processing a lot faster.

One of the main properties of Blockchains is that all the blocks in the chain are connected in a series to one another, and the data must be correctly read in the distributed log. Plasma, an existing solution, requires each user to download and authenticate each block, however now Plasma Cash only requires users to pay attention to the blocks containing the coins they want to track.

Vitalik Buterin says:

"The reason I think layer 1 and layer 2 [networks] are complementary is that ultimately if you look at the math, the scalability gains from the layer one improvements and layer two improvements do ultimately multiply with each other. If you have a Sharding solution, the Sharding solution itself might increase the scalability of Ethereum by a factor of 100, or eventually even more. But then, if you do Plasma on top of the scalability solution, then what that means is, you're not just doing 100 times of the amount of activity but you are doing 100 times the amount of entrances, the amount of exits, and despite resolutions."

Scaling based on demand
While the two to three orders of magnitude can increase scalability potentially into billions of transactions over time, Blockchain scaling solutions should come with a focus on demand and reducing costs in the best interest of end users, says Buterin.

Depending on the various use cases, scalability solutions should consider the number of transactions needed for the application. For example, transactions can range between 300,000 per second for credit card payment applications to the 25 mln per second for IoT devices.
Long-term institutional adoption
Since Plasma Cash reduces latency and users only have to watch their tokens or coin, it can increase the scalability of the systems and enable institutional use cases like centralized digital currencies to maintain privacy properties.

Centralized institutions such as banks that have been testing Ethereum-based chains are now confident that the technology has merit, are ready to move beyond the proof-concept stage and are looking for a real and complete software-based solutions says Buterin.