The negative volatility in the digital currency ecosystem has kicked in again, with the combined market cap dropping by 3.24% to $1.02 trillion. Amid this widening bloodbath, Uniswap (UNI), the decentralized exchange token, has maintained a wavy uptrend to join the list of a few altcoins with a positive outlook at this time.
At the time of writing, UNI token is changing hands at a price of $4.41, up 3.03% over the past 24 hours. Although Uniswap has the same amount of loss in the trailing seven-day period, the current sentiment can help it pare off these losses in the near term.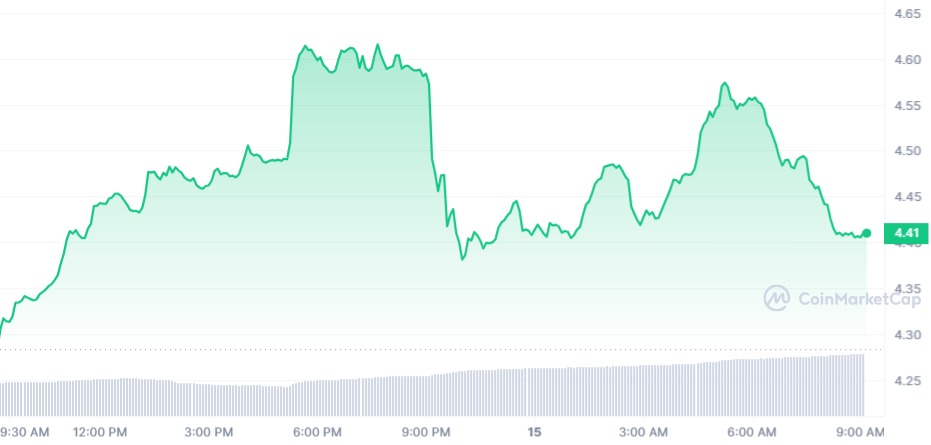 Uniswap's sentiment rests on the back of the newly unveiled plans for the V4 engine, which will come after two years since the Uniswap V3 engine was introduced to the market. According to Uniswap Labs, the design of the V4 version is such that it can keep up with the evolution of the digital currency ecosystem.
Among other key features, the introduction of Hooks is what distinguishes this innovation. Through the power of the Hooks engine, "V4 will allow pools that natively support dynamic fees, add onchain limit orders, or act as a time-weighted average market maker (TWAMM) to spread out large orders over time."
Sustainable innovation for adoption
Uniswap is the primary and acclaimed innovator behind the Automated Market Maker (AMM) engine that powers most decentralized exchange (DEX) platforms today. Since its inception, Uniswap is known to always float sustainable innovations in a bid to drive adoption.
As a DEX with a native token, the regular upgrade of its trading engine has been designated as one way Uniswap Labs is committing to adding more value to the ecosystem despite differing perceptions. The impact of these efforts is notably showing in the price of UNI.