Synthetix (SNX) has been on many traders' watchlists since the start of May as the Decentralized Finance (DeFi) protocol appears to be pricking the interest of investors in recent times. Synthetix has been recording a slow and steady run in the price of its native token, which has placed its price at $2.45, up by 3.19% over the past 24 hours.
According to data from CoinMarketCap, Synthetix now prides itself among the tokens in the top 100 ranked by market capitalization with the most gains accrued over the past week. Within this time, SNX is up by 15%, a price growth that compares to the 2.04% drop in that of Bitcoin (BTC).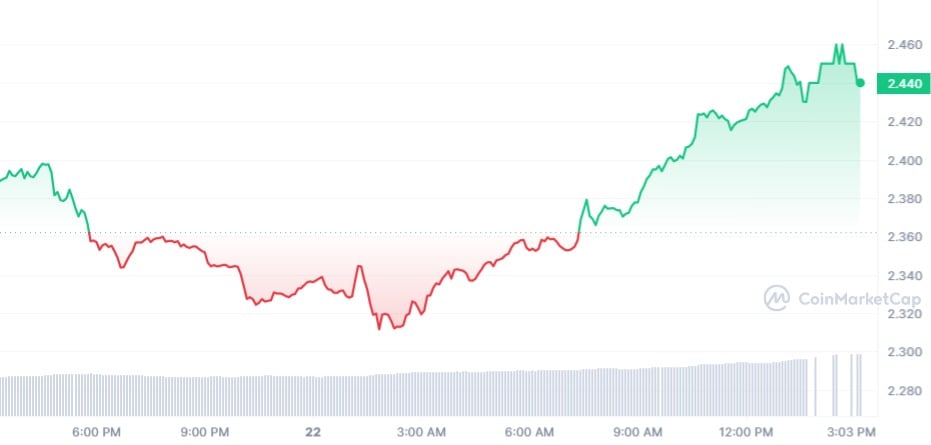 Synthetix was created to serve as a decentralized liquidity provisioning protocol that any DeFi outfit or platform in general can tap into for various purposes. As part of its growing relevance, the deep liquidity and low fees being offered by Synthetix serve as a backend for many exciting protocols on both Optimism and Ethereum.
As can be acknowledged, the sentiment surrounding the Ethereum blockchain is high at this time, thus indirectly impacting Synthetix.
Synthetix DeFi outlook
The Synthetix protocol is seeing tremendous growth in all aspects of its operations. As reported earlier by U.Today, the protocol recently celebrated more than $200 million in daily trading volume. This milestone gave a true indication of the growing adoption of the liquidity hub among crypto and DeFi enthusiasts.
According to data from DeFiLlama, Synthetix has seen its Total Value Locked (TVL) jump by more than 3.5% over the past 24 hours, and by more than 18% over the past seven days.
The Synthetix protocol now has more than $428 million in total assets locked, showcasing its relevance in picking up momentum as more protocols explore solutions that can drive the growth and evolution of the DeFi space.