XLM, the Stellar blockchain's native crypto asset, has increased by 8% in the last 24 hours. This is notable because most cryptocurrencies have been losing ground, with only a few barely rising in the recent 24 hours.
XLM was up 4.44% in the last 24 hours to $0.13 at the time of writing. Among the top 100 cryptocurrencies by market capitalization, Stellar is the biggest daily gainer. The token has risen 15.56% in the last seven days, which is impressive given that most cryptocurrencies have only made minor increases in this time frame.
XLM has seen an uptick since Sept. 2, when the Stellar blockchain announced "something cool coming to its network."
The Stellar XLM token saw a significant price increase in the week, which was quite unusual given the lackluster performance of most altcoins.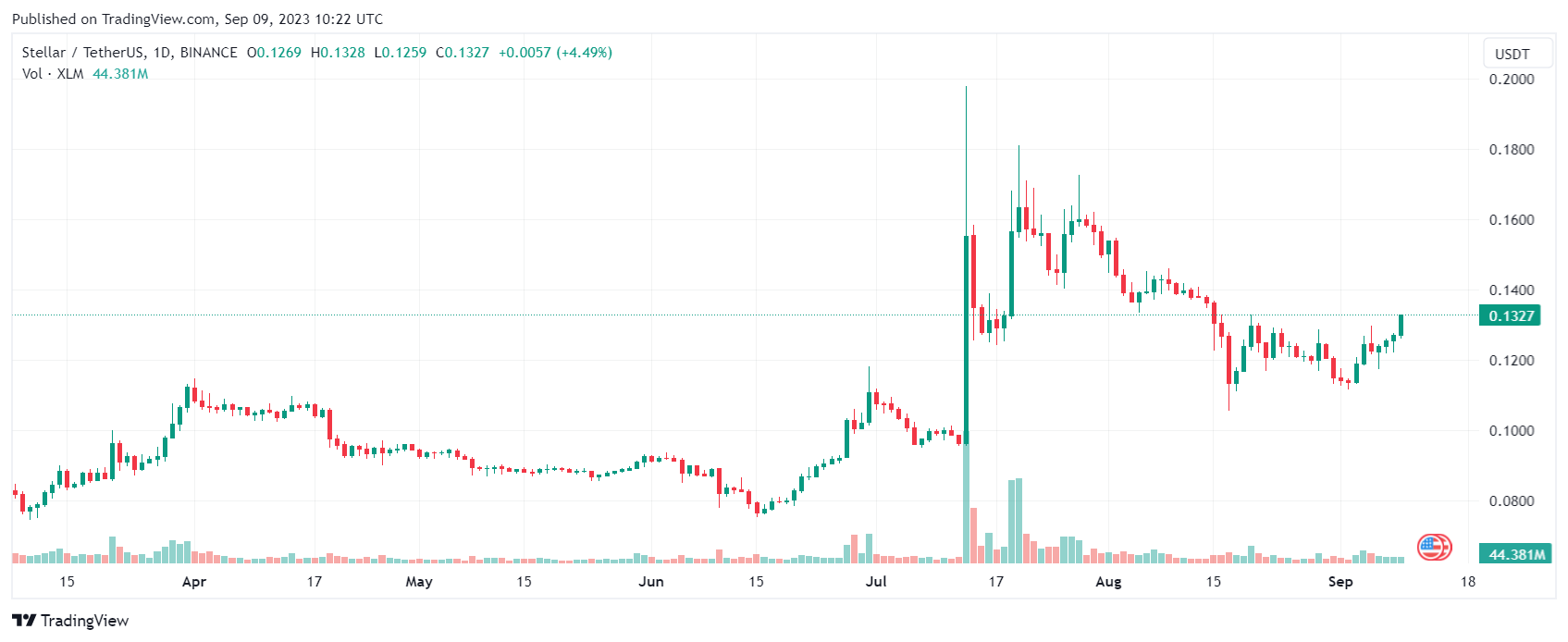 The uptick began after Stellar XLM bounced from the $0.111 support level, which marked its lowest level in the past eight weeks. The announcement of an upcoming reveal also seemed to have lifted the bulls from an earlier state of despair.
From Sept. 2 to the present, XLM has marked six out of seven days in green. Specifically, a positive close today would mark XLM's fourth consecutive day of gains since Sept. 6.
Stellar sparked a wave of excitement with a Sept. 2 tweet that hinted at "something cool" and an "exciting change" coming to its network. It further added to the enthusiasm on Sept. 7 by remarking that "change was in the air."
The fact that Stellar became a minority investor in MoneyGram in August increased the intrigue around the announcement.
Stellar's big announcement is planned for Sept. 12, with only three days to go, and the community is excited to see what the payment network will unlock.
That said, bulls might try to consolidate on the price increase and attempt to push the XLM price to the $0.133 level, which might constitute an impediment to further price increases. On the other hand, support lies at $0.111 if the price reverts due to profit-taking.