The digital currency ecosystem is seeing a dramatic bearish turn today with the combined market capitalization slipping by 1.73% to $1.16 trillion. Amid these bearish sell-offs, Solana is seeing relatively higher price growth, especially when compared to its rivals over the trailing seven-day period.
The digital currency is changing hands at $21.95, atop a 1.17% slump overnight. Solana breached the $20 price resistance back on April 10 and, since then, the bulls have held down the fort and prevented a renewed tailspin below this level.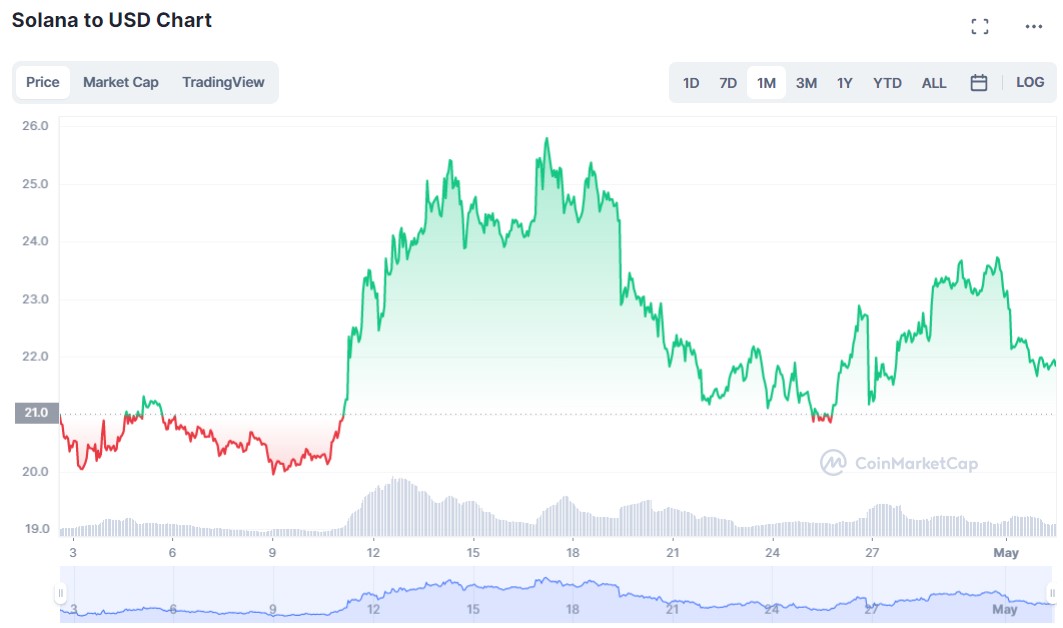 The question now remains what is happening within the Solana ecosystem that is encouraging the steady growth of a protocol that has maintained 4.78% growth in the past week. Taking a peek into the Solana ecosystem shows the launch of Saga is still the most talked about event to date.
With more users preordering the mobile phone and additional utilities making their way in, the attractiveness of the Solana blockchain is growing. This positive sentiment is pushing a renewed buy-up and also fueling the trust of current holders to HODL their bags.
Encompassing and diversified growth
For Solana, its growth is notably more integrated because of its design model. As reported earlier by U.Today, Phantom Wallet, one of the most popular decentralized wallet applications on Solana, has extended support for Polygon and Ethereum in a bid to bring enhanced functionality to its core users.
The growth of Solana can also be showcased through its performance update that was released and reported last week. The digital currency saw a significant uptick in generated fees, which grew by more than 65% in the first quarter.
The embrace of Solana by users and Liquid Staking Derivatives (LSD) users is also a testament to its impressive price resilience.