Shiba Inu (SHIB), like a few other digital currencies, is seeing a bullish jump in its price as the broader market appears to be in recovery mode. At the time of writing, Shiba Inu is trading at a spot price of $0.000008944, up by more than 3% over the past 24 hours.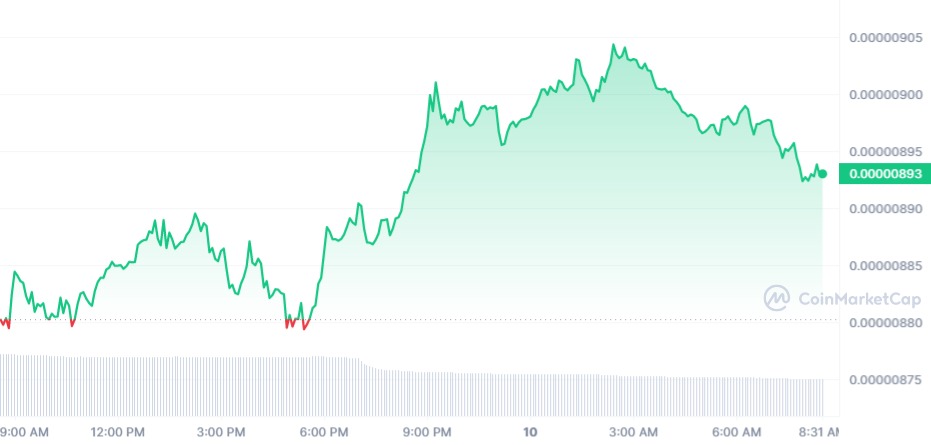 This price growth is notably the first bullish uptick for the second largest meme coin, which is still down about 10.44% over the week based on data from CoinMarketCap. The seeds for growth have been sown in a consistent manner through regular SHIB token burns. As steadfastly documented by U.Today, Shiba Inu has burnt more than six billion tokens over the past few days as the protocol's burn rate remains consistently high.
This burning event indicates something significant, and it is embodied in the reduction in the overall circulating supply of the meme coin. This network's imbibed scarcity, when mixed with typical growth in demand, is bound to produce a positive uptick in price, accounting for the latest growth in the price of SHIB.
The 8% uptick in the coin's 24 hour trading volume gives more credence to this hypothesis.
Shiba Inu moving forward, here's what to expect
In reality, the growth in the price of Shiba Inu does not come as a surprise to many dedicated followers of the meme coin. This is because the token is known for more extreme volatility, which helps to significantly push up its price in times of growing positive sentiment.
The slower-than-normal bullish jump indicates relative stability and, moving forward, we can expect a steadier but slow price growth for the meme coin. The hype around new competing meme coin entrants like PEPE may also contribute to slowing down the growth in the near future.
For now, SHIB is aiming at keeping the $0.0000085 price level as its support.