There is broad instability in the cryptocurrency ecosystem at this time as the prices of most assets are on the downtrend. With the combined crypto market cap plunging by 2% over the past 24 hours to $1.2 trillion, almost all assets are trailing this bearish run, including Shiba Inu (SHIB).
The meme coin has seen its price plunge to $0.000008655 after shedding more than 2% of its price. Despite this bearish turn, the burn rate metric has consistently shown a promising outlook. At the time of writing, exactly 1.361 billion SHIB tokens, representing 9.69% growth, have been sent to dead wallets over the past 24 hours.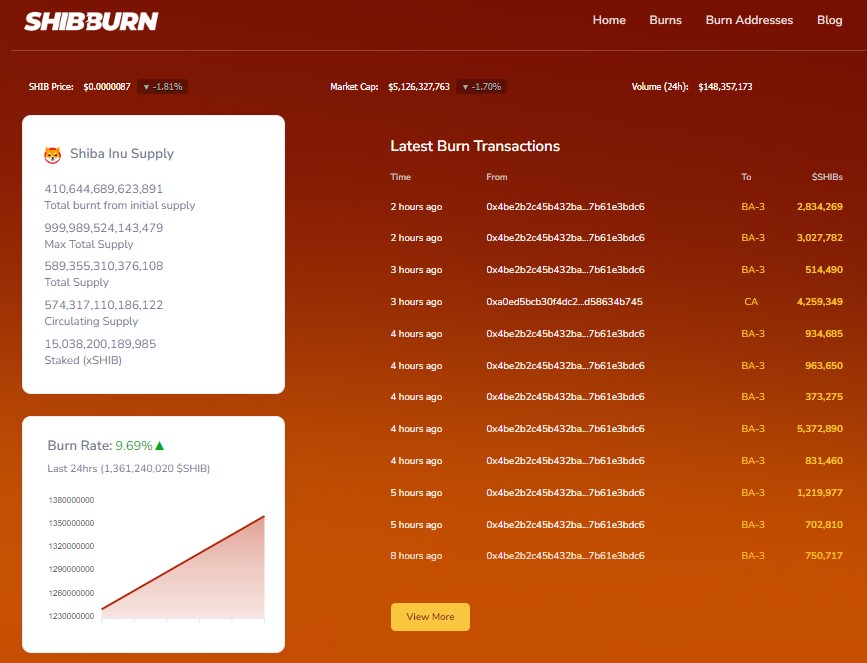 This burn rate is an indication that there are still positive trends to watch out for in the meme coin, despite the sustained bearish outlook it has showcased over the past few days.
The lack of a correlation between the burn rate and the price of Shiba Inu is not a new phenomenon, and for what it's worth, this has been the norm for the digital currency for some weeks now. Nonetheless, the burn rate remains a key metric that helps to showcase how growth is not elusive for the second largest meme coin.
Hopes for reverse in trend
Generally speaking, the growth in the price of Shiba Inu has been relatively stagnant for the past few weeks, and this is despite records of impressive burn rate jumps.
Data shows that SHIB is down by 1.11% in the trailing seven-day period and by more than 16% in the past month. This sliding growth may be attributed to a shift in embrace as retail and institutional investors turn their attention to new meme coins like PEPE, LADYS and RefundCoin (RFD).
As to whether or not the trend will be reversed for Shiba Inu, the general market trend will be the deciding factor as investors are paying little or no attention to the impacts of the burn rate.