The SHIB army has succeeded in burning another staggering number of this meme coin within a short period of time.
The amount of dog-themed coins taken out of the circulating supply in the last 24 hours is about the same as has been burned over the past seven days, according to data shared by the Shibburn tracker in a recent tweet.
Meanwhile, the price of Shiba Inu has made an attempt to recover and is up roughly 4.17% over the past 24 hours.
1.2 billion Shiba Inu gone within 24 hours
The above-mentioned source has shared that within the period of the last 24 hours, the amount of burned Shiba Inu comprises 1,240,951,903 coins. The burn rate has soared by a staggering 2,372%.
Nearly all of these SHIB were destroyed in just a single transfer of 1,238,951,893 coins, which was made by an anonymous wallet around 15 hours ago. Two more transactions followed a few hours later, each carrying 1,000,000 Shiba Inu.
This is just slightly lower than the amount of SHIB transferred to dead-end wallets over the past seven days, which is 1,300,576,746 Shiba Inu.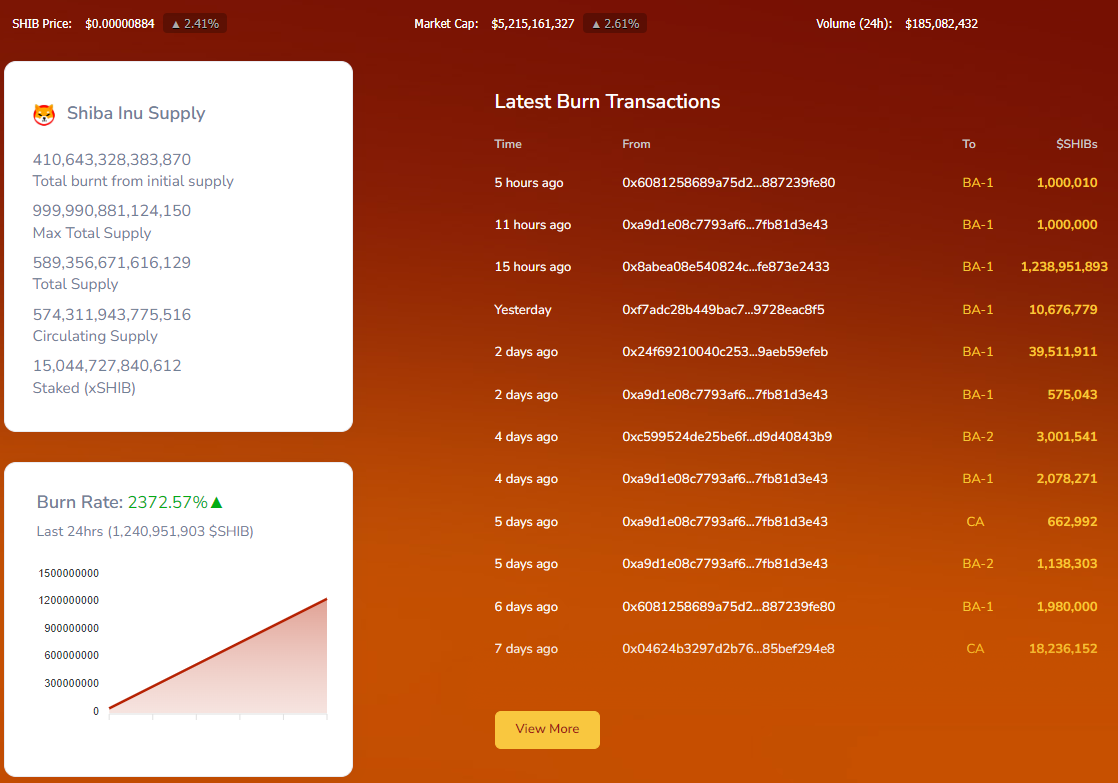 On May 22, the SHIB burn rage demonstrated an astounding rise as it jumped by 8,627%. Still, the amount of those meme coins burned was far smaller than today — 50,188,691 Shiba Inu.
Just at the end of last week, several SHIB-themed Twitter accounts shared the details of the SHIB burn mechanism revealed by the SHIB developer team recently. As is well known to the SHIB army, gas fees on the Shibarium Layer 2 network (which is currently working under a beta testing regime) are paid in BONE tokens. A portion of the fees are locked in a special contract, and as soon as the locked amount exceeds 10 BONE, they are converted to SHIB automatically and then sent to a dead wallet, i.e., burned.
SHIB prints massive green candle
On May 22, the second most popular canine cryptocurrency, SHIB, put up several consecutive green candles on an hourly chart, and one of them was massive. This pushed the price up by 4.56%.
With a few previous smaller green candles on that day, the overall rise constituted 5.76% as SHIB hit the $0.00000894 level. It was followed by a decline of 1.3%. Therefore, overall since yesterday, the price of the prominent dog-themed coin has surged by 4.38%, trading at $0.00000883 on the Binance exchange at the time of this writing.