Yet another fake airdrop is being promoted on Twitter by obvious scammers - but why is this one more dangerous? Now the fraudsters are targeting mid-cap altcoin holders interested in Frax Finance (FRAX) and its hybrid stablecoin.
Scammers impersonating Frax Finance (FRAX) team are trying to steal your data
In recent days, a fraudulent promo campaign has gained traction in Twitter. Someone is impersonating the team of Frax Finance (FRAX) and is pretending to distribute its reserve token, Frax Share (FXS).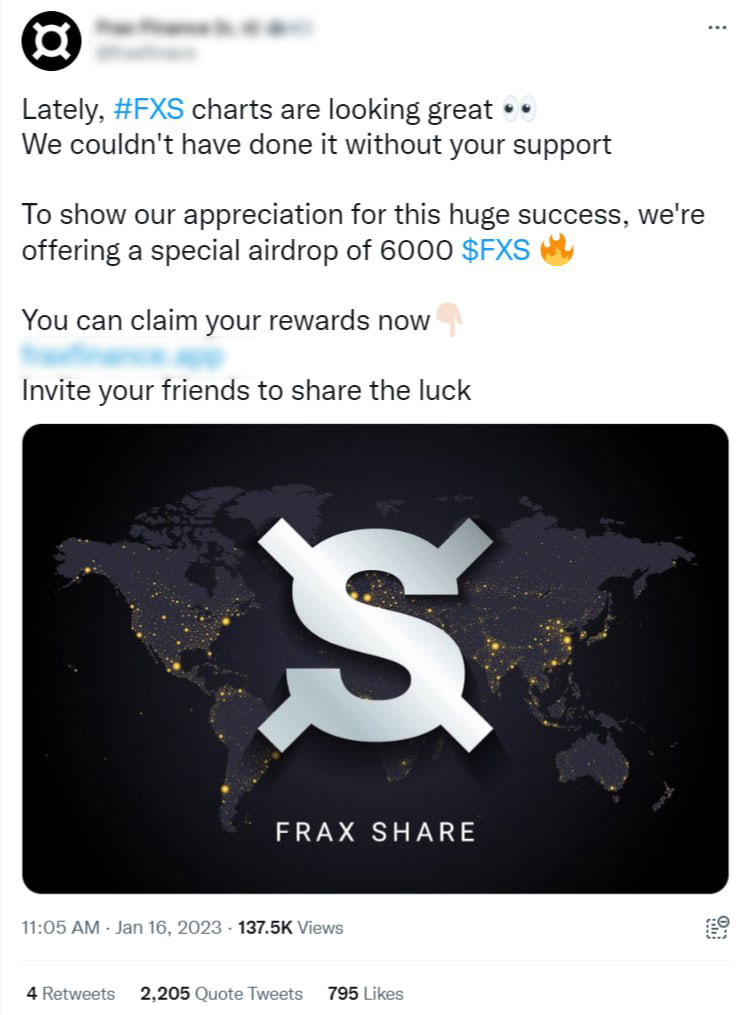 The account on Twitter is named "Fraxfinace" instead of "Frax Finance." It is aggressively promoted, commented and retweeted by bots with ENS-style .eth names. Participants of the airdrop are invited to visit the website and claim their rewards. Most likely, the scammers are targeting sensitive information: passwords, seed phrases or credit card data.
Both the website and Twitter account were created on Jan. 16, 2023. Per data from public whois-services, the airdrop website was registered by a Seychelles-incorporated firm.
Also, the sum of the airdrop looks too suspicious: its organizers are allegedly distributing over $62,000 in one of the most trending cryptocurrencies right now. By press time, the "Claim" button on the website is disabled; it is also labeled as a "phishing domain" by popular anti-virus software.
Frax Share (FXS) token gains 150% in three weeks
As cryptocurrency markets started recovering from the crypto winter, so are scammers. All cryptocurrency enthusiasts should be super-cautious: projects only organize them to raise awareness. As such, the "airdrop" from popular and established products are most likely scams.
Frax Finance (FRAX) ecosystem garnered attention in 2022 thanks to FRAX, a first-ever fractional-algorithmic stablecoin system. As covered by U.Today, it has aleady booked a spot in the list of the most trending decentralized stablecoins.
In December 2022, it also made headlines by launching a mainnet version on BNB Chain (BSC). A number of catalysts triggered FXS to rally from $4.13 to over $10.3, which happened in January.