As Shibarium keeps expanding and reaching new records, Shiba Inu enthusiasts keep setting millions of SHIB on fire by moving them to addresses from which these tokens can never be extracted.
This time, apart from more than a hundred million SHIB burned, the good news for the SHIB army includes SHIB developer Kaal Dhairya sharing details of the team's plans to renounce the BONE contract.
Tens of millions of SHIB get burned
Shibburn explorer, which shares data on hourly SHIB burns, has spread the word about a large amount of SHIB transferred to unspendable blockchain wallets within the last 24 hours.
This time, the enthusiasm of the Shiba Inu community has helped to remove a total of 111,051,432 SHIB canine coins from circulation, pushing the burn rate up 251.30%. The two largest transactions here carried 34,469,159 SHIB and 10,844,851 SHIB.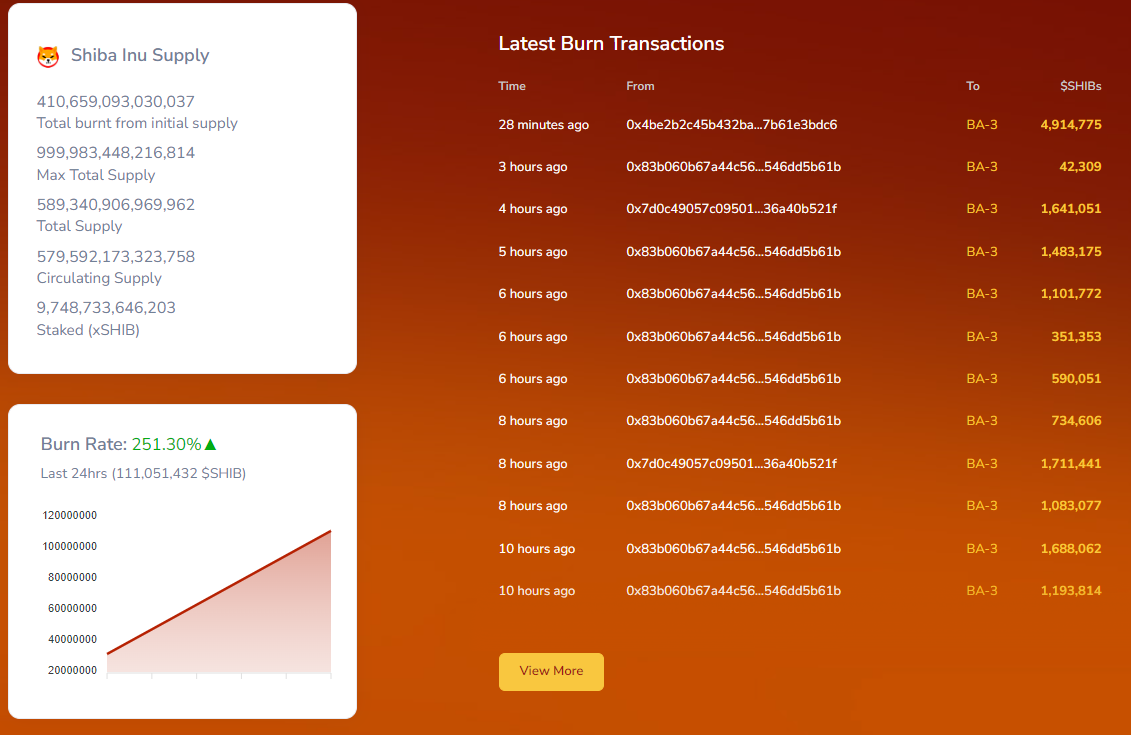 This is the highest level the SHIB burn rate has been able to reach this week — over the past two days, it went up merely by 62% and 12%, according to the data shared by Shibburn earlier.
Crucial BONE contract update announced
Top SHIB developer Kaal Dhairya has published a blog post telling the community what steps the SHIB team plans to undertake to renounce the BONE contract. These steps will take time, Dhairya said, since the team does not have many retries on mainnet, so there is no place for mistakes. Before taking any actual steps toward the contract renouncement, "everything has to be tested thoroughly multiple time so there are no losses."
Among the steps mentioned by the developer, there is adding a Timelock contract with a delay for safety, minting a dummy token Calcium, which has no actual value (those claiming otherwise and offering to buy it are to be considered scammers), minting BONE, adjusting rewards and others.
Recently, the BONE token has scored several new listings, such as on an Australian exchange GroveX and Indonesian platform Reku. However, the price did not react to that positive news, staying in the red. In an X post this week, an official of the SHIB team Lucie opined that SHIB and BONE prices will recover once Shibarium becomes well-established.