In a world in which ICO after ICO emerges, gains popularity, and then goes bust there is one that is worth owning. The BAT coin, the Basis Attention Token. The BAT coin is the native token of the Brave network but that isn't the reason to own it, not the only reason. The reason to own this token is that it is proving to have true utility. Utility means purpose, where there is a purpose there is demand and where there is demand traders can make money.
The Brave Browser is a privacy-oriented web-browser that pays its users to view ads. That's right, users of the Brave Browser have the choice of which ads they see, or don't, and are paid by the system for watching them. The reason why users switch to Brave is not for the BAT's they receive for using it is it for the privacy, safety, and speed they get with the system. At last count, there were over 4 million active Brave users and 25,000 publisher accounts with the number of users expected to exceed 5 million by the end of 2018.
Chart Analysis BAT/USD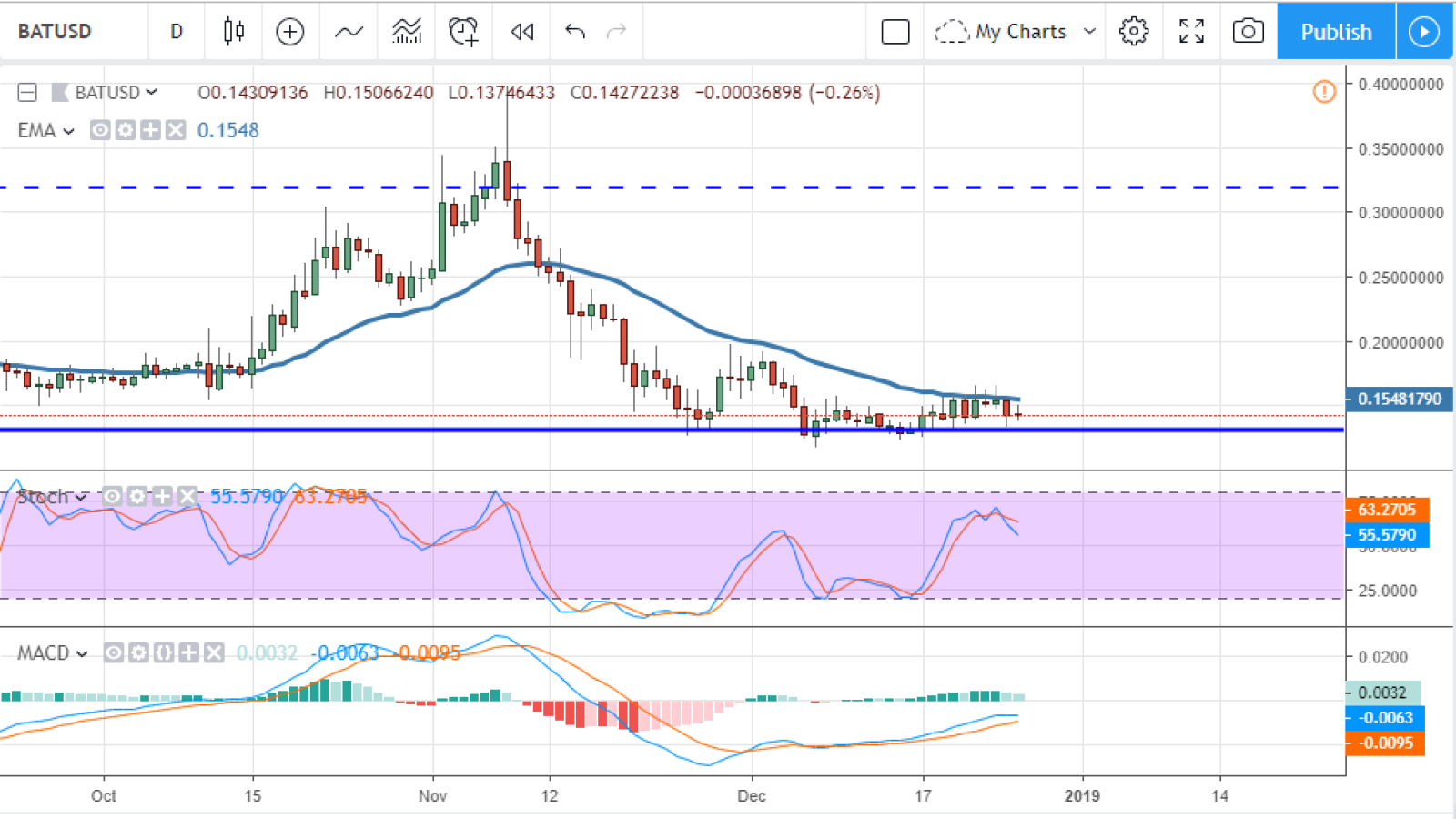 The BAT/USD has been suffering from the same bearishness that has plagued the entire crypto market, but not quite as bad. Where BTC and ETH both moved down to set new lows below the winter 2018 lows BAT found support at that level and was able to move higher. The token is now trending sideways within its long-term trading range and gaining support as publishers, advertisers, and Brave users begin to hoard large amounts of these tokens (while they are at bargain-basement prices).
The technical picture is still a bit cloudy but there is one thing certain, when this token dipped to support there were buyers waiting in the wings. This means support is strong at 0.12500 and not likely to be broken without another major breakdown of the cryptocurrency market. Longer-term, look for the token to move within its trading range with an upper limit near 0.3500, nearly 200% above the current levels.
Support zone: 0.12500-0.1300
Resistance zone: 0.3500
Most likely scenario: A move sideways within the range that will eventually retest the upper limit.
Alternate scenario: A retest of the recent lows and new lows will be set.