In our article for Litecoin price prediction for the month of February 2019 we focused our main attention the price level of $40 as strong support. We proved to be correct as a strong rally moved Litecoin (LTC) to the high price of about $58 as of March 8, 2019.
Will this rally continue in March 2019? Our Litecoin price prediction article for this month will highlight some forecasts by online sources and present our two scenarios based on technical analysis as a Litecoin price prediction. As always it is not any investment recommendation, just our opinion and commentary.
Litecoin Key Statistics and Year-to-date-Performance
A strong rally for Litecoin during the February 2019 until March 7, 2019 had positive effect on the change of Litecoin and its rank on CoinMarketCap about top 100 cryptocurrencies by market capitalization. Litecoin moved up two positions and is now ranked number 5 threatening to gain the fourth position that EOS has. As of March 8, 2019, the current value of Litecoin (LTC) is $58.18.
Other noteworthy key stats are:
Market Capitalization: 3.39 Billion, Circulating Supply: 60.77 M

Volume 2.11 Billion, Maximum Supply 84.00 Million

52 Week Low- 52 Week High: $22.6620- $215.7165

Year-to-date-performance is +74.83%
Litecoin price prediction March 2019 from various sources
LongForecast has the following Litecoin price prediction for March 2019. An open price of $46.0, a low-high range of $45.0-$75.4 and a close price of $64.4 for a monthly return of +40%. It is a very optimistic forecast for Litecoin.
Digitalcoin forecasts that the price of Litecoin will increase in March and a potential target price is $77.Another too optimistic Litecoin price prediction.
WalletInvestor estimates that in 14-days Litecoin price target could be $62.046 on the upside and $46.787 to the downside. In general, the forecast trend line is trending up, a strong signal that indicates optimism for higher price levels soon for Litecoin.
30Rates has the following Litecoin price prediction for March 2019. "In 3 weeks Litecoin price prediction on Thursday, March 28: minimum price $61.9, maximum $71.3 and at the end of the day price 66.6 dollars a coin. LTC to USD predictions on Friday, March 29: minimum price $59.9, maximum $68.9 and at the end of the day price 64.4 dollars a coin." Again, a very optimistic scenario supporting higher price levels for Litecoin in March 2019.
Litecoin price forecast based on technical analysis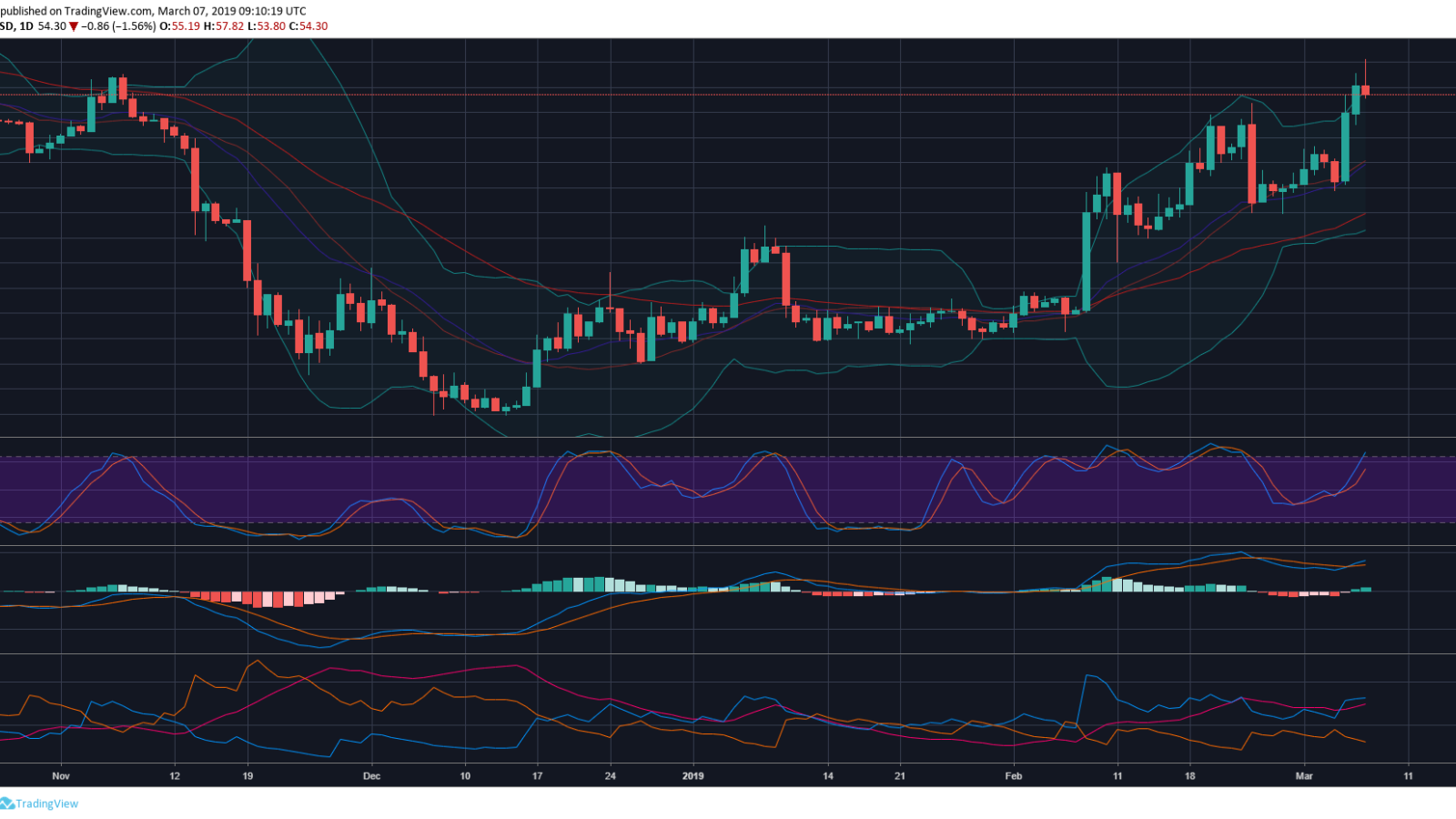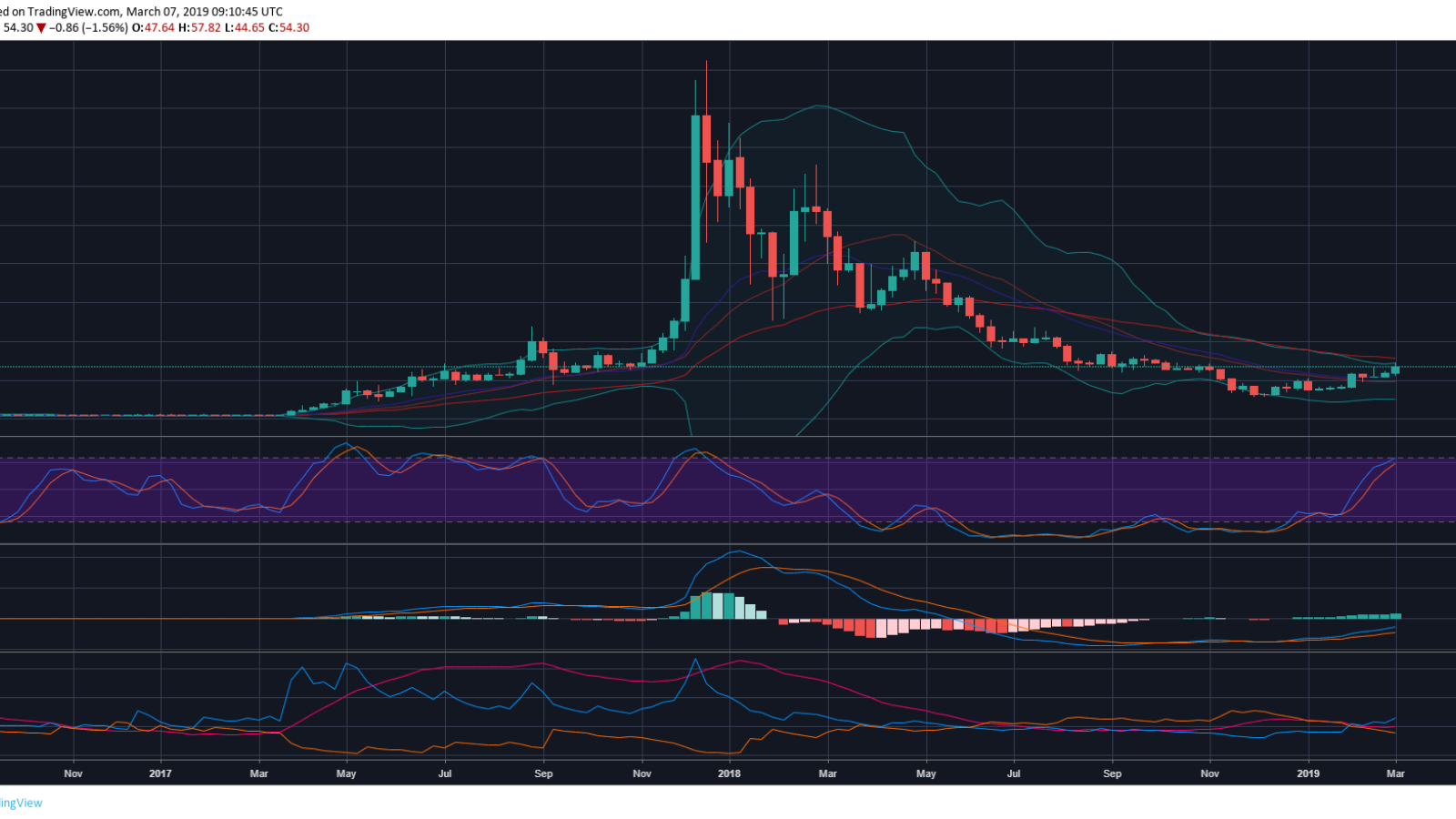 Can Litecoin move to higher price levels than the current price of about $55 as of March 8, 2019?
Litecoin price prediction positive scenario
With the recent price action, a very optimistic trend exists for Litecoin with the potential for higher price levels in March 2019. Litecoin restested the high price level of $56.35 initially formed back in November 2018, a V-shape trend reversal. We have a strong trend, measured by the ADX/DMI indicator, the MACD indicator is moving up, both 20-day and 50-day exponential moving averages are rising, and now the former price level of $40 should be a strong support in the case of any price retracement. If the rally continues then some key target levels are $74, $94 and $101.
The weekly chart is also bullish but there is a strong resistance at the price level of $61-$62. We are concerned that after such a strong rally some profit taking may soon appear in the market. This profit taking will not change our positive estimate that there are increased odds for higher prices for Litecoin, unless price closes below the 50-period exponential moving average, with a recent price of $42.40. A retracement for Litecoin at the range of $42-$45 is probable before attempting to rise to the $70-$74 price level.
Litecoin price prediction negative scenario
What if a double top is formed near the price level of $55? We note a negative divergence for MACD histogram as Litecoin moved higher from $46.50 to $57.84 as of today, March 7, 2019. This negative divergence may act as a very early alarming signal that profit taking could appear soon for Litecoin.
The price level of $57-$59 is a strong resistance level on the weekly chart. In addition, Litecoin price has reached the upper weekly Bollinger band, which often acts as a resistance zone. We do not think that Litecoin could move to the lower weekly Bollinger band currently at about $21.33. We estimate that a pause for this rally could lead to lower prices, near the price levels of $44-$42. Also, the 50-day exponential moving average currently at $42.30 is another price target to the downside.
Litecoin price forecast conclusion for March 2019
We favor mostly the optimistic scenario. However, some profit taking is very probable at the current price of $55.