With less than nine hours until the anticipated Litecoin halving at 4:34 p.m. UTC, it seems that the digital asset might be caught in a classic "buy the rumor, sell the news" situation. This commonly observed market phenomenon occurs when the anticipation of an event leads to a price surge, followed by a sharp decline when the event actually takes place.
The social dominance of Litecoin has understandably seen a spike, with many stakeholders showing signs of panic as the countdown to halving continues. For many, enduring the current LTC volatility is proving to be a challenging endeavor.
From a pricing perspective, Litecoin has already lost around 5% of its value, and there is potential for a further decline. Selling activities are evidently on the rise, putting additional downward pressure on the already declining price.
A pivotal moment occurred when LTC fell below the 50-day Exponential Moving Average (EMA), a significant support level for the cryptocurrency. This fall could potentially pave the way toward the 200-day EMA, which, if reached, could precipitate a slide toward the lower border of the descending price channel at around $66.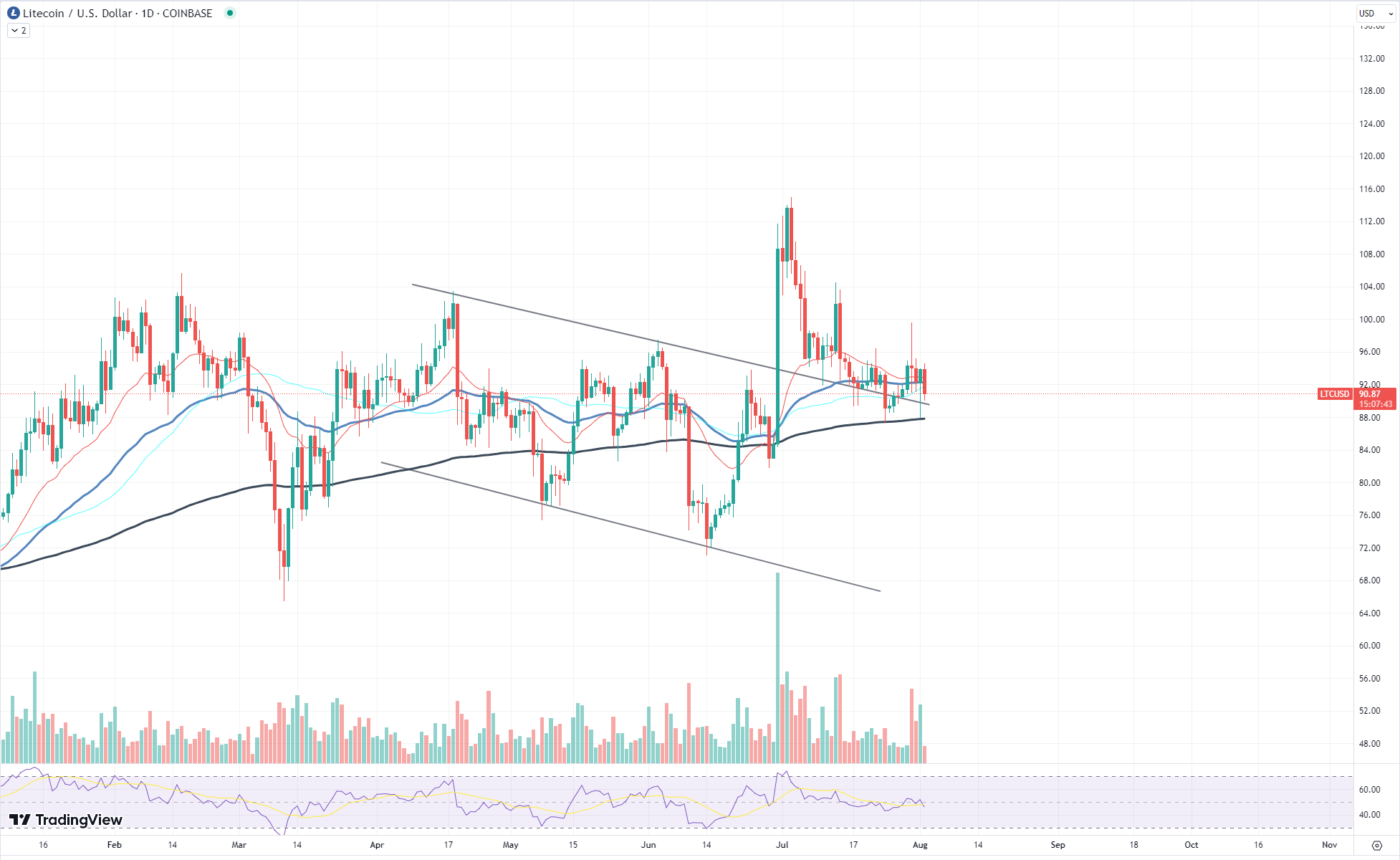 Such a scenario would represent a considerable setback for Litecoin, especially in the context of the recent optimism surrounding the upcoming halving. It is important to remember, however, that in the volatile world of cryptocurrencies, dramatic price swings are not uncommon, and short-term losses do not necessarily signify long-term trends.
Investors and market watchers are advised to keep a close eye on developments over the coming hours. As the Litecoin halving unfolds, the market will reveal whether it is truly a "buy the rumor, sell the news" event or if Litecoin can buck the trend and hold onto its recent gains. Patience, as always in the crypto market, is paramount.