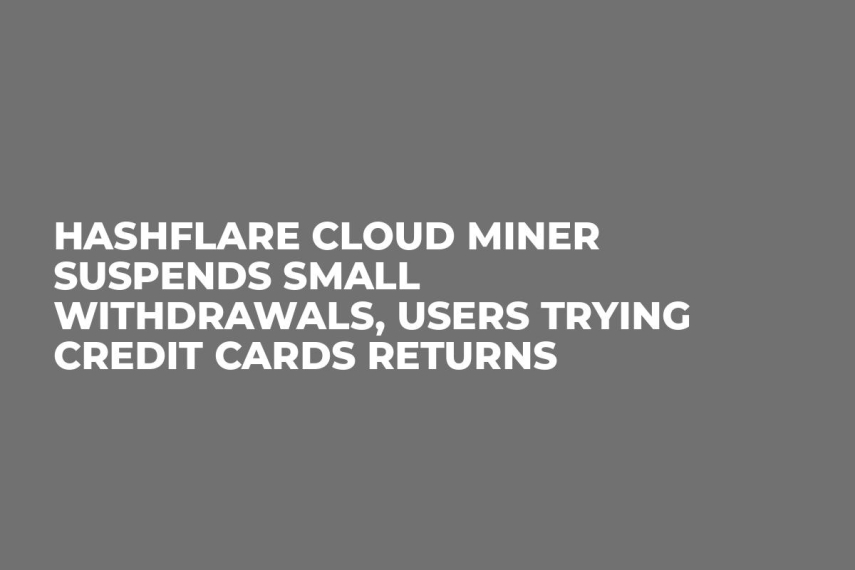 Cover image via U.Today
Buyers of HashFlare mining contracts are worried and their concern keeps growing. No wonder– the company has suspended their investments and the mined crypto.
Even when the lowest amount for withdrawal was 0.3 BTC, users already found it difficult to get their profit out. But quite a while ago HashFlare raised this minimum to 0.5 BTC and 0.1 ETH and now it is causing even bigger problems.
So now the funds seem to be taken, as in the old Liam Neeson movie. Besides, the accounts themselves were on the brink of terminating. Now, that the withdrawal minimum has been boosted, even more investor accounts are in danger.
Bad name
Cloud mining has long been bearing the reputation of half-scam since contracts offered there are hardly ever profitable. Besides, some nasty players try to lure investors into their Ponzi schemes disguised as cloud mining contracts. Within a few months, hashing power rose drastically on almost all mining networks, thus making the rented hashrates useless in generating any profit.
In a tight corner
At this very moment, users that purchased mining contracts with HashFlare earlier have got their accounts locked and cannot access their funds. However, one customer managed to get a refund by getting his credit card company to cancel the transaction.
To anybody that purchased a Hashflare cloud mining contract with a credit card, it might be possible to get a refund with that credit card as one of my followers tipped me. He bought his contracts at the end of 2017. pic.twitter.com/gAVXjIS720

— Madoff wasn't on the blockchain (@bccponzi) July 16, 2018
Funny though, but the above-mentioned person managed to get his money back through a centralized banking payment.
Trouble with hashrate
Bitcoin hashrate has boosted from 13 EHash/s to over three times since January 2018. First there were a few times when hashing power saw slumps but now BTC mining is getting popular again and the hashrates are back on the 40 EHash/s mark.
The existing state of things in the mining industry leads experts to believe that cloud mining is even more useless now than it was before, especially if miners expect to receive big Bitcoin awards.