Ever since Blockchain technology emerged as a viable technology, we have had several currencies available for purchase. Some of these currencies have immense potential and have soared beyond expectation. Others have been incredibly disappointing and cryptocurrencies like these make questions like "Should I invest in cryptocurrency?" pervasive.
Surprisingly, the top cryptocurrencies to invest in are not necessarily the most common cryptocurrencies you know. Admit it, when you just heard of cryptocurrency, you called every other digital coin Bitcoin. A highly knowledgeable individual will, perhaps, name Ethereum and Litecoin. However, these coins might disappoint you.
This is a guide on how to invest in digital currency and it will show you which cryptocurrency to invest in. However, before we get to that, it is important to understand the concept of investing in cryptocurrency. Let's answer a few questions, consider a few factors, and help you come up with the best investment portfolio.
Investing in cryptocurrency
Just like stocks, real estate and gold, the decision whether or not to invest in cryptocurrency is a well-calculated one which can't be coerced, induced or rushed. You are solely responsible for the losses you incur. You also get to enjoy any profit you make (after taxing your cryptocurrency gains though), hence, it is important that you come to the conclusion yourself.
Does this mean that you need no help with identifying the best cryptocurrency to invest in? Absolutely not! In fact, this is where you should rely on others the most. Before you invest, you need to understand your investment goals, outline them, speak to an expert about it, and then begin work on achieving it.
You will need to answer questions like, "How soon do I want to enjoy profits?" "How much do I have to invest in cryptocurrency?" etc. The answers to these questions are what will give you courage and drive to forge ahead when the going gets tough.
How to invest in cryptocurrency
Before we go ahead and splurge money on the best digital currency to invest in, you are required to know the basics of investing in cryptocurrency. Here are some points to get you started.
Long-term cryptocurrency investment or Short-Term?
As earlier mentioned, cryptocurrency is just like the traditional assets to invest in. You can choose to buy it and hold it for a very long time or sell almost immediately. How you invest depends on what you want from the market although, long-term investments are known to be more viable. Also, timing determines whether to hold a crypto for so long or sell.
Consider the case of Bitcoin. It entered the market in 2009 and for a very long time, the price rose slowly but steadily, until 2017. Bitcoin saw an astronomical increase, seeing its value almost peak at $20,000, and then it plummeted without any warning and we have been waiting for its rise ever since.
Does this mean that the best cryptocurrency to invest in is a fledgling currency which has achieved a modicum of fame and is at a reasonably low price? Well, not really. But, it's worth giving a try. Let's go through some of the attributes of cryptocurrencies and questions to ask before making a long-term investment.
Do you plan to sell the cryptocurrency after a period of time or after it peaks at a price?

Do you aim to sell your cryptocurrency asset at once or gradually?

Is there anything that'll make you sell off your cryptocurrency abruptly?

What's the maximum loss you're willing to incur?

How much profit are you hoping to make?

Do you have the patience to read market analysis and follow news reports?
These should set you on course and help you make the right decision. In case you aren't satisfied, this should do the trick.
Why you should make long-term cryptocurrency investments
You should make long-term investments if you have idle funds and you are willing to leave it like that for a long time.

If you believe in the future of the company, invest in the company

If you have sufficient evidence that supports the growth in the long term, go for long-term investment.
Why you should invest for short-term purposes
If the company just launched their ICO you can enter the market cheaply.

If you can vouch for the veracity of your online sources, go short-term.

If there's a very low market capitalization, don't think of buying for long.
Now that you know a bit about investing in cryptocurrency, we can think of going ahead to some of the top cryptocurrencies to invest in. However, you might want to consider the cryptocurrency market so far.
The current state of cryptocurrency markets
It all started with Bitcoin in 2009. Litecoin and Ethereum quickly joined and fiercely competed with Bitcoin for a share of the market population. In about nine years, we've had several cryptocurrencies come on board but none has enjoyed the surge Bitcoin enjoyed in 2017. The price increased by almost 4,000 percent, bringing its market capitalization to about 450 billion dollars.
We have also had about 3,000 new crypto coins in the market with each of them claiming that they're the next best thing after Bitcoin. Unfortunately, many of these coins go extinct before they even launch. In fact, a study carried out by Deloitte showed that 92 percent of Blockchain projects which were launched between 2015 and now failed. This makes it important to carefully consider what cryptocurrency to invest in before putting your money.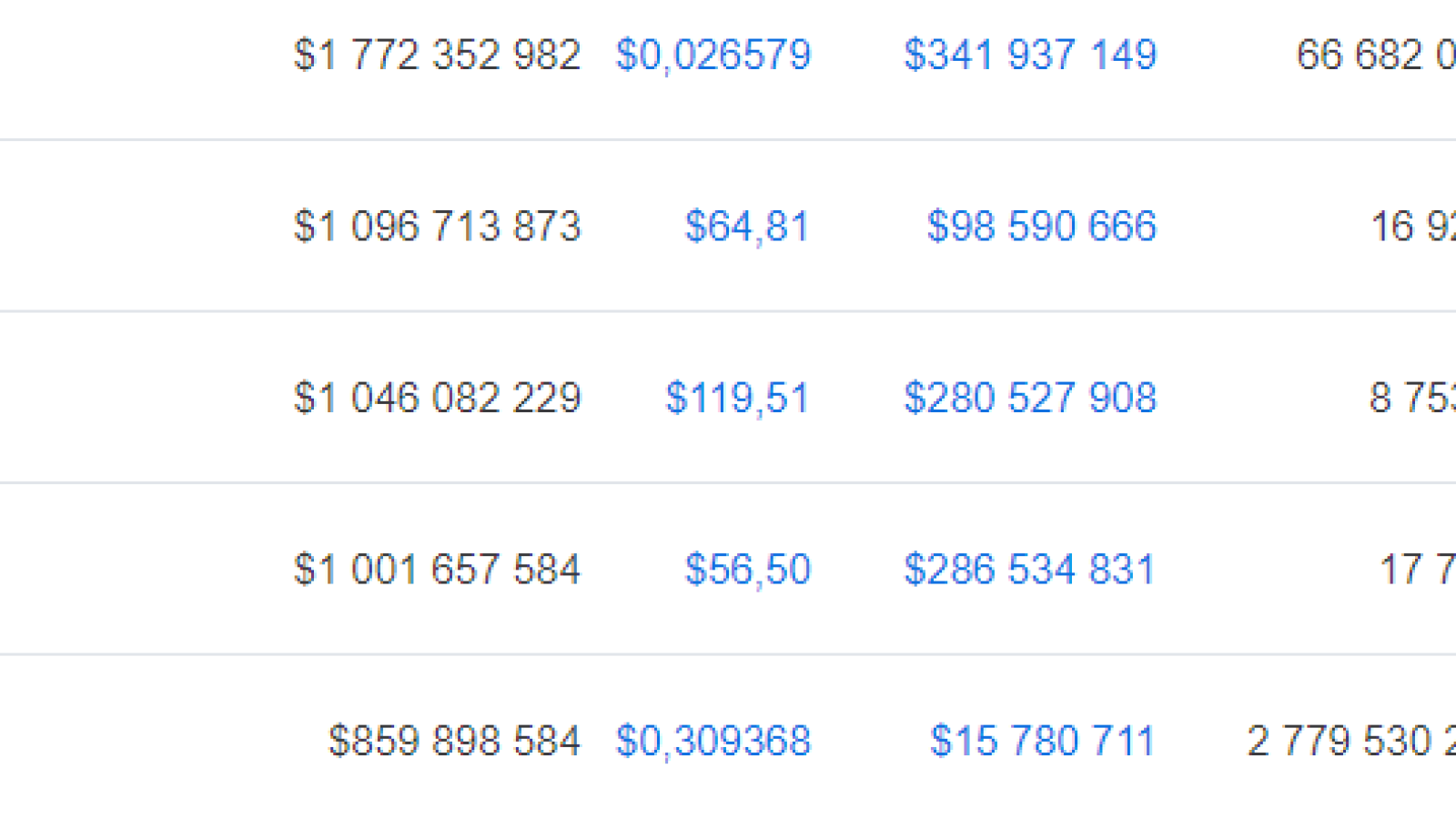 The best cryptocurrency to invest 2018
Knowing which cryptocurrency to invest in might prove very difficult if you are not familiar with these currencies. There are different metrics used to judge and ascertain the best currency to invest in. You cannot afford to make investment decisions based on sentiment or emotions. You should only look out for the best altcoins to invest in.
Thankfully, you do not have to look any further, they are all here.
Ripple (XRP)
Believe it or not, Ripple is on to great things. Those who invested at the beginning of 2017 are certainly smiling to the bank as we speak, however, that's not where it ends. Ripple is still arguably the best cryptocurrency to invest in 2018. It will be unwise to discard Ripple because of its low price at the moment. In fact, this low price should make it attractive to long-term investors.
When you consider the fact that Ripple has a total market capitalization of about $35 bln, you realize that it has a lot of potential. This potential is largely attributed to the fact that Ripple, apart from being a digital currency, is a means of making payment. Not only are the transactions secured via Blockchain technology, they are also completed in record time, beating Ethereum to its game.
One more thing about Ripple, some of the largest financial institutions in the world make use of Ripple for their business. JP Morgan, American Express, China LianLian International, and even the Saudi Arabia Central Bank all use Ripple technology. Ripple is your answer if you have questions like, "What cryptocurrency should I invest in 2018?"

card
Ethereum (ETH)
Let's track Ethereum's growth in the last one year. In 2017 alone, the price of Ethereum skyrocketed by almost 3,000 percent, a move which saw it become firmly entrenched as one of the best cryptocurrency to invest in.
Towards the end of 2017, the price of ETH hovered around $720 and the market capitalization was put at $70 bln. Right now, it has almost doubled in price and the market capitalization saw a similar astronomical increase. Ethereum is practically calling out to you to make that investment, will you heed the call?
Bitcoin (BTC)
We cannot discuss the best cryptocurrency to invest in without mentioning Bitcoin, it's a sin. Even though the price has plunged in recent times, it has managed to still remain one of the forces to reckon with in the crypto world.
Many people are of the opinion that the first remains the best and this will cause Bitcoin to remain relevant for a long time. Others who are not as excited about Bitcoin will just go ahead and discredit the currency. You should, however, note that you need heavy backing in terms of funds in order to enjoy any appreciable gain when you trade Bitcoins.
Litecoin (LTC)
What's the best cryptocurrency to invest in which will give you a Bitcoin-like experience minus the exorbitant cost? Litecoin! What is it about Litecoin? Well, like Bitcoin, it also saw an increase from $4 to $358 in 2017. In a similar fashion, 2018 saw it crash to almost $100, but the coin persists.
One reason for its worldwide adoption is that Litecoin constantly betters the technology of Bitcoin. If Bitcoin completes a transaction in 10 minutes, Litecoin will do it in two minutes, 30 seconds. The cap of Bitcoin is fixed at 21 mln, Litecoin has its maximum at 84 mln. They have also advanced on to greater achievements. In 2017, this currency completed a Lightning Network transaction, transferring a fraction of a Litecoin in one second.
Zcash (ZEC)
Although ZCash is relatively new to the market, they have covered a lot of grounds in their short time here. The company has a forward thinking-founder and CEO, Zooko Wilcox-O'Hearn and they continually release statements detailing their long-term plans of expansion and growth.
At the moment, ZCash has 21 mln coins in circulation and every transaction made is published on a public Blockchain. Apart from this, it is possible to enjoy a level of anonymity when you transact on Zcash. In fact, investing in cryptocurrency has been made easy with ZCash as it gives you a detailed report of the different transactions you have carried out.

card
Dash (DASH)
Digital Cash is one of the top five cryptocurrencies to invest in, here's why. The market capitalization is at $4.8 bln even though they just kicked off in 2015. Within this short while, they have consistently handled about $100 million worth of transactions daily. Why do they enjoy such volume? They are trustworthy, secure, and safe to use.
Monero (XMR)
This currency is tipped to become one of the best cryptocurrencies to invest in by 2018. It is one of those currencies with immense potential which is yet to materialize. What makes it so ideal is that it is very private and secure. Unlike conventional forms of completing transactions, Monero uses ring signature. If you like unique, this should be a great cryptocurrency to invest in.
IOTA (MIOTA)
Guess what? IOTA is completely free to use. This is possible thanks to the special Blockchain architecture which allows transactions to be made on the IOTA platform. The company is in partnership with firms like Microsoft, Fujitsu and Deutsche Telecom. All these give you the assurance that your investment is in safe hands.
Steem (STEEM)
You might be familiar with the blogging and social media platform, Steemit. They have decided to expand and venture into cryptocurrencies. While carrying out normal activities such as creating blogs, writing comments, etc. tokens are awarded. This token, in turn, can be used to pay for other things on the platform.
NEO (NEO)
When we talk about Blockchain technology and innovation, two names come to mind - Vitalik Buterin and Da Hongei. The former founded Ethereum while Hongei came up with NEO. The NEO technology is underpinned by a Delegated Byzantine Fault Tolerant system and this adds sophistication to the system. It also has an improved proof of stake tech. All these make the NEO a very attractive cryptocurrency to invest in.
Conclusion
There you have it, "what cryptocurrency to invest in" is no longer a valid question, you have 10 to choose from. Investing in cryptocurrency might be a very complicated and tiring process, however, the end justifies the means.