While crypto markets are still trapped in a bearish recession, owners of Bitcoin (BTC) and altcoins badly need low-fee and reliable opportunities to swap their cryptos among each other. Launched by a heavy-hitting team of blockchain veterans, FixedFloat exchange addresses the major bottlenecks of the segment.
Introducing FixedFloat, no-KYC cross-chain exchange with LN support: highlights
Since 2018, FixedFloat exchange is offering a low-fee, reliable and seamless crypto conversion instrument for all users of Bitcoin (BTC), Ethereum (ETH), U.S. Dollar Tether (USDT) and major altcoins.

Which features make FixedFloat special in Q4, 2022, and why is it increasingly popular among Web3 users?
FixedFloat is a veteran noncustodial cryptocurrency exchange with an intuitive interface and feature-rich toolkit;
FixedFloat is a cross-chain exchange: it supports both Bitcoin (BTC) and Ethereum (ETH), as well as many other blockchains alongside crucial privacy coins, PoS tokens and stablecoins;
FixedFloat's ecosystem is a noncustodial one: it does not store users' funds or keys;
FixedFloat does not require its users to register accounts or undergo KYC checks;
The platform is among the first mainstream exchanges to seamlessly integrate Lightning Network, a second-layer scaling solution for Bitcoin (BTC).
What is a cryptocurrency exchange?
A cryptocurrency exchange is a class of blockchain-based services designed to allow Internet users to exchange one cryptocurrency for another. In general, it is a software that ensures cross-asset conversion for digital coins.
In general, a cryptocurrency exchange works not unlike a traditional currency exchange: a user sends his/her deposit in one currency in order to immediately receive the equivalent sum in another cryptocurrency. Some exchanges also have direct crypto-to-fiat conversion options.
People use crypto exchanges to buy cryptocurrencies, to store and rebalance their portfolios, to receive crypto from their peers and so on. The first-ever cryptocurrency exchange — the now-defunct Bitcoinmarket.com — was launched in March 2010; it only supported swaps between Bitcoin (BTC) and U.S. Dollars (USD).
How to choose the best cryptocurrency exchange?
According to CoinMarketCap, a leading tracker of cryptocurrencies and blockchain services as of August 2022, there are 523 legitimate exchanges for crypto. As such, finding the right one might not be an easy task.
Centralized crypto exchanges (CEXes): Pros and cons
Centralized cryptocurrency exchanges use centralized custodial mechanisms to store user funds or private keys. They actually control users' accounts and can block assets voluntarily. At the same time, they have well-designed and intuitive interfaces, good pricing, low fees and typically have more trading instruments than their decentralized counterparts.
Binance (BNB), Coinbase, FTX (FTT), Bitfinex, Huobi (HT) and KuCoin (KCS) are popular centralized exchanges.
Decentralized crypto exchanges (DEXes): Pros and cons
By contrast, decentralized cryptocurrency exchanges do not store user money or keys. All interactions between the exchange and its users are fully automated. Typically, they have more sophisticated interfaces and mediocre toolkits.
Uniswap (UNI), PancakeSwap (CAKE) and 1Inch (1INCH) are mainstream decentralized (on-chain) exchanges.
What is Lightning Network — and why is it crucial for the global crypto sphere?
Lightning Network is a second-layer payments protocol on top of the Bitcoin (BTC) and Litecoin (LTC) networks. It is designed to address the problem of low speed and insufficient scalability of Bitcoin-like blockchains. By default, Bitcoin (BTC) can only process three transactions per second.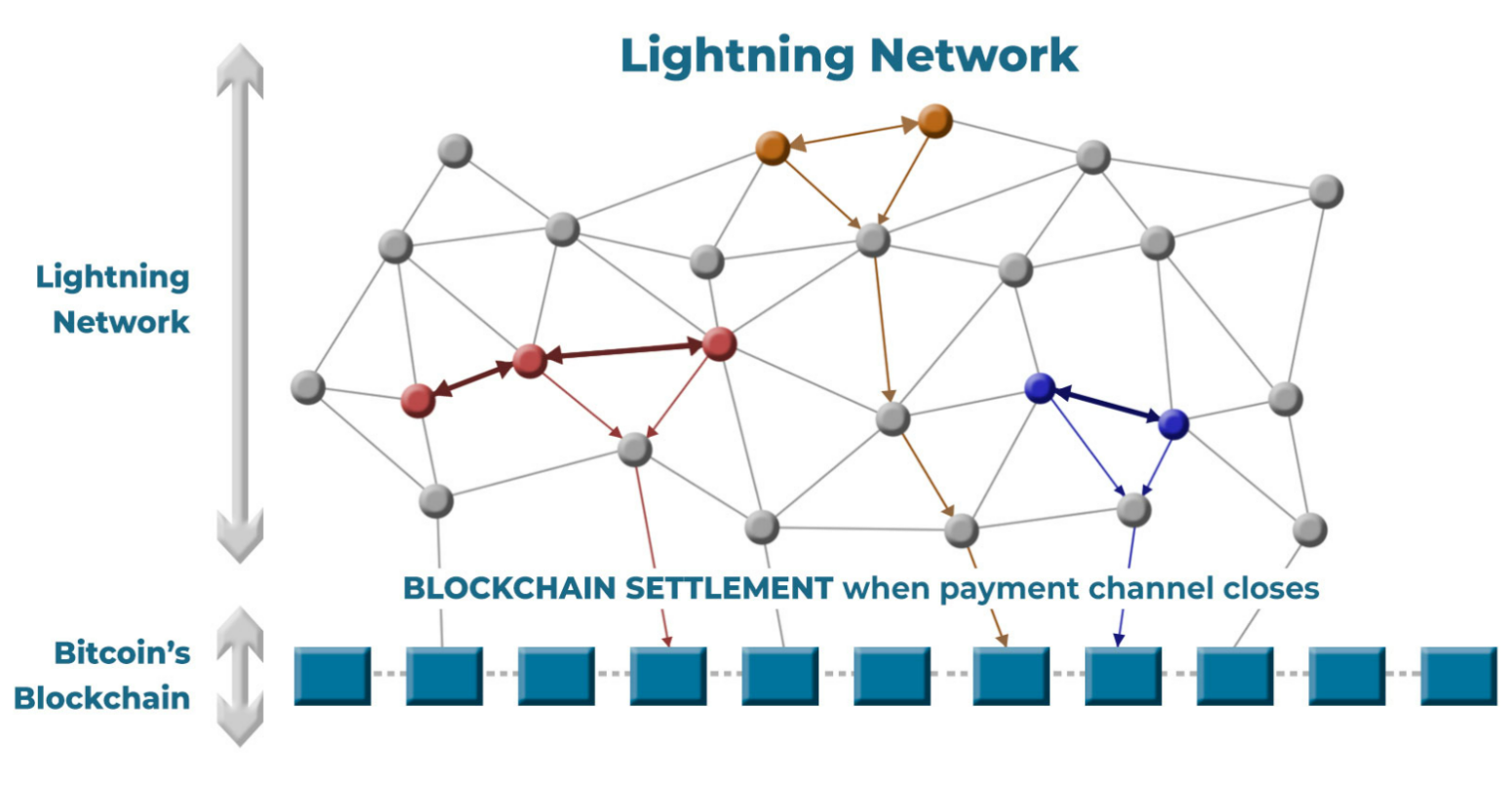 As the adoption of cryptocurrencies gains traction, this throughput is not enough for Bitcoiners any longer. That is why, in 2017, developers decided to implement payment channel infrastructure on top of the Bitcoin (BTC) network.
With Lightning Network, transactional data is partially processed off-chain; Bitcoin (BTC) mainnet is only used to verify the data. That is why Lighting payments are far faster and charged with dramatically reduced fees.
Inside FixedFloat, a noncustodial crypto exchange with Lightning Network support
FixedFloat, a KYC-agnostic multi-blockchain exchange, leverages the disruptive power of Lightning Network to guarantee the lowest possible fees and fast transaction verification.
FixedFloat: Basics
Technically, FixedFloat is a web interface for exchanging cryptocurrencies amongst each other: to start working with FixedFloat, no extra downloads, registrations or installations are required. FixedFloat was launched in 2018 by a team of seasoned professionals in fintech, blockchain, tech and entrepreneurship.

FixedFloat is designed to ensure the noncustodial exchange of cryptocurrencies launched on different blockchains. FixedFloat only uses hot wallets: to guarantee maximum security and attack-resistance, the platform does not send users' funds to cold wallets during the exchange process.
FixedFloat prioritizes the anonymity of its users: it has no KYC ("know your customer") screening. To use the exchanges, crypto holders do not need to register an account. The only thing needed to start exchanging crypto with FixedFloat is to connect the target crypto wallet. However, to track their history of operations, users can register an account.
FixedFloat: Currencies and instruments
FixedFloat supports a wide range of various cryptocurrencies, including Bitcoin (BTC), Ethereum (ETH), USDT, USDC and other major cryptocurrencies. Namely, it supports mainstream proof-of-stake (PoS) coins like Binance Coin (BNB), Cardano (ADA), Chainlink (LINK), Cosmos (ATOM), Polygon (MATIC), Tezos (XTZ), Polkadot (DOT) and Tronics (TRX).

Privacy coins Monero (XMR) and ZCash (ZEC) are available together with key stablecoins USDT (Ethereum, BNB Chain and Tron version), USDC (Ethereum, BNB Chain and Tron version), Dai (DAI), TrueUSD (TUSD) and crypto veterans Dogecoin (DOGE), Litecoin (LTC), Bitcoin Cash (BCH), Ethereum Classic (ETC) and XRP.
The FixedFloat platform supports two exchange modes: with fixed and floating rates, respectively. With fixed rates, the client knows the exact sum he/she gets and is charged with a 1% commission. With a floating rate, the client is subject to price fluctuations: he/she only knows the exact sum after the exchange is over. Floating rate exchange operations are charged with a 0.5% fee.
FixedFloat: Swapping cryptos in three steps
In order to exchange cryptocurrency on FixedFloat, a crypto user should take three intuitive steps:
Choosing the cryptocurrency he/she would like to sell and buy;
Setting up a crypto wallet to get the money;
Choosing the exchange mode (fixed/floating rates).
That's it! The system is ready to start the exchange. If a user wants to exchange Bitcoin (BTC), he/she also has the option to organize the exchange through Lightning Network.
FixedFloat: Affiliate program and customer support
To allow its users to benefit from their social media exposure, FixedFloat launched a multi-level affiliate program. FixedFloat users can spread the word about its services, invite friends to try the exchange and receive a portion of their transactional fees.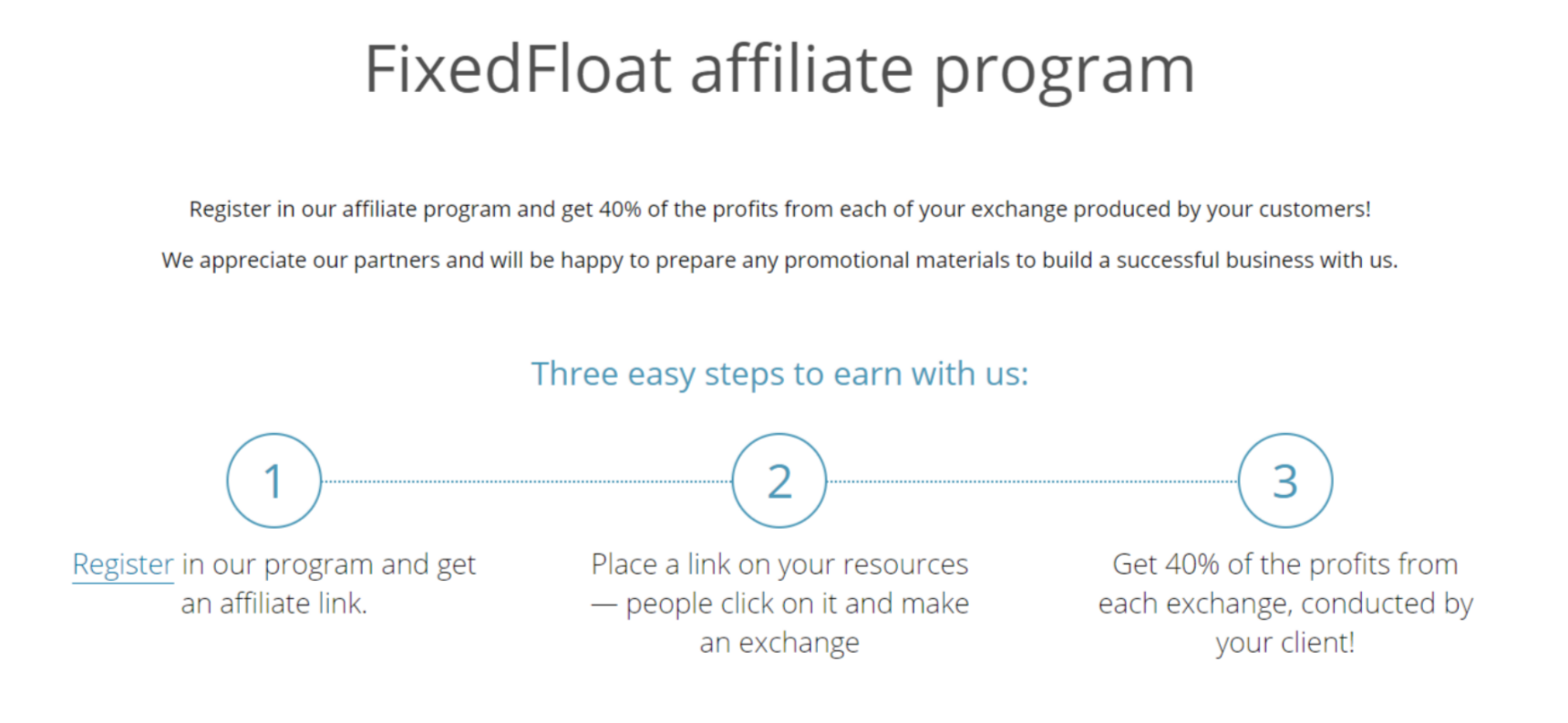 FixedFloat is well known for its 24/7 online customer support. On all major third-party review websites, it is ranked among the top B2B crypto services. To name a few, on TrustPilot, it is ranked 4.9/5 with 1,697 reviews, while on BestChanger, there are hundreds of positive comments about FixedFloat.
Wrapping up
FixedFloat is a noncustodial cross-blockchain exchange that supports Bitcoin (BTC), all major altcoins and stablecoins. It leverages Lightning Network to advance Bitcoin (BTC) trading and supports fixed and floating exchange rates.
FixedFloat has feature-rich API toolkit, 24/7 support, a generous affiliate program and a passionate community.