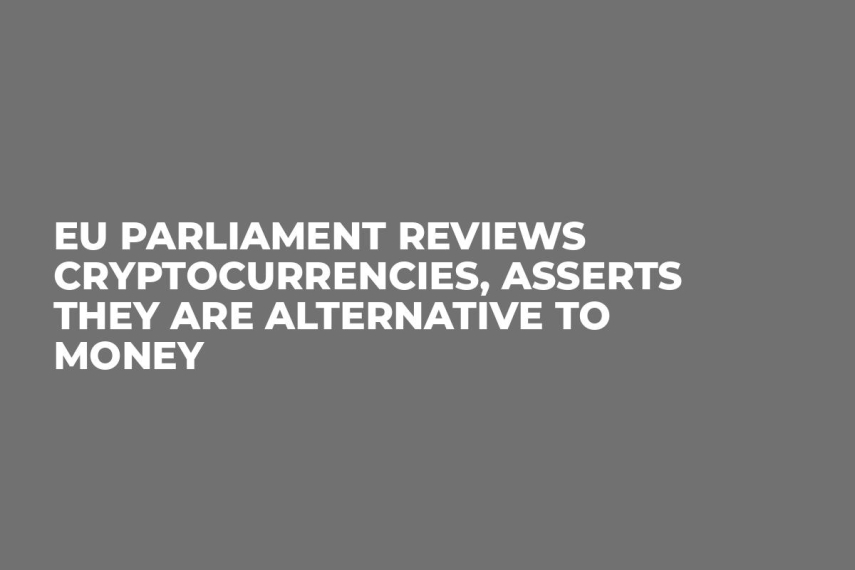 Cover image via U.Today
A new analysis from the European Parliament Committee on Economic and Monetary Affairs has delved into the nature and scope of cryptocurrencies and made some pretty positive calls on their impact in a European setting.
One of the major assertions from the committee is that cryptocurrencies, in their opinion, can indeed be used as an alternative money.
Additionally, the analysis has come to the conclusion that cryptocurrencies are also disruptive, but innovative at the same time, spelling more positivity. Finally, looking inwards, the analysis conquered that there is potential for central banks to issue their own digital currencies, as well as the fact that regulators need to step in and step up.
A new money alternative
The way in which the committee for the EU has broken down cryptocurrencies and their impact to a union such as the European one gives a lot of insight as to how these assets may be regulated in the future across Europe.
"Digital currencies, also known as 'virtual currencies' or 'cryptocurrencies' can be defined as 'a digital representation of value, not issued by a central bank, credit institution or e-money institution, which in some circumstances can be used as an alternative to money," this was the way in which the committee began its analysis of cryptocurrencies.
By asserting that digital currencies can be used as an alternative to money it is clear that the EU does not see them as a threat to the monetary and central banking system. It also means that they are looking to them as a potential future monetary system.
Central Banks joining in
In fact, the committee also arrived at the conclusion that, like other nations are starting to discover, the central banks can also start issuing their own digital currencies.
"The arrival of permissioned cryptocurrencies promoted by banks, even by central banks, will reshape the current competition level in the inter-cryptocurrency market, broadening the number of competitors. A potential inadequacy of traditional competition policy to address competition issues in the cryptocurrency markets can be found, suggesting direct public participation through a central-bank digital currency as a remedy," the report read.
Change in the air
The way in which the regulators have started to look deeper into cryptocurrencies and understand their value and potential over their dangers is indicative of a changing viewpoint of these decentralized assets.
Entities like the EU and the G20 are starting to mull over ways in which to regulate cryptocurrencies and, compared to a few months ago, the attitude is changing to be far more balanced and positive.