The much-anticipated debut of Shibarium, a groundbreaking addition to the Shiba Inu ecosystem, has sent shockwaves through the SHIB landscape, propelling the BONE token's on-chain metrics to astonishing new heights. Within a mere 24 hours of Shibarium's launch, on-chain activities for the BONE token have surged significantly.
Unveiling an extraordinary leap, IntoTheBlock's data reveals a momentous 200% surge in on-chain metrics for the BONE token. The volume of large token transactions surged from 3.5 million to an eye-popping 7.38 million BONE, a monumental achievement that translates to an impressive $5.09 million surge in value.

As the release unfolds, the wallets of prominent BONE holders emerge as a focal point of interest. Notably, a remarkable influx of activity has been witnessed in addresses that harbor at least 0.1% of the total supply. These addresses experienced an astounding 210% increase in inflows during this pivotal period, amassing a remarkable replenishment of 6.64 million BONE tokens.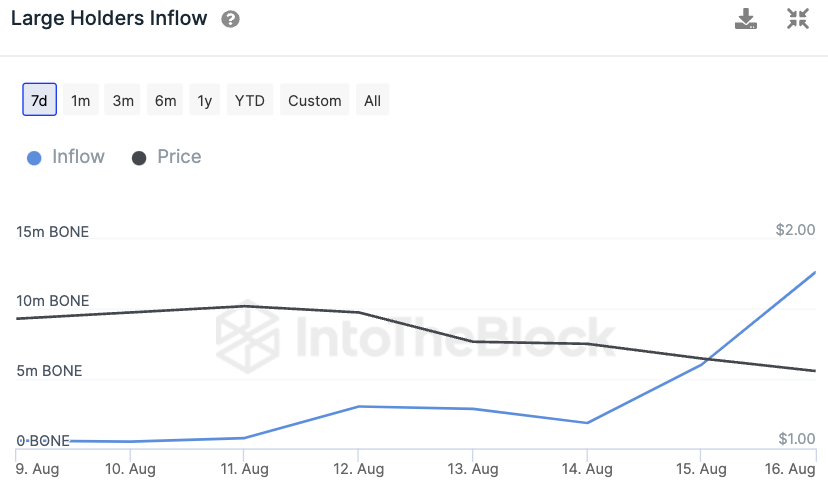 However, the picture is not without complexities. On the contrary, there have been significant outflows from these addresses, totaling 6.78 million BONE. This outflow surpasses inflows by a margin of 2.1%.
While the surge in on-chain metrics following Shibarium's inauguration is certainly eye-catching, this initial burst of statistics offers a tantalizing glimpse into the impact of Shibarium's arrival. However the full extent of its implications remains to be seen in the days to come. Furthermore, it is worth acknowledging that the launch encountered its fair share of challenges, which adds an intriguing layer of complexity to the unfolding narrative.