In our article titled EOS Price Prediction for 2019: 70$ or Less? we provided some EOS price prediction opinions for 2019. In this article we will focus on EOS price prediction for April 2019.
Starting with year-to-date performance, key statistics and then mentioning price forecasts by various online sources and our own technical analysis based on daily and weekly charts. All the price forecasts about EOS are not investment recommendations, only informational analysis.
EOS Key Statistics
As of April 4, 2019, some important statistics about EOS cryptocurrency are the following ones:
Price as of April 6, 2019 is $5,2840
Market Capitalization is 4.75 Billion
Volume is 4.79 Billion
Circulating Supply is 906.25 Million, Maximum Supply is Max. Supply is 1,000.00 Million
52 Week Low-52 Week High: $1.7387-$20.4435
Year-to-date performance is +98.66%
Rank number 6 on CoinMarketCap about Top 100 Cryptocurrencies by Market Capitalization
EOS price forecast mentions by other sources
Online sources about EOS price forecast can help the reader to evaluate possible scenarios and their impact on price action. Some interesting EOS forecasts for the month of April 2019 are the following ones:
WalletInvestor has a forecast trend line about EOS in the range $4.5-$5 for mid-April 2019. Still it is pessimistic about EOS price as the 1-year forecast is at $0.917.
CoinFan is very optimistic about EOS price in April 2019. It predicts a minimum price of $12.99799461 and a maximum price of $17.58552211. But the minimum price even with the recent crypto market rally on early April is too far away from the current price of EOS at $5.28 and it seems a rather unrealistic price for now.
CryptoGround forecasts that the price of EOS in one month will be $5.3120, +0.23%. Overall a rather conservative EOS price forecast, estimating that there is potentially little room for any significant upside, but also not any major downside is expected compared to the current price of EOS mentioned above. In the long-term CryptoGround is predicting much higher price levels for EOS.
TradingBeasts predicts a minimum price for EOS in April 2019 of $5.65
Monthly EOS price prediction based on technical analysis
Our time frames for technical analysis are the daily and weekly charts. What are the key points to consider based on the daily and monthly Ethereum charts to make an EOS price prediction by the end of April 2019?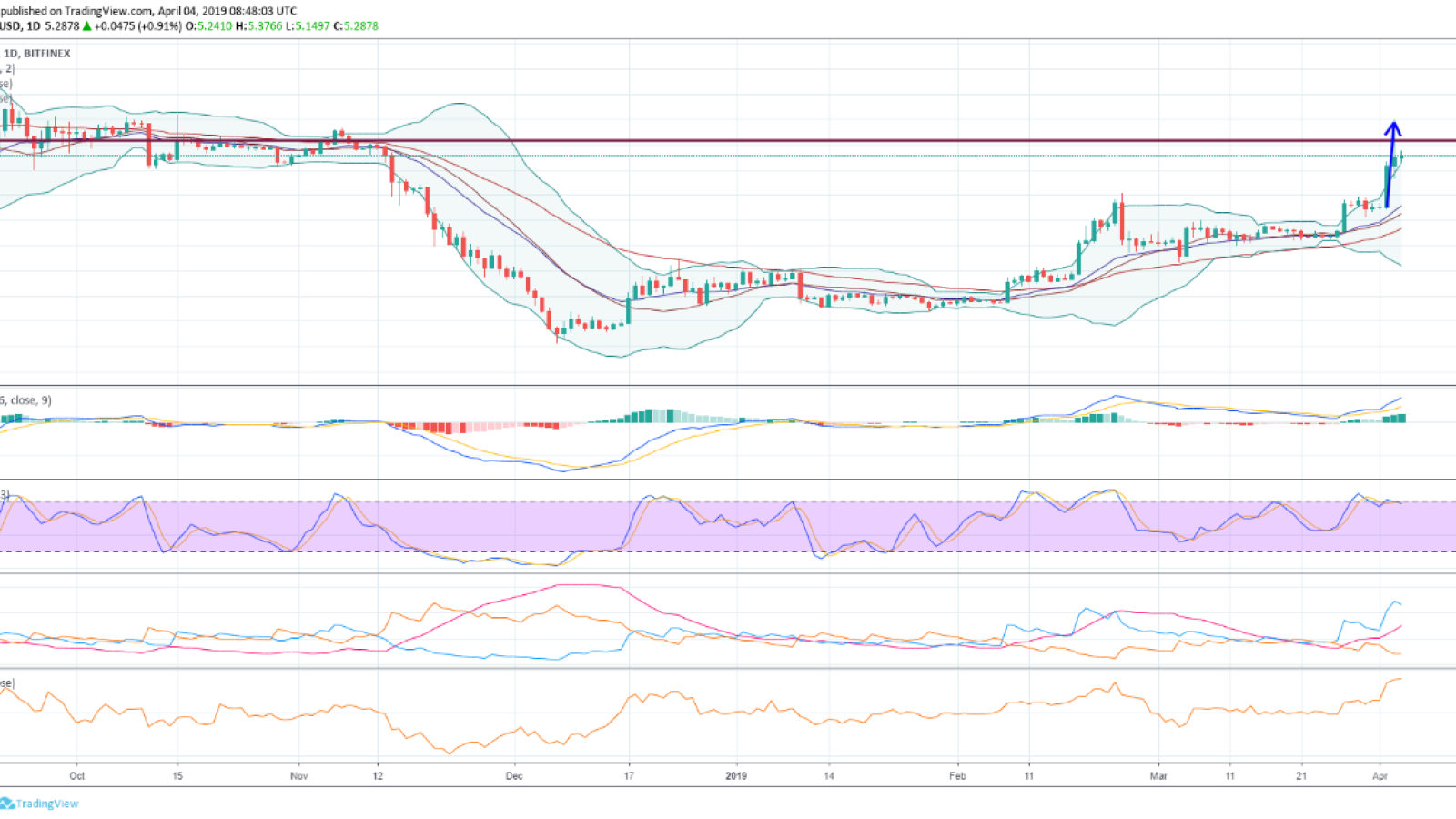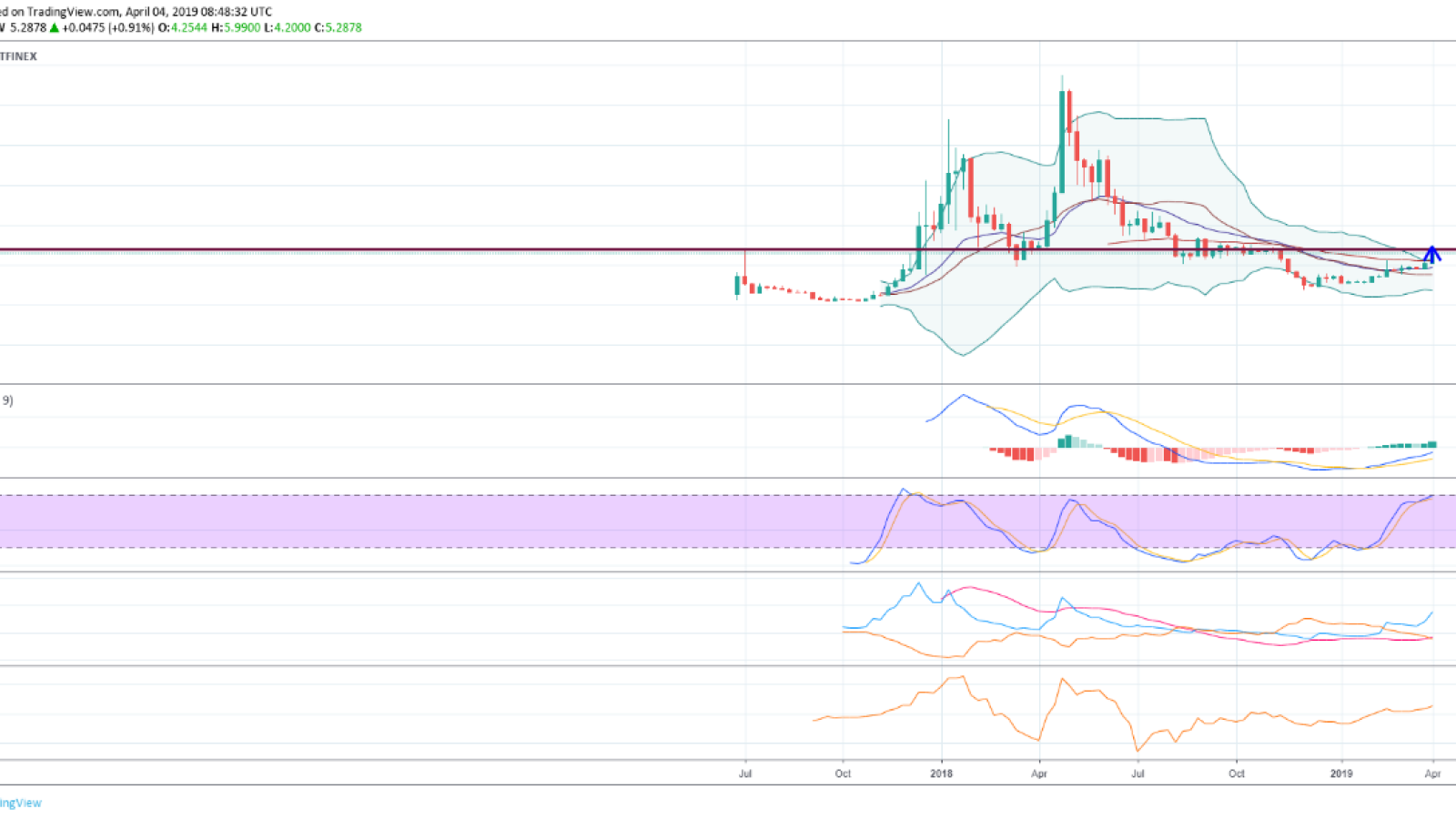 EOS price bullish monthly scenario
The technical analysis for EOS as of April 4, 2019 is very bullish or optimistic. Major technical indicators show a strong uptrend. Both MACD and Momentum indicators are rising, price is above the 20-day and 50-day moving averages, both of which are rising, and clearly the price of EOS is making higher highs and higher lows, indicating a strong dominant uptrend.
The strength of the trend is gaining momentum looking at the ADX/DMI indicator.
The weekly chart is also bullish, as all the technical indicator mentioned before related to the daily chart show the same technical picture, a strong uptrend. On the weekly chart if this rally continues some price targets to monitor are $6.20 and then $6.90. On the daily chart potential targets are $5.90, $6.30 and then $6.75.
There should be now strong support at the price levels of $4.45 and $5.0. However, the daily candlestick formed on April 3, 2019 is a spinning top and shows indecision, plus there was selling pressure when price moved at the high level of $5.97.
EOS price bearish monthly scenario
It is hard to find many bearish signs about EOS price today. But crypto market has showed that it is a high volatile and risky market. On both the daily and weekly chart the Stochastics indicator has moved to the overbought level and this may mean that profit-taking and lower prices may soon follow. We mention may as we emphasize on the probabilities.
On the weekly chart the price of EOS has reached the upper Bollinger band at $4.70 and is now trading at $5.28, well above it.
A return to the lower price level of 4$.50-$3.85 is a first target as these are the current price levels of the 50-period and 20-period weekly exponential moving averages. On the daily chart a probable zone of interest is $4.40-$3.60 for a potential sell-off. Price moves in waves and a price retracement is not unlikely.
EOS price prediction for April 2019 conclusion
We prefer the bullish scenario, but caution is required as any price retracement is still probable.