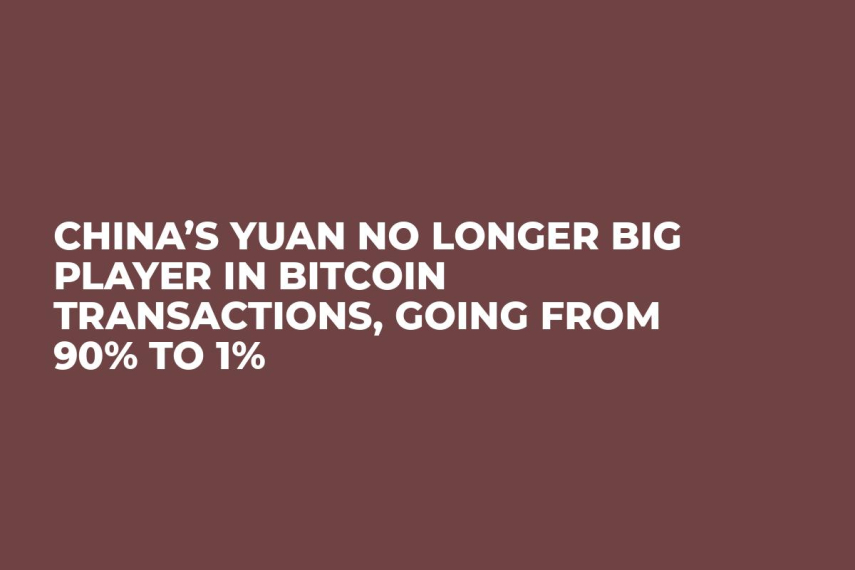 Cover image via U.Today
China, the world's second-largest economy, and once the powerhouse of Bitcoin transactions as well as mining, is seeing just how effective their ban on cryptocurrencies has been with the reports being that the Yuan's share of Bitcoin transactions is way down.
The Socialist Republic instituted broad and sweeping bans of different aspects of the digital currency through the end of 2017, and while there was resistance at first, it seems that the bans are taking their hold and affecting the Chinese Bitcoin ecosystem.
A strict ban
China set a big precedent when, since September 2017, it began putting big blocks on the cryptocurrency market. First there was the ban on ICOs, then exchanges were hit, and finally, a firewall was erected to keep all cryptocurrencies out.
However, prior to the bans, the Yuan's share of global Bitcoin transactions topped out at over 90 percent. The bans were used in order to stop the fears that Bitcoin-Yuan trading was being used to circumvent tax regulations and anti-money-laundering laws.
China also has some of the world's strictest capital control measures in place, so there was a major risk of bitcoin being used to illegally export capital from China.
Working ban
According to local reports, the bans have effectively crippled the Yuan's influence in Bitcoin transactions as they have gone from 90 percent to one percent- a staggering drop, this according to the Chinese central bank.
The report also stated that the ban on Bitcoin trading is not likely to be lifted anytime soon because the severe price fluctuations are seen as a risk to Chinese investors.
Speaking about the ban, Guo Dazhi, research director with the Zhongguancun Internet Finance Institute, said:
"This indicates that the policy has been very successful. It is within expectations that the Yuan's share in global Bitcoin transactions would drop after China announced the ban. The fluctuation for Bitcoin has been huge and obviously that is very risky for investors. [Many Chinese investors] could not bear such risks."