Despite being known for its erratic price moves, Bitcoin, the world's largest cryptocurrency, is now displaying remarkable stability.
Prominent cryptocurrency expert James Check, known on social media as @Checkmatey, recently highlighted that the spread between the Upper and Lower Bollinger Bands for Bitcoin stands at a mere 2.9%.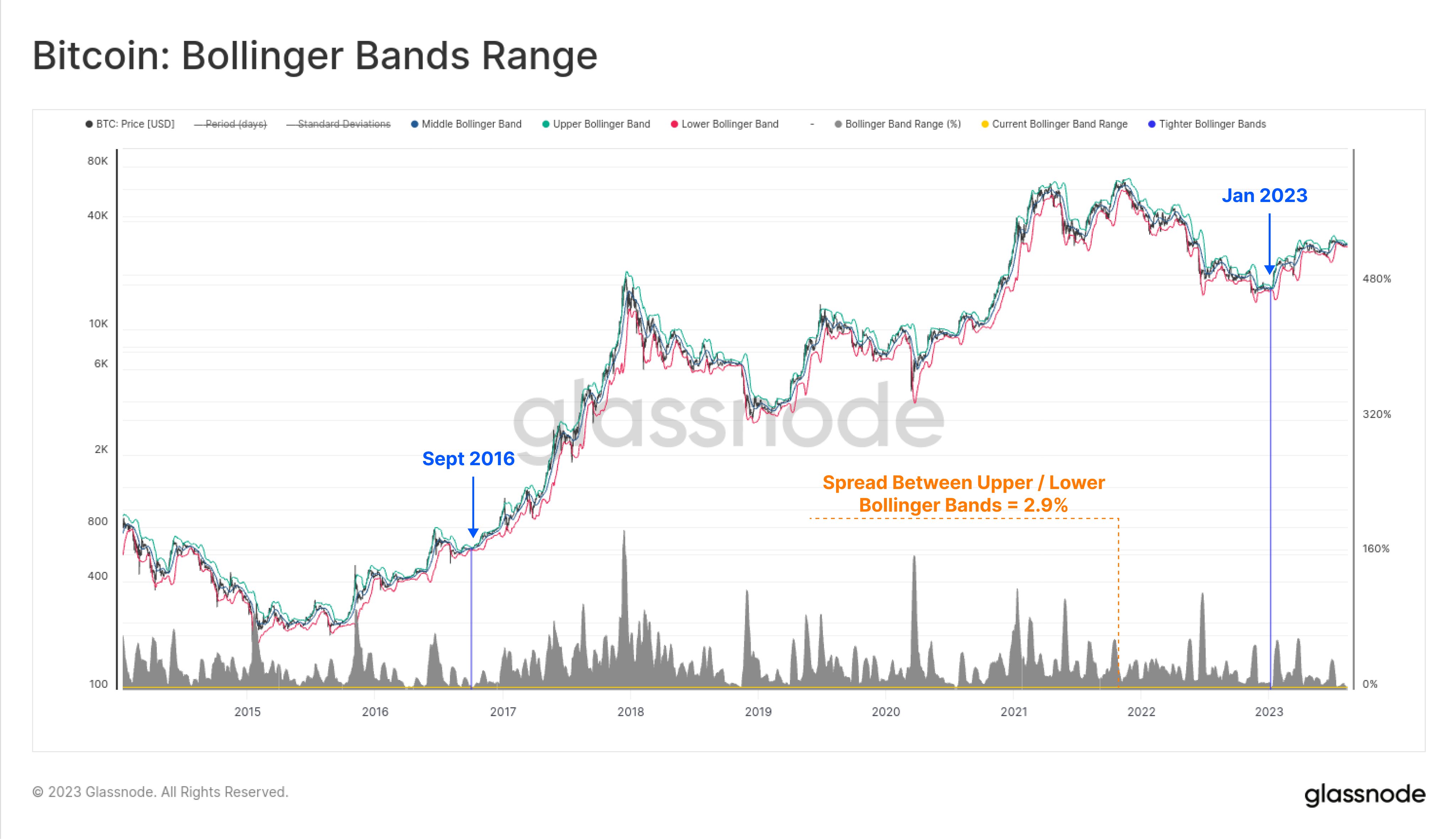 The leading Glassnode on-chain analyst has pointed to the fact that such a limited range in Bitcoin's Bollinger Bands has been witnessed only twice before: once in September 2016 and again in January 2023.
For those new to the terminology, the Bollinger Bands are a technical analysis tool utilized to gauge price volatility. Tighter proximity between these bands, as is currently the case, suggests a period of low volatility.
CoinGecko data backs the analyst's observation, showing Bitcoin trading within a remarkably confined 24-hour range of $29,143.57 to $29,445.38. Despite this narrow fluctuation, its market price lingers around $29,413, yielding a market capitalization of about $572.3 billion.
Bitcoin's anomalous stability
Historically speaking, such subdued volatility phases are an anomaly for Bitcoin. As noted by Check, the current market even has options pricing in an extraordinarily low volatility premium, underscoring the unique nature of this situation.
As reported by U.Today, Bitcoin also experienced its lowest trading volume since November 2020 and a significant reduction in its volatility, even surpassing the stability of the S&P 500, tech stocks, and gold.
Despite potential positive developments like a possible Bitcoin ETF, large investors remain hesitant to re-enter the cryptocurrency market, but a significant announcement could trigger a substantial influx of activity.