Twitter has been aflutter with conversations around Bitcoin and Ethereum, the two largest cryptocurrencies by market capitalization, according to data analytics firm IntoTheBlock.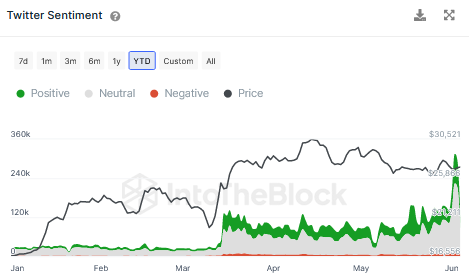 The rise in discussions could be indicative of burgeoning interest in these digital assets, despite their lackluster performance over the past week.
Per CoinGecko data, Bitcoin is currently trading at $26,780 after recording a 4% decrease over the last seven days. Ethereum experienced a slightly less drastic drop of 1.6%, trading at $1,870.
Interestingly, this uptick in social media chatter stands in stark contrast to recent trends in the global interest in cryptocurrencies.
As reported by U.Today, excitement surrounding cryptocurrencies has noticeably cooled off. Google Trends data shows that global interest in cryptocurrency has dipped to levels not seen since December 2020, marking a significant downturn in public engagement with the crypto sphere.
Despite waning search interest, the increased Twitter conversations might hint at sustained or resurgent interest among a specific group of internet users. It is worth noting that Twitter, with its characteristic brevity and real-time updates, has often been the platform of choice for crypto enthusiasts and experts alike.
Nevertheless, it is still too early to declare a definitive rebound in wider public interest in cryptocurrencies based on this social media metric. It would be far-fetched to assume that Twitter chatter might forecast a revival of the struggling crypto market.