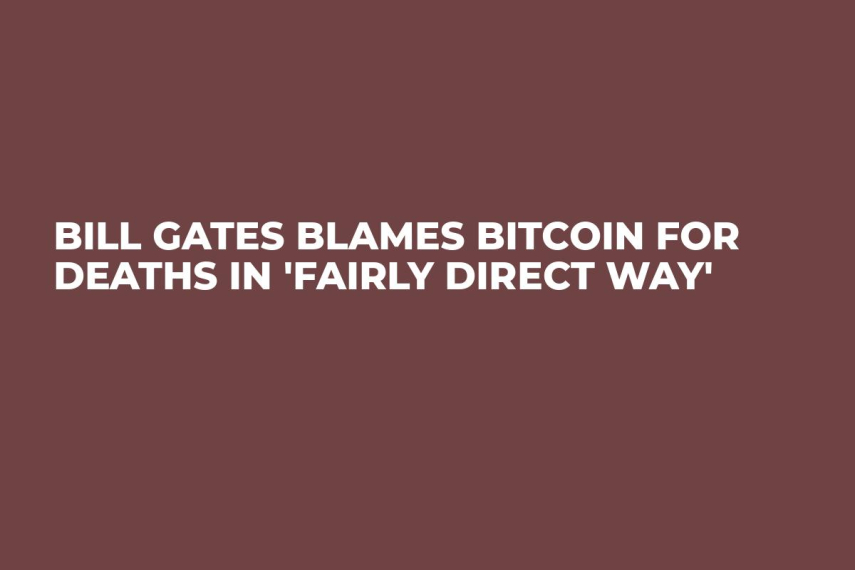 Cover image via U.Today
During a Reddit AMA, Bill Gates was quizzed on his thoughts about ICOs, cryptocurrencies and similar with the head of Microsoft saying some pretty damning things about Bitcoin and the rest of its ilk.
Gates honed in on cryptocurrencies and their anonymous nature, staying in a roundabout way that hiding transactions help money laundering and tax evasion and terrorist funding.
He also added that the digital currency is being used to buy fentanyl and other drugs, and because of this, he believes that Bitcoin has 'caused deaths in a fairly direct way.'
This viewpoint seems a little archaic and badly reasoned, especially from someone who was a tech innovator through the emergence of Personal Computers.
Gates has a few opinions
This is not the first time that Gates has spoken out about Bitcoin, in a televised interview, alongside Charlie Munger of Berkshire Hathaway and Warren Buffett, Gates called Bitcoin a 'Techno tour de force,' indicating that the Microsoft head thought highly of the technology.
But, Gates has also had his concerns about price volatility surrounding the digital currency, stating that it can't be a tool to aid the poor in its current state.
Causes deaths
Gates' statement at the AMA read:
"The main feature of cryptocurrencies is their anonymity. I don't think this is a good thing. The [government's] ability to find money laundering and tax evasion and terrorist funding is a good thing. Right now cryptocurrencies are used for buying fentanyl and other drugs, so it is a rare technology that has caused deaths in a fairly direct way. I think the speculative wave around ICOs and cryptocurrencies is super risky for those who go long."
There is an ongoing war about Bitcoin, and others,' anonymity and how it scares regulators and governments as it helps make transaction hard to trace. For this reason, Gates sees it as a tool for buying drugs and seems to have a hard time looking beyond that.
It is also a narrow sighted view, to link drug deaths to Bitcoin, because almost all drugs are bought with some sort of currency, in some form, but there is no crusade against the US Dollar note or the UK Pound in this war on drugs.