AiONE, an inventive platform dedicated to incorporating artificial intelligence (AI) into routine workflows and businesses, has successfully raised $3 million during its private sale.
AiONE completes private sale, announces token release
This remarkable funding underscores the solid investor belief in Apioneering approach and technology. Additionally, the AiONE Token is scheduled to make its debut on the BNB Smart Chain (BSC) network this week, providing new prospects for investors and users alike.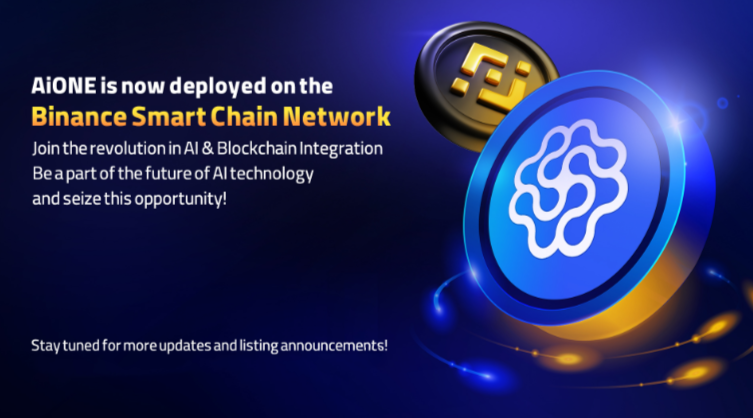 Image by AiONE
AiONE aspires to close the gap between general AI tools and specific business requirements by offering an accessible platform for businesses and developers. The platform allows developers to create and train custom AI models suited to their business needs while also providing pre- built AI models for various functions, such as image recognition, natural language processing, and predictive analytics.
Introducing AiONE token, a new-gen utility asset
The AiONE platform employs blockchain technology to establish a distributed network that shares processing power and generates an income stream through its AiONE token. The AiONE token has multiple roles within the AiONE ecosystem, including paying for infrastructure usage, making purchases through the AI payment smart assistant, earning rewards via staking, participating in decision-making processes, and investing in AI projects.
AiONE's triumphant $3 million private sale demonstrates the growing interest in AiONE's trailblazing AIaaS (Artificial Intelligence as a Service) platform, which seeks to transform the development landscape with state-of-the-art AI solutions. The platform previously secured $1 million in seed investment, further indicating investor confidence.
The upcoming AiONE Token launch on the BSC network this week represents a critical milestone for the project, extending its reach and potential influence.
This token is expected to draw attention following its launch, and soon we may witness another remarkable token in the realm of AI. Experts forecast a bright future for AiONE as it continues to gain momentum in the industry.
What's next for AiONE?
As the AI industry is projected to exceed $1.5 trillion in capital circulation by 2030, AiONE's solution aims to reshape the AI and blockchain landscape by making AI more attainable and cost-effective for everyone. With businesses increasingly adopting AI technologies, AiONE is well-positioned to become a game-changer in the AI Cryptocurrency space.
AiONE is a pioneering platform that streamlines the incorporation of AI capabilities into businesses and developers' everyday workflows by supplying the necessary infrastructure.
By providing a comprehensive platform that unifies AI components, AiONE assists businesses in developing innovative products and services based on artificial intelligence. The platform's ultimate goal is to revolutionize the AI and blockchain sectors and alter the way businesses operate.
For more information about AiONE and its vision, visit https://ai.one.