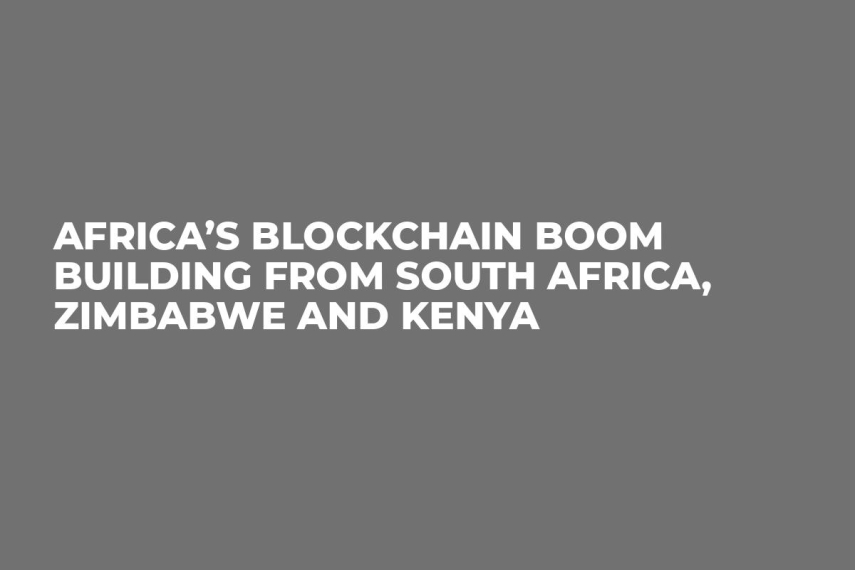 Cover image via U.Today
Reports highlighting the cryptocurrency space in Africa have pointed out a few interesting trends for the continent. Blockchain and cryptocurrencies have long been seen as a stepping stone for struggling economies, however, it seems that there are just three countries leading the way in this space.
South Africa, Kenya, and Zimbabwe, a country whose own currency has collapsed to a point where the citizens are using the US Dollar, are seeing an influx of capital and ICO projects.
Facing fintech
The research shows that the African fintech boom is starting to take off. The report looks at the first quarter 2018 activity across the continent. It notes that African fintech startups have been the most attractive for funding flowing into African tech startups.
There are figures that show Kenya's crypto exchange platform SureRemit raised $7 mln in an ICO and South Africa's The Sun Exchange launched $5 mln.
Furthermore, In Zimbabwe, Golix is moving ahead with its plan to launch a $32 mln ICO after the Reserve Bank of Zimbabwe was ordered to lift its ban on crypto businesses in Zimbabwe.
Adoption growing
With the money flowing into these three countries in particular, and the evidence pointing towards a boom in fintech and with that cryptocurrencies, there has also been obvious adoption for the mainstream.
Zimbabwe and South Africa have been installing Bitcoin ATMs across their respective lands, and there are even cryptocurrencies that are being built to suit certain plights in Africa, such as Rhino poaching.
A chance to leapfrog Africa forward
However, these countries may be leading Africa, but the entire continent is a bit of a small fish in a big cryptocurrency pond. According to Eugene Etsebeth, and ex-central banker from South Africa who has turned his attention to cryptocurrencies, South Africa is lagging and not leading.
"The fintech scene in South Africa isn't as strong as it looks. There are a lot of early startups, but I wouldn't put it in the same category as for instance Israel or the West Coast. There is a big drive in millennials, like everywhere in the world, to be the owner of their own destiny. If they are computer programming literate they will probably take a risk early on. The fintech scene is prominent in South Africa, but I wouldn't say it's extremely large," Etsebeth told CryptoComes.
However, there is a massive gap for Africa to really embrace the cryptocurrency space and take it forward while leapfrogging the monopoly of western financial systems that are not effective in Africa.