While we're waiting for XRP to overcome the resistance, it seems to have its own plans and doesn't rush to grow in value. Will XRP price ever break this vicious circle? What should traders do? Let's read XRP price predictions from TradingView users – there are many interesting opinions, trading tips and theories.
Do not sell your XRP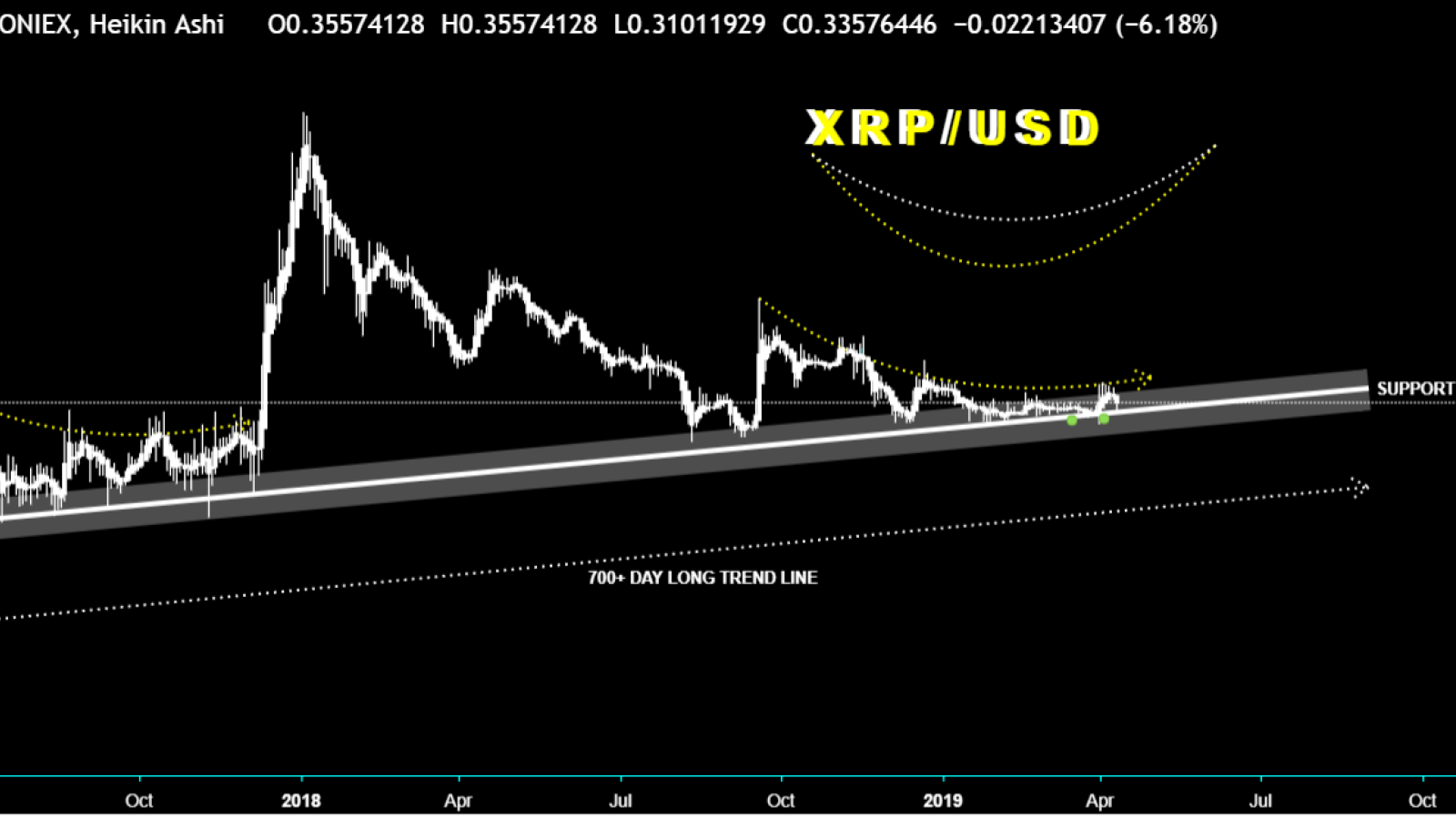 From a quick TA we can see that we are sitting on a 700+ long day trend line which is also being used as support. Within the last two years, it has never been broken downward, instead we constantly see bounces occur off it as well as immense consolidation can be seen here.
So, what should happen to Ripple?
Sooner or later, it will bounce. The TA indicates a strong upward momentum that's coming, which would push XRP well over $1. It is difficult to pinpoint a day or an hour of when this bounce may occur, but it's safe to say that unless this support breaks, do not sell your XRP.
XRP will lose another 15%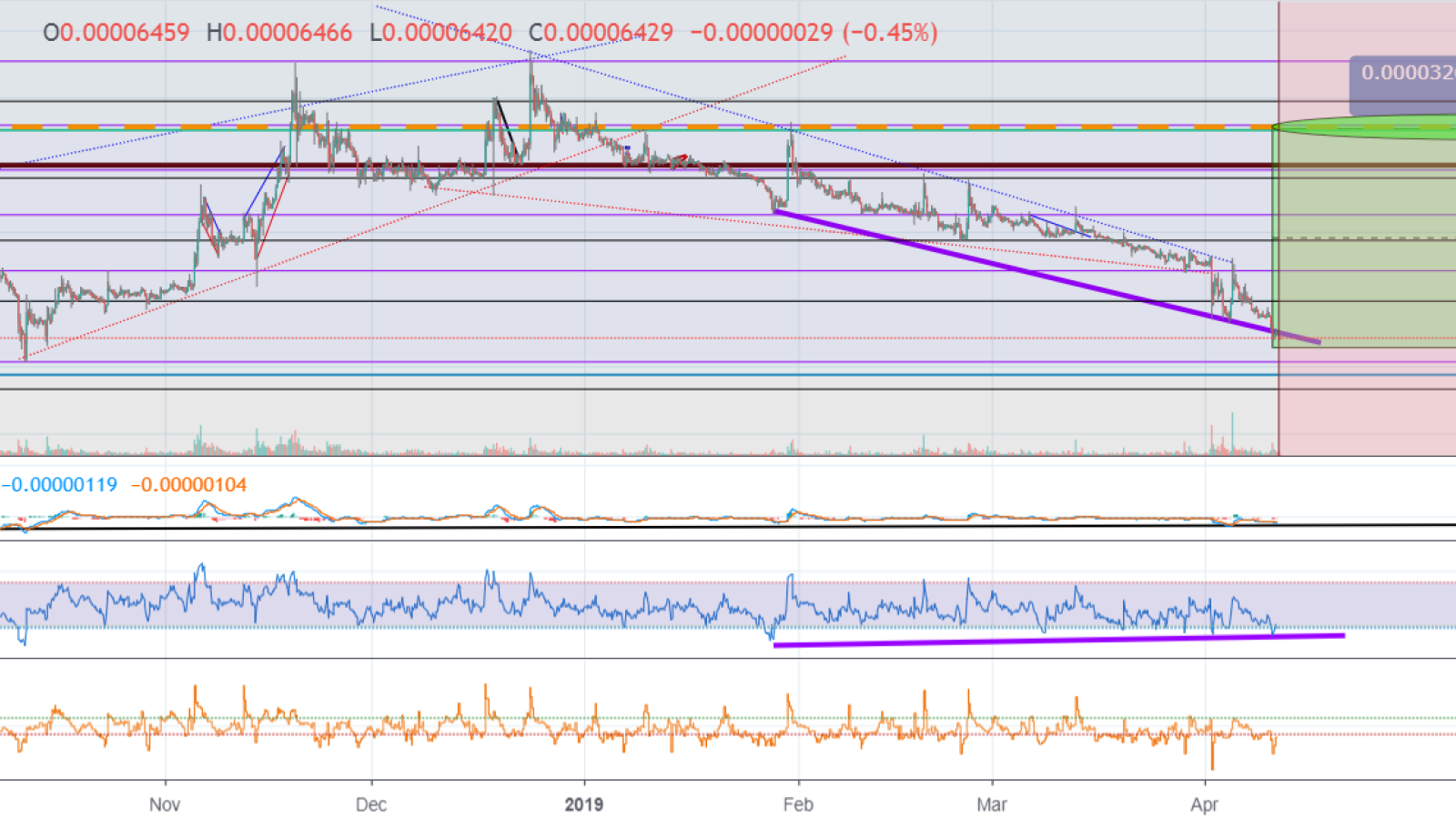 Now let's take a look at the XRP/BTC pair. XRP has been falling since December 2018 and has been in daily oversold RSI for quite a while. We can also see clear bullish divergence on the 4hr/6hr chart which is a reversal sign. With that being said the quick and aggressive rebound is possible since XRP was underperforming compared to other 'Alts'. However weekly RSI got plenty of room to go even beneath and easily can drop another 15%.
Thus, you'll have an excellent chance to buy some more XRP and wait for a breakout that happens...no one know when.
Two scenarios for Ripple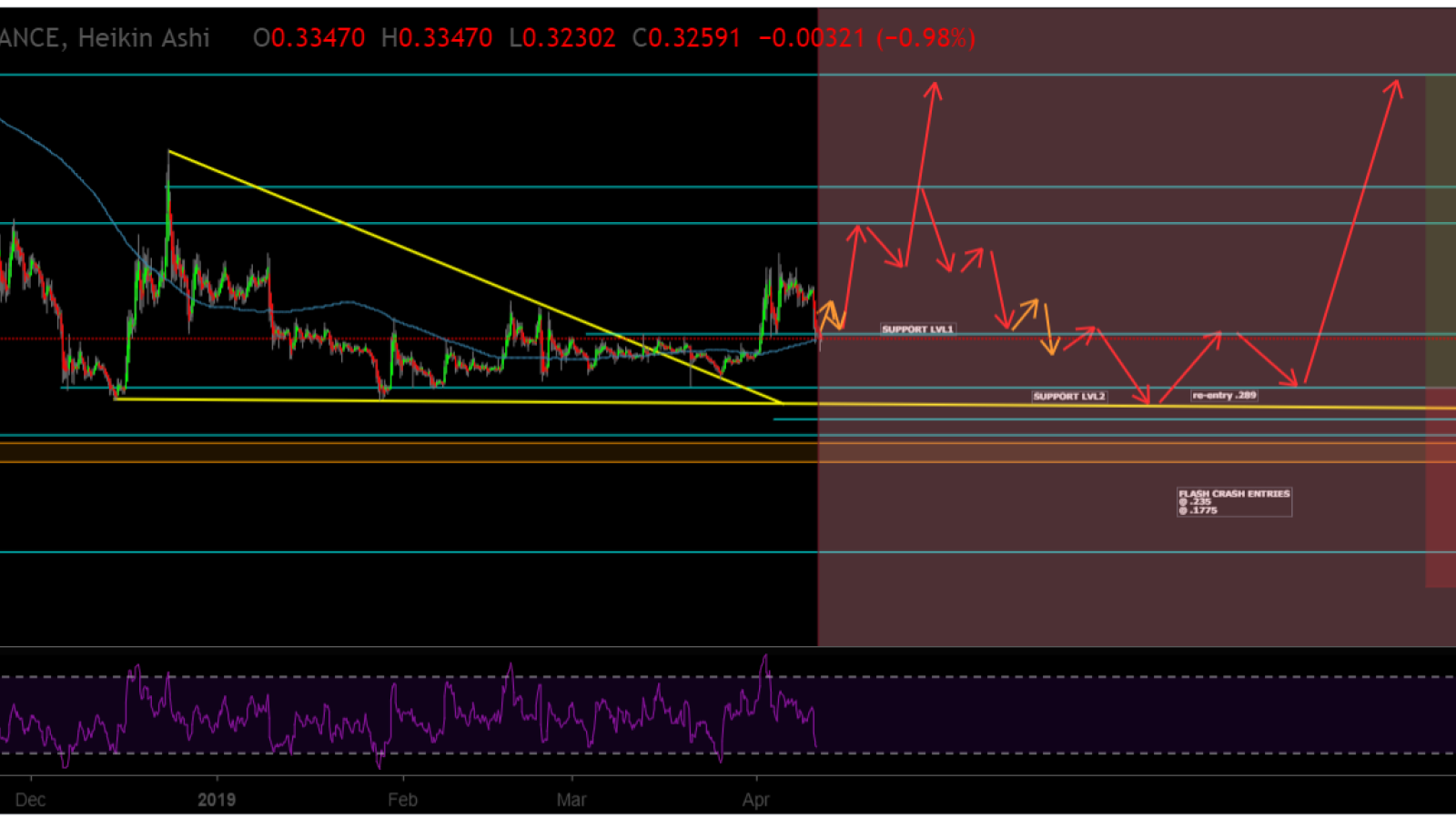 XRP/USDT is at a support level at 0.325 which is our 61.8% Fibonacci retracement. This is our second return to this level. XRP found resistance at 0.389-.39. If we do not bounce here we will continue down. Second level of support falls along .285 cents and a break of that could send us straight to the .23 - .26 zone.
Stochastic is in an overbought condition, where we might see the price hold here. Bullish break of descending triangle also indicates bullish intent as the network grows.
A re-entry to buy XRP would be at the support level of $0.310-.330 area.
The second re-entry would be out support level of $0.285-.289.
SL: below .17
TP1: 42 cents
TP2: 50 cents
Generally, user AlexSchram recommends holding XRP for a long term, say, until 2023. As for 2019, we will have to wait for Ripple to gain some significant heights.
XRP needs help!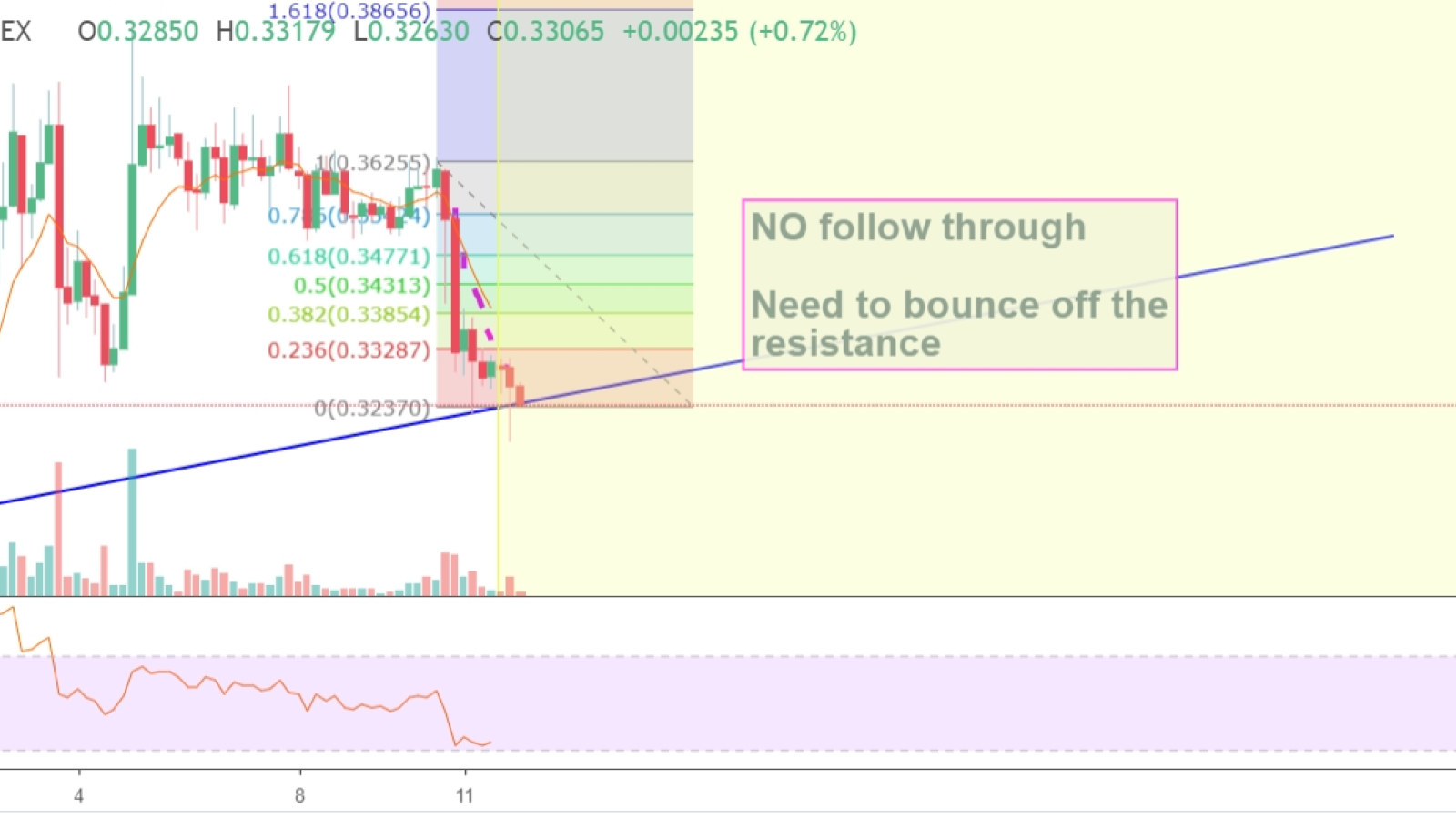 After an exhausting series of attempts to break out, it looks like the bulls are losing this battle, but a higher low could save the movement. The RSI is cooling off, volume is going down, and a fat bear candle formed on the day.
The bearish crossover isn't helping any bull here – bears have stopped on the low volume and don't let it move. No bulls yet. The large rally from last week is dwindling away after bears look to take control on a snippet of volume (relative to this week).
If we are going to see an entry for a long position, we need to see some extra bull volume, or some divergence in the RSI. Bouncing off of the EMA could be good news, but it's hard to stay assured of that – we need to look at XRP for a few more days. The volume will always precede divergence or a crossover, but we need at least two to confirm a long entry.
The main recommendation today is stay away from trading until some bull patterns start to form. Watch for a higher low confirmation, and play the rest of the trend.
For bear traders, stay frosty as consolidation starts to form. Avoid losing on a spike up to a higher high. Any new players out there, save yourself from loss and wait until a strong market move forms.
As we see, it's not time for XRP trading yet – it stays in one place and shows no signs of bullish trend. All we can do is wait a few more days.
XRP price charts are taken from TradingView.